Image source: The Bachelorette Australia - Channel 10
The season finale of the Bachelorette pulled in 2.2 million viewers Australia-wide who tuned in to watch Sophie Monk hand out her final rose. The finale was a huge victory for Ten network, with the episode being the most watched Bachelorette episode in the history of Ten. The episode pulled in its biggest audience in more than a year, pulling in 1.64m metro viewers and 2.2m nationally.
Using BigDatr's trend analysis, we have taken a closer look at the biggest industry spenders throughout The Bachelorette 2017. Within the industries BigDatr monitors, Personal Care ranked in first as the largest spenders in advertising. Swisse's campaign 'Discover Real Beauty Inside and Out' had the most number of TV spots within Personal Care. The Automotive industry was the second biggest spenders in advertising with Mitsubishi's 'Built For Owning The City', promoting its ASX SUV ranking as the highest car brand advertising throughout the show. We've put together the top 15 industry spenders during the entire season of The Bachelorette 2017 using BigDatr's industry data.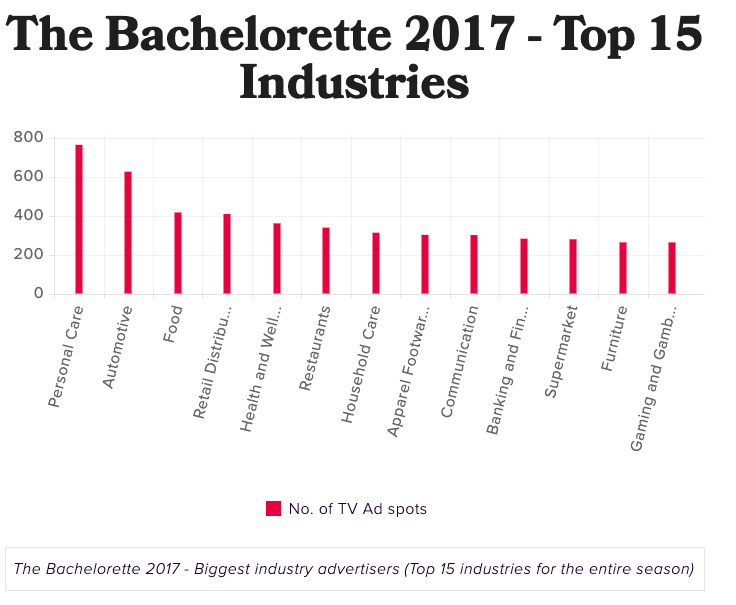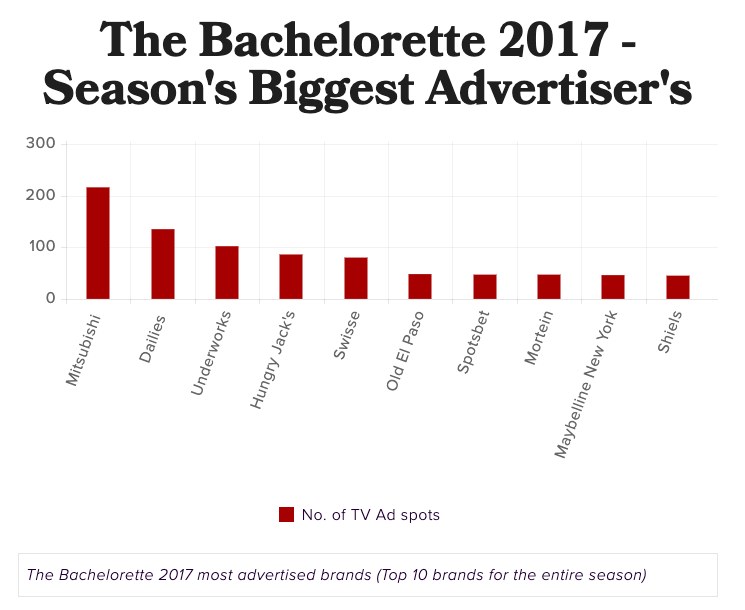 As the entire season wrapped up, Mitsubishis 'Built For Owning The City' was the largest campaign with a total of 218 ad spots followed by Dailies campaign 'They Feel Like I'm Wearing Nothing', with 137 ad spots. Taking a look at advertising spots during the season finale, Mitsubishi had the most number of ad spots ranked as the most advertised brand along with Underworks and Coles.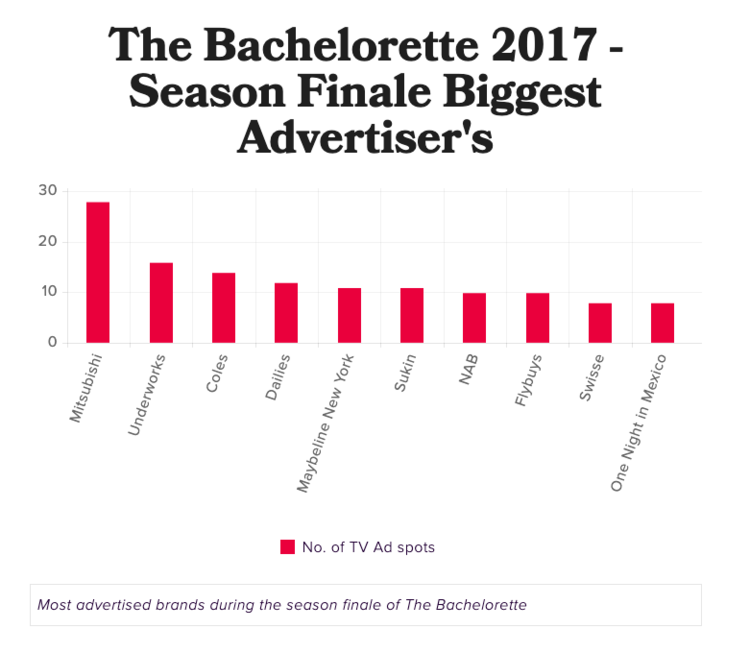 Most advertised campaigns during the Bachelorette Finale:
1. Mitsubishi - Built For Owning The City
2. Coles Spend $200 at Coles
3. Fitbit Ionic
4. Dailies - They Feel Like I'm Wearing Nothing
5. One Night in Mexico - A Fresh New Take On Mexican
6. Maybelline - Fit Me! Matte Poreless Foundation and Master Strobing Stick
7. Underworks
*Disclaimer - Data represented only includes industries BigDatr monitors. Click here to view a full list of industries BigDatr currently tracks.