Beginning of 2015 Financial Year to Date
Coles Car Insurance and Youi Car Insurance marketing strategies using the BigDatr platform.
Media Activity Breakdown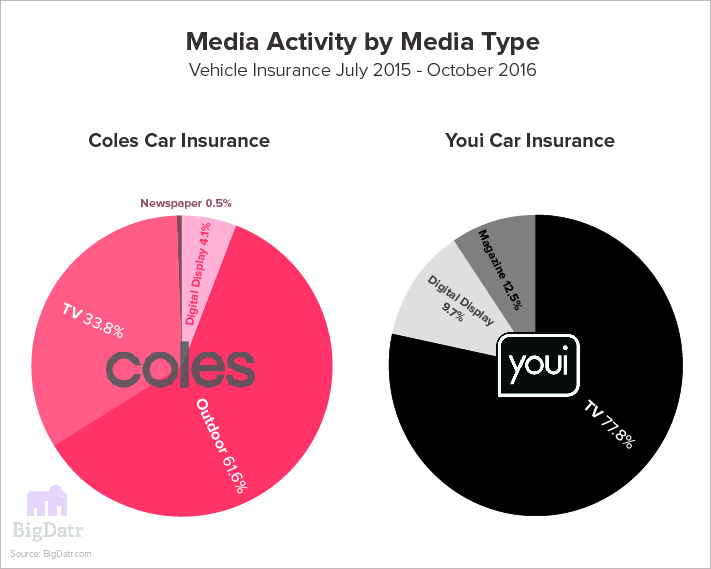 Coles vehicle insurance allocated a majority of its media activity towards Out-Of-Home Advertising (61.6%), followed by Television (33.8%), with Digital Display (4.1%) and Newspaper Advertising (0.5%) playing a smaller role in budget allocations.
The marketing team behind Coles Car Insurance had a clear preference for Outdoor advertising during 2015.
An example of this can be seen in Coles "I Save With Coles Car Insurance" campaign.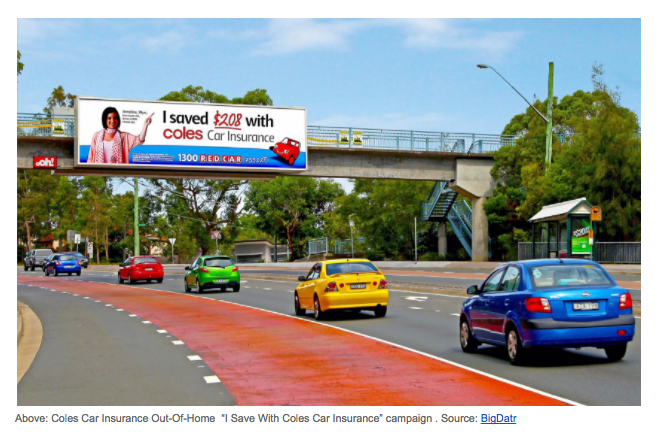 Youi's chunk of media activity is allocated predominantly through Television (77.8%) contrasting against their Magazines activity (12.%) and Digital Display (9.7%)
Youi clearly believes in the power of TV Advertising, with an example being Youi's "You Could Save Lots" campaign.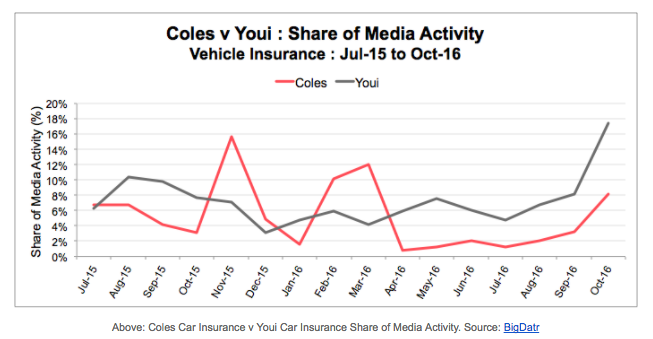 In the month of October 2016, we can see a spike as Youi increased its media activity to 17.4% within the Vehicle Insurance Industry - this is the largest Share of Media Activity Youi has had since July 2015.
Youi increased spots in their "You Could Save Lots" campaign running across TV, Digital and YouTube. A large portion of their media spend of this campaign is running via television and reinforcing Youi brand's promise - to tailor insurance products to the individual. The campaign's core message is how Youi engages and understands their customers individual needs to provide the right cover at a fair price.
Coles activity peaked in November 2015, with 15.7% of media share activity in the Vehicle Insurance Industry. Coles's most dominant campaign for the month were, "It's Time To Save" and "If You're 30 Or Over, Switch Your Comprehensive Policy" - both campaigns were Retail focused.
Most Active Campaigns
From BigDatr's Spot Monitoring, we can view the most active campaigns for each brand running between last financial year to current: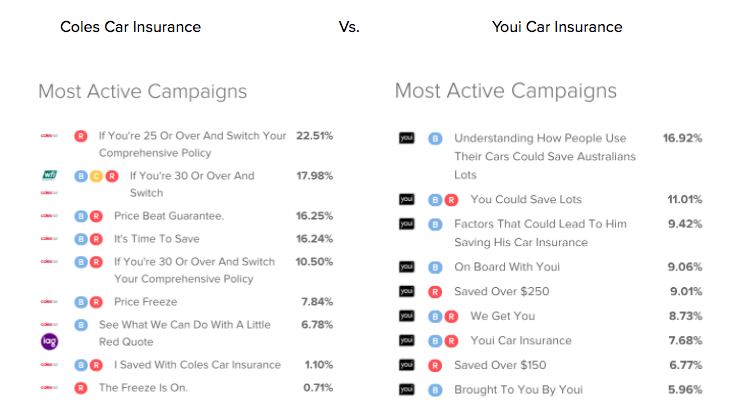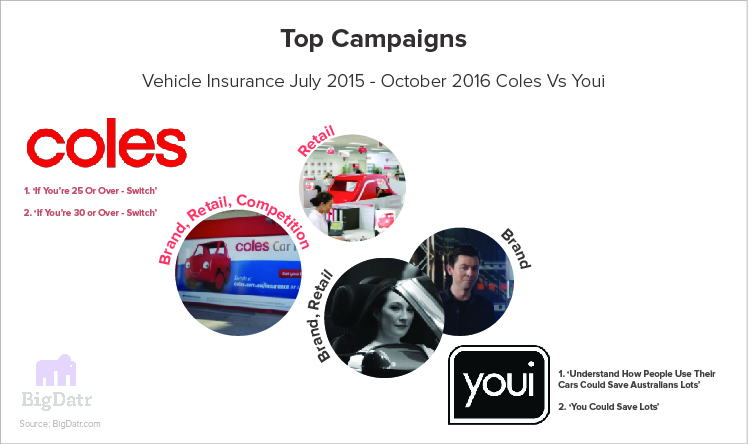 Coles Car Insurance tends to adopt advertising strategies based heavily on retail ad types, making up 83.3% of their overall marketing strategy. As an entity, they are quite young (the Coles Car Insurance model only launched in 2010), and as such, their campaigns are rarely brand orientated, focusing instead on targeting customers to switch over to Coles Insurance.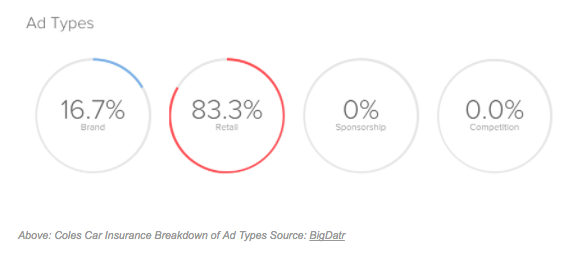 In distinction, Youi are focused on brand and have dominated on TV in particular with 71.5% of their ads heavily brand oriented. Youi is differentiating themselves in the market by offering a tailored, personalised approach to insurance for customers.

Youi is owned by OUTsurance International Holdings, a South African Company that claims to have revolutionised the way insurance is done in South Africa.
What do you think - is Youi now revolutionising the way insurance is done in Australia?
Look how Youi rivals Coles in their Search Engine Marketing...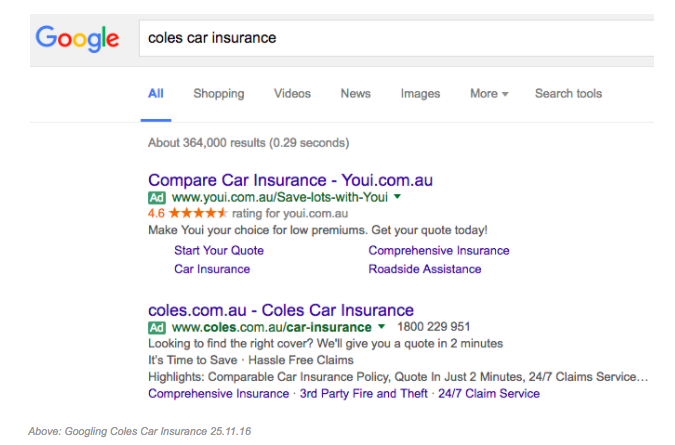 How does Youi Vs Coles in their TV Targeting?
Time of Day Targeting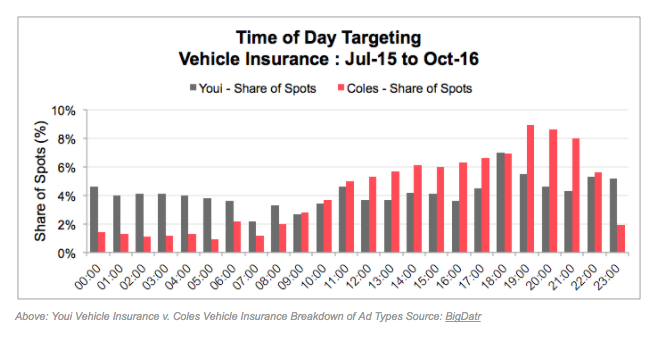 When we look at targeted times for Youi's television spots, we can see that approximately 30.4% of spots were shown in the early hours of the morning between midnight and 7am. However distribution of TV spots remained consistent throughout the day with a slight increase between 6pm and 8pm. In contrast, Coles Car Insurance spots are heavily focused between 7pm and 9pm representing 25.5% of spots. Also Coles advertising is significantly higher during early afternoon (2pm-5pm) compared with Youi.