Image source: Pinterest
Gen Z is the first truly digital generation, and are the first to never know life without the super easy access to the internet and mobile technology. They are tech savvy and have an intuitive understanding of social media, being drawn to Snapchat, Facebook and Instagram. They have grown up with social media, by observing their parents and sibling using it at a young age. For businesses targeting a generation that has grown up with social media, brands will need to excite them and be on top of their social game.
Here are some key takeaways that marketers need to know about engaging with the next generation in order to build a successful brand for yourself:
1. Be Authentic
To connect with Gen Z, marketers need to listen more than ever before. Your brand should tell a compelling story, yet needs to be real and honest. To engage with the next generation, your brands messaging and communication must be authentic.
The best form of creating a conversation with a brand, is to engage with brand ambassadors who can easily enter a dialogue with them.
Remember that Generation Z change out of trends really quickly, and digital gives them the choice to terminate and move on quicker than ever before.
2. Keep it short, sharp and entertaining
Gen Z attention spans are shorter given the on-demand delivery ecosystem, swiping away at any moment to online interaction is the norm. It is likely that Gen Zers won't sit still long enough to watch a dull and boring 15-30 second ad. Give them the full story in 8 seconds or less. Your brand needs to help them understand what the content is about, why they should care and how it will help or entertain them.
3. Be on top of your social game
The Gen Z group has never known life without the internet, and when it comes to social media they spend most of their time using YouTube, Facebook, Instagram, Snapchat, Twitter and Tumblr, with some teens checking their social media accounts up to 100 times a day. Through social media, teens are creating their own personal brand to reflect how they want to be perceived.
Snapchat ads are an example of users interacting with the brand in a personal and fun way, and leads to a more positive brand image. There are so many brands getting on board with SnapAds, with Cadbury successfully executed their Cream Egg Snapchat filter.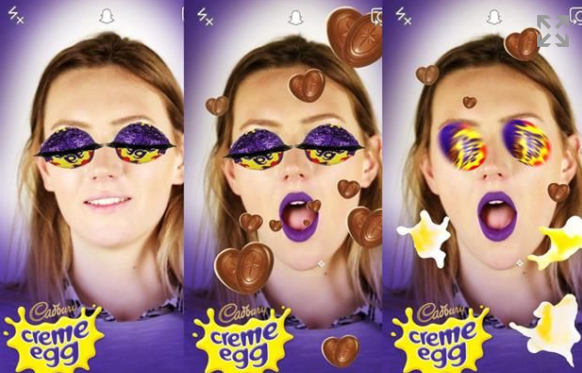 Cadbury Cream Egg filer on SnapChat. (Image from Trendhunter.com)
4. Use video and visual communication
Gen Z's live in an emoji-era, preferring visual over word. They communicate with symbols and images, speaking in emoticons, emojis and glyphs. This is evident in they way the younger generation use Snapchat videos and use visuals to communicate via a meme. They consume most of their time in watching videos online, with YouTube being a must have.
When it comes to promoting products and services, video content is one of the most effective mediums in offering value to both Millennials and Gen Z.
5. Influencers resonate more than celebrities
Gen Z sees social influence in a different way. They would much rather see influencers that they can relate to instead of formal celebrities. A study found that Gen Z members were not as interested in ads that featured celebrities and are more receptive to ads that offered interesting creative, told a story, were humorous and had captivating music. Gen Zers follow a mass YouTube following and idolise bloggers and vloggers for the honest opinions.
Influencer-driven marketing on social media is super powerful in driving conversation between the consumer and brand. Adidas effectively ran a campaign which generated massive user engagement via Instagram. To launch their new line, Adidas collaborated with Selena Gomez to kickstart their #MyNeoShoot campaign on Instagram, with the help of top influencers to leverage to generate social buzz. The campaign received 12,000 entries for the content and over 71,000 hashtag mentions. By working with celebrities, Instagram influencers and everyday users, Adidas was able to reach millions of engaged consumers.
The time has come for marketers to shift their focus from Gen Y or Millennials to the next generation of digital natives, Generation Z.