---
Burger King - Feed Your Nightmares
According to a study Burger King ran, they have claimed that its Halloween burger will actually give you nightmares. The burger called the Nightmare King, comes with a sesame green bun, a beef patty, chicken fillet, American cheese, bacon, creamy mayonnaise and onions.
The fast-food burger chain also claims that eating Nightmare King (sold in US stores) will make it 3.5 times more likely for consumers to sleep terribly.
M\&Ms Halloween Ghosted
M\&M's 15 second Halloween campaign ad spot, 'Ghosted', produced by BBDO New York, takes on a humorous approach, looking at "surviving" the scariest night of the year. The ad begins with Red and Yellow leaving a Halloween party, seemingly unscathed, as Red remarks how glad he is that they made it through another Halloween without being eaten. A ghostly looking Yellow agrees, only to then float away with a nice bite taken out of his back.
Fanta - Flavours that thrill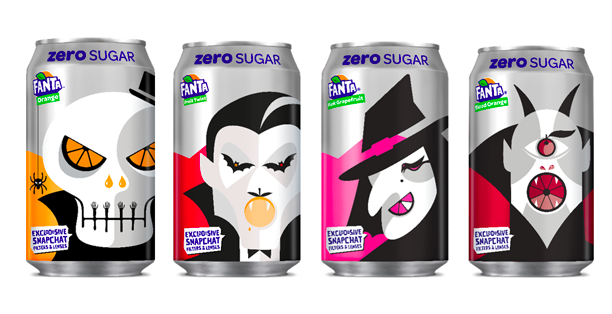 To get in on the Halloween celebrations, Fanta (UK) is launching their biggest ever campaign, featuring spooky limited-edition bottles and cans, two new Halloween-inspired flavours, plus their own Halloween event, Twisted Carnival.
The campaign celebrates transformation, from limited edition packs to the sponsored Snapchat lenses and filters. Fanta will run the campaign across digital, outdoor advertising and social spend.
Spotify - Killer songs you can't resist
Spotify launched its Halloween campaign back in June, however the British advertising watchdog group ruled that that the advertisement is too spooky for children. The 60-second spot includes the song "Havana" by Camila Cabello, with a medley of horror film tropes including a maniacal children's toy, a long and dark hallway, a young woman screaming in terror, and a startling over-the-shoulder apparition in a steamy mirror.
The Advertising Standards Authority slammed the advertisement in a statement saying the ad would be "likely to cause undue distress to children".
The spot concludes with the tagline, "Killer songs you can't resist."
Reese's - #NotSorry
Reese's created a special Halloween ad with MTV, which you can view here.
While skin-masked ghouls and screaming witches leave two trick-or-treating teenagers seemingly unfazed, the, "Please take one" sign renders them screaming in fear.
MARS - Bite Size Horror
Bite Size Horror by Mars, is a series of two minute mini films with a terrifying storyline. Below you will find Snickers and Skittles creepy campaigns.
Campaign above: Snickers - The Replacement
Campaign above: Skittles - Floor 9.5
Heineken - New Friends
In this ad spot we see our main character thrust into a crazy, and clearly unexpected, party experience. With the tagline, "Sometimes the wrong party is the right one," our beige suited protagonist, mesmerised by the party atmosphere loosens up and transforms from his experience, no doubt aided by the flowing Heineken on offer.
Dior - The Beauty of a Dark Dream
Dior creates three Halloween beauty looks, featuring Bella Hadid rocking some seriously high fashion Halloween looks. The glamorous Halloween-inspired short film titled 'The Beauty of a Dark Dream' promotes its iconic Rouge Dior 999 lipstick, Blush and geometrical shapes created using On Stage Liner.