Who are Members Own Health Funds?
The Australian private health insurance sector is dominated by the now ASX publicly listed company Medibank and the multinational BUPA. With an increasing market share for these industry heavyweights, no longer are not-for-profit and mutual funds the insurers of choice for most Australians.
In response, eighteen not-for-profit and mutual health funds have come together to create Members Own Health Funds, a brand which symbolises the member-centric philosophy and differentiates its health insurers from the for-profit counterparts. Members Own Health Funds does not sell insurance, nor does it advocate any single health fund, its sole purpose is to act as a platform to communicate to the Australian public the benefits of being insured by a not-for-profit or mutual health fund.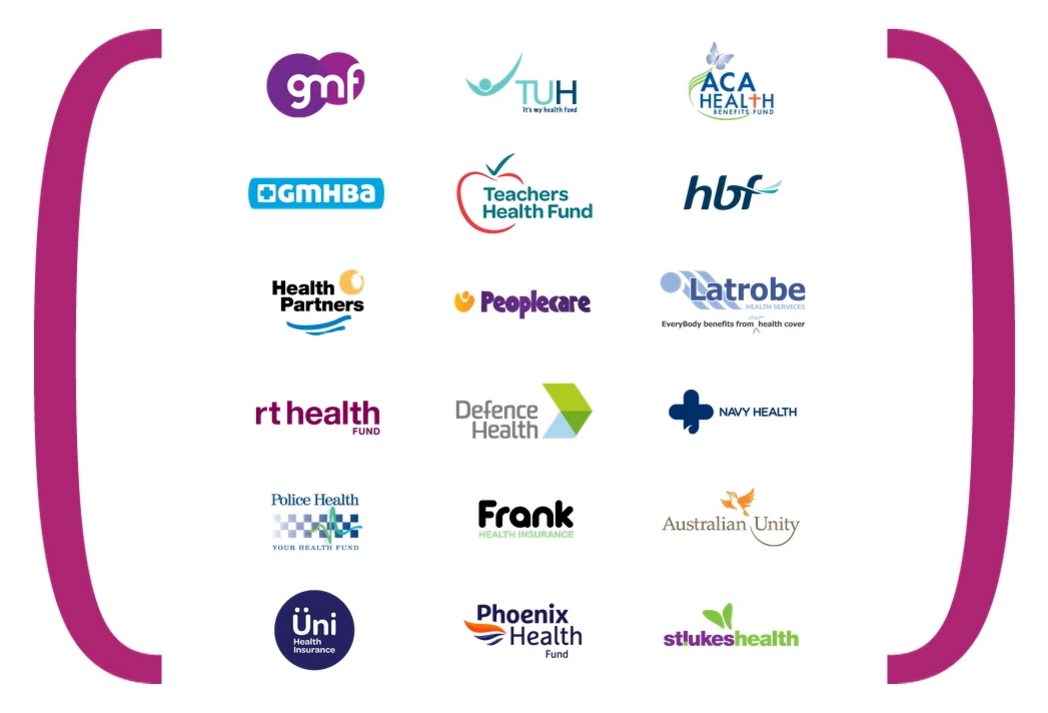 Campaign Round Up
Releasing their first national campaign on the 2nd of February, the TV and digital campaign focused on highlighting the value provided to customers when joining a Members Own Health Fund. The campaign illustrates this difference by assigning people who are not with a Members Own Health Fund with a series of arbitrary numbers representing there customer ID, while assigning the actual name of the customer to those who are part of a Members Own Health Fund. The campaign highlights the personal touch which you would expect to receive from a Members Own Health Fund. This message is clearly intended to bring attention to the corporate aspect of the larger for profit health funds. https://app.bigdatr.com/#Feed/campaigns/34707?tab=1&view=grid
Share of Voice (2 Feb 2015 to 11 Mar 2015)
An analysis of the campaign impact has shown that on average since launching, Members Own Health Funds have had a 6.23% SOV compared to the industry average of 8.05% SOV. Overall they are generally below the industry average, however a comparison of the share of voice per day of week, identifies Friday and Saturday to be more than double the share of voice to that of Monday, Tuesday, Wednesday and Sunday. Given that Tuesday sees the greatest distribution of spots for Members Own Health Funds compared to any other day of the week, the impact of this distribution is greatly reduced due to competitor activity on that very same day.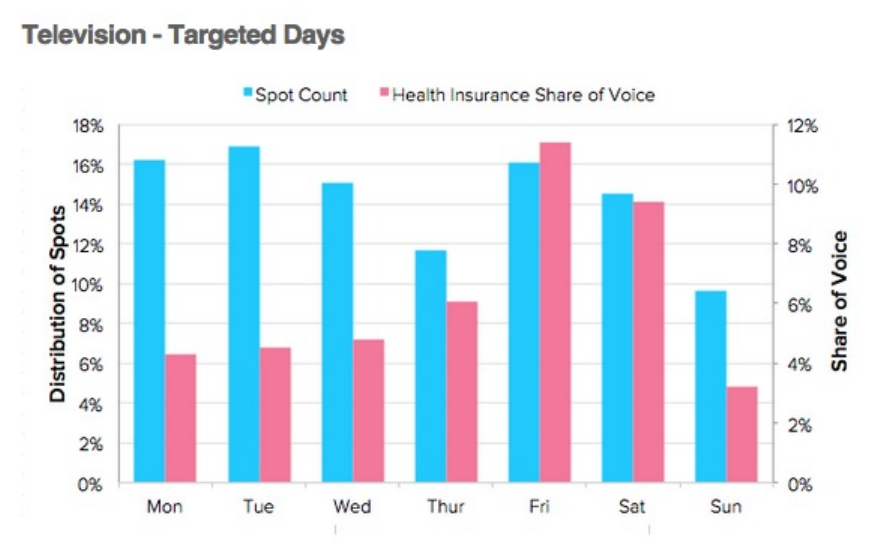 Television - Targeted Days
This also explains the cyclical nature of the Activity Index for Members Own Health Funds. It is important to note that since the initial release of the Members Own Health Funds campaign, there has been significant competition from other health funds such as Medibank and Bupa, resulting in a significant drop in share of voice. https://app.bigdatr.com/#Spots?benchmarkIndustry=Communications&brand=Optus&from_date=20141101&to_date=20150208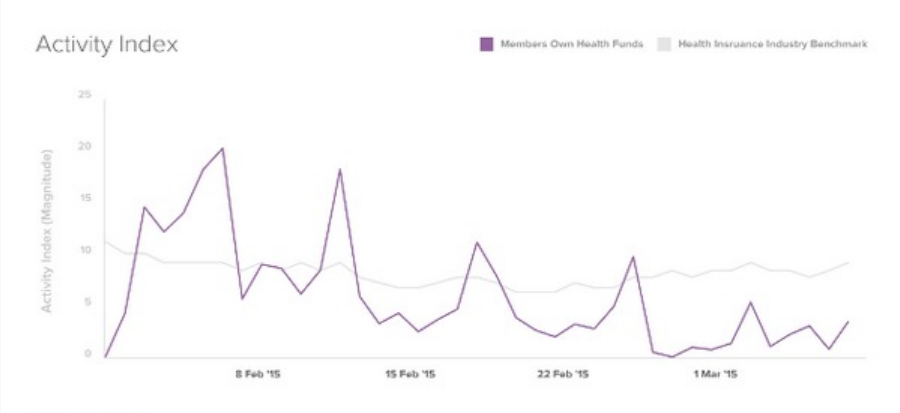 Strategy
Although the campaign and the collective organisation is still young, they are evidently following similar footsteps to the superannuation association, Industry SuperFunds. Industry SuperFunds, like Members Own Health Funds is run only to benefit members and was created to promote an alternative to retail profit-centric funds. Considering the similarities in their respective business models as well as the campaigns that have been released, Members Own Health Funds could potentially expect a similar growth trajectory.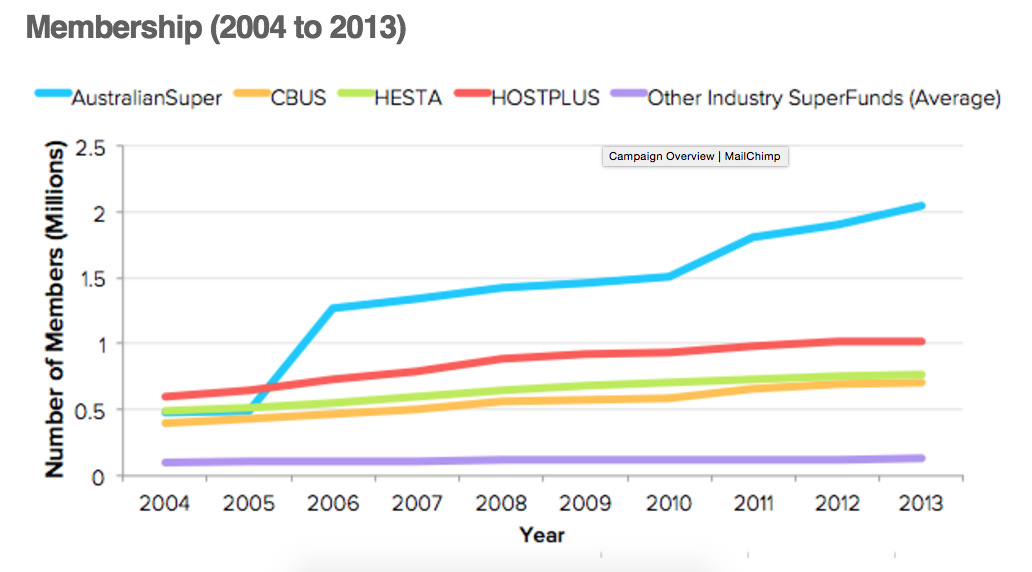 Membership (2004 to 2013)
Data from APRA shows that over the last ten years, Industry SuperFunds have notably been the strongest collective of funds to have grown in membership, and on average they have had a higher rate of return than any of their competitors. The membership has however been driven primarily by the growth of AustralianSuper, which has quadrupled in numbers since 2004. Following on with HOSTPLUS, CBUS and HESTA having also grown at a greater rate than other smaller specialised Industry SuperFund members. This demonstrates that within a collective you may only see long-term benefits for a handful of the larger health funds under an umbrella, and in this case Members Own Health Funds could expect a similar outcome.
Products
Although Members Own Health Insurance does not sell any health insurance, the associated health funds have been advertising in conjunction with Members Own Health Insurance advertisements. Similarly to Industry SuperFunds, all funds under the Members Own banner carry the Members Own Health Funds logo as a means to utilise it as a symbol of trust, following the values for which each of the members stand for. This is already evident with brands such as Frank Health Insurance and GMHBA who have attached the Members Own Health Logo to their most recent campaigns. In addition to placing a logo in the advertisements, Teachers Health Fund, the education exclusive health fund, has utilised the design and concept of the Members Own Health Fund campaign to create a fund specific advertisement.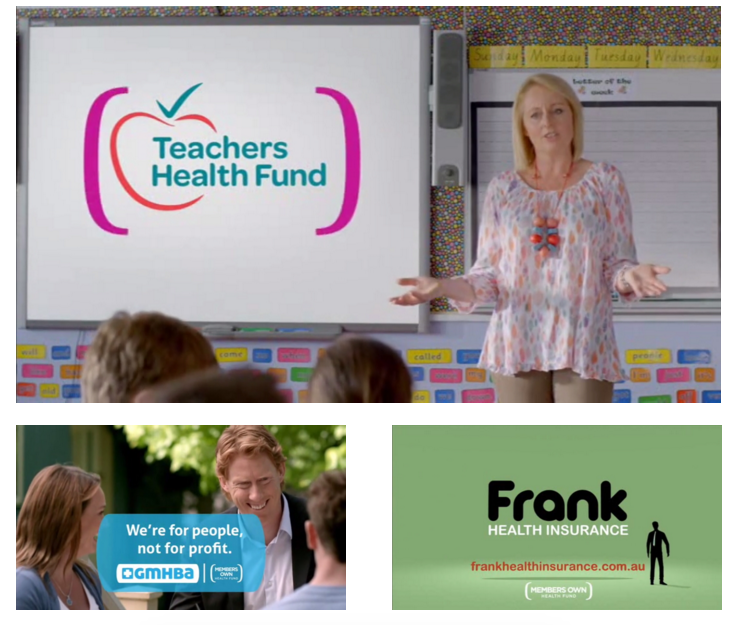 Further, in the month of February both Frank and GMHBA offered 1 month free if you sign up by the 28th of February. While Frank extended this offer to 6 weeks free if you apply by March 31st, GMHBA did not extend the offer past February. On the other hand in March two other Members Own Health Funds, Australian Unity and Teacher's Health Funds also released offers for 1 month free if you sign up by March 31st. It is important to also note that Medibank has also now released a campaign for the same offer over the same time period.
BigDatr Forecast
Expect a greater push of brand awareness focused advertisements to build the brand equity of the Members Own Health Funds symbol. This will then be a much more valuable commodity for the individual health funds under this collective to utilise during the end of financial year campaigns starting as early as April.
Expect a significant response from Medibank Private and Bupa to the Members Own Health Fund campaign. Specifically around retail offers to increase customer sign-up.
Expect future and current campaigns to be highly integrated with the Members Own Health Funds brand.
In the long term, expect a greater rate of growth in membership base for the relatively larger health funds within the Members Own Health Funds collective.