Does this mean it is the end of the traditional wallet? Although many of us are still holding on to our wallets, the mobile 'tap and pay' revolution has taken over many customers.
Our smartphone's have become our own personal identity. Therefore, the extension to rely on them for banking and payments is no doubt the grand scope of how mobile payments will become in the future of the Fintech world. Carrying cash has become less secure and inefficient while digital payments can offer multiple security levels for users.
Digital innovation in mobile technology is no doubt transforming the Banking industry. We are seeing how some of Australia's banks evolve digital banking without the card or wallet and new trends emerging in the digital payment world.
CommBank offers 'Cardless Cash' ATM withdrawals

Above: Commonwealth Bank digital banner ad "Get Cash Without A Card Using Your Mobile".
CommBank expanded its digital offering in mobile technology with Australia's first, 'Cardless Cash' in 2014. Any CommBank customer can withdraw cash from any CommBank ATM via the bank's mobile app, without a card. The increased usage in the banking app and cashless payments are growing significantly and CBA have found the results astonishing.
Lisa Frazier, CommBanks Executive General Manager Digital Channels, says, "The demand for contactless and mobile payments continue to rise; in a single week, the new CommBank app now supports nine million logons and executes two million transactions."
CBA conducted research which suggested that 50 percent of Australians believe the mobile wallet will become the norm for payment in the near future. Frazier says that "Seventy-three percent of them think that the mobile wallet will replace the wallet in 7 years time."
""Seventy-three per cent of them think that the mobile wallet will replace the wallet in 7 years time." - Lisa Frazier
Smartphones substitute bank cards
A new era of using smartphones for transferring money quicker has arrived. It's less expensive, more convenient and eliminates the hassle of travelling to an ATM.\ Apple Pay, Android Pay and Samsung Pay give users the power to store credit card details on their mobile and purchase without pulling out their wallet. We will see more of digital purchases straight from the smartphone, with the growing adoption of systems such as Apple Pay and Visa Checkout which are the next milestones in mobile conversions for retailers.
Australians were quick adopters of Pay Pass and Pay Wave and now the Mobile Tap and Go has been the latest craze in Australia. From BigDatr's Campaign Library we discovered 11 brands promoting mobile tap and pay facilities since July 2013.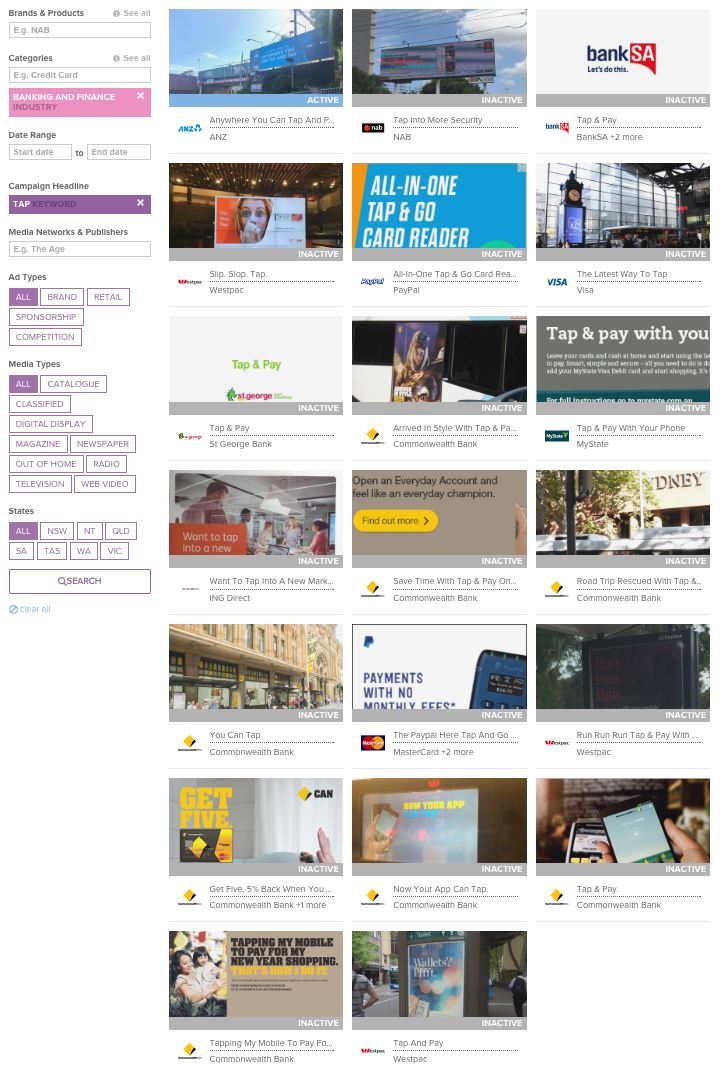 Above: Snapshot of BigDatr Campaign Library of all Banking and Finance campaigns incorporating 'Tap' in their campaign headline.
To educate users on the latest tech innovation, ANZ Apple Pay released a series of comical takes on how users take advantage and misuse the latest mobile payment technology. The campaign showcased the changing ways we pay and that using your phone to make a payment is so simple and seamless that, 'you'll be taking it for granted in no time.'
The launch of ANZ Apple Pay was a big deal as ANZ was the only bank among the big four offering tap-and-pay across Apple and Android mobile.
Fintech innovations replace passwords with 'Selfie Pay'
Strike a pose at your mobile camera, and Aussies will soon be able to confirm payments with Mastercard's 'Selfie Pay'. Instead of users being required to remember their password, Mastercards Identity Check allows a fingerprint or selfie to be used to verify online purchases. The app will be available through Mastercard smartphone, and will use biometrics and facial recognition to verify the identity of the purchaser.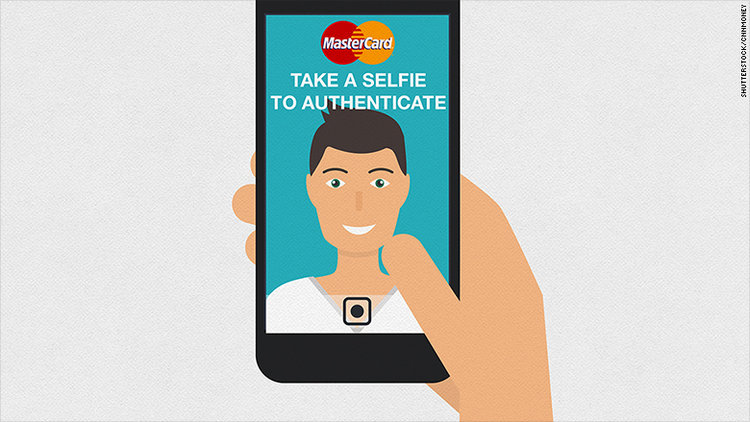 Mastercard is in the works of expanding its innovation of authentication and will introduce facial identification, voice recognition and cardiac rhythm. The key goal is to make mobile payment flow as seamless as possible.
Trends in Mobile Payments to look out for this year.
1. Mobile Wallets are the biggest transformation in payment processing.\ Mobile payments can offer retailers valuable insights about customer transactions that can be used to enhance customer experience. Retailers will be able to interact with customers on a more personal level.
2. Security of Digital Payment\ Current methods to authenticate payments include PINs and fingerprints. However, new biometric processes, such as voice recognition, keystroke detection, finger vein scanning, pulse recognition and facial recognition will aim to increase both security and convenience for users.
3. Peer-to-Peer (P2P) Payments\ Popular P2P payments including Square Cash. It's simple, uncluttered and the interface has a fast setup and solid security features.
It is no denying that our smartphone is changing the way we purchase goods and services. Our phones have become a potential to revolutionise how we pay and may possibly eliminate the need for our wallets. Digital wallets are quickly becoming the norm, as they are faster than using traditional swipe cards. Nowadays, we find that we are carrying less of the hard cash and relying on our smartphones for making payments. Using digital wallets and smartphone apps provide users with quick, cheap and a more environmentally-friendly alternative.