Drawing from a robust dataset of Australian advertising, Bigdatr analysed the advertising strategies of the Big4 in Banking & Finance—Commonwealth Bank, NAB, Westpac and ANZ's multimillion-dollar investments.
The decisions these industry giants make in advertising often serve as benchmarks that influence consumer behaviour and open up or limit market opportunities for other competitors. Our report captures an intriguing development in January 2023: an emerging player took advantage of the industry's seasonal investment decline during the holidays and looked to disrupt ANZ's growth in 2H23.
This summary provides media mix insights into trending media channels—both online and offline—as well as key industry sectors like Home Loans and Business Banking, helping to demystify the advertising strategies of the Big 4.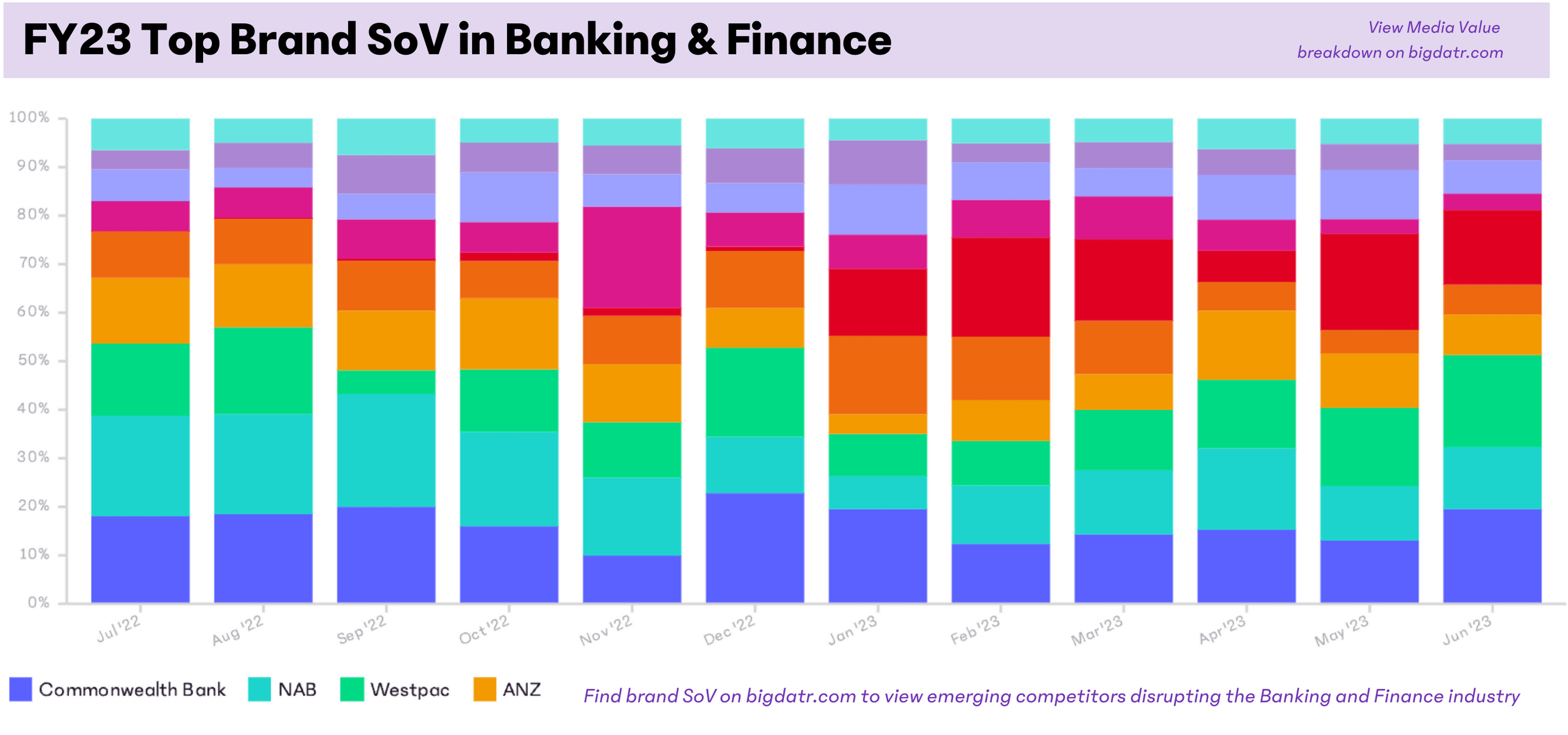 Source: Bigdatr Media Value, FY23 Commonwealth Bank, NAB, Westpac, ANZ, and, NAB
This in-depth analysis serves as a benchmark for evaluating your brand's media value and creative effectiveness against industry leaders. The complete insight report with Media Value and Advertising Creative trends is available on request here.
Top Categories Insights
Home Loans
The housing market is more volatile than ever, making Home Loans a competitive battleground among the Big 4. CBA and Westpac are leading the charge, targeting niche markets like the self-employed and healthcare professionals. They are focusing on personalised creatives to attract financially savvy customers.
Corporate Branding
NAB and CBA are investing heavily in Corporate Branding to solidify their presence on large media platforms. Their creatives focus on community enrichment and women in sports, seeking to build trust and emotional engagement with their audience that build their brand to be more than just a bank.
Barriers to Entry
To rank among the top 4, your brand would need an estimated media value of over $30M annually. This high barrier makes it a tight race, with Tyro emerging strong in January 2023 by capitalising on reduced spending by the Big 4 during the holiday period.
Interested in how your brand compares in estimated media value? Get a free trial of Bigdatr for a comprehensive look at industry benchmarks. Compare Now
Creative Strategies Across Categories
Business Banking
NAB, ANZ, and CBA are vying for the Business Banking sector, with a special focus on Agribusiness. Their creatives offer 'expert' advice and business overdraft features aimed at small to medium-sized enterprises.
Online Banking
As the digital transformation accelerates, Online Banking is gaining traction. ANZ leads in media value, targeting a broad demographic. Westpac and CBA have seasonal strategies focused on the holiday season and the financial calendar, respectively.
Home Loan
This industry category has witnessed innovative creative strategies as the Big 4 seek to dominate this high-value category. Here's how they're doing it: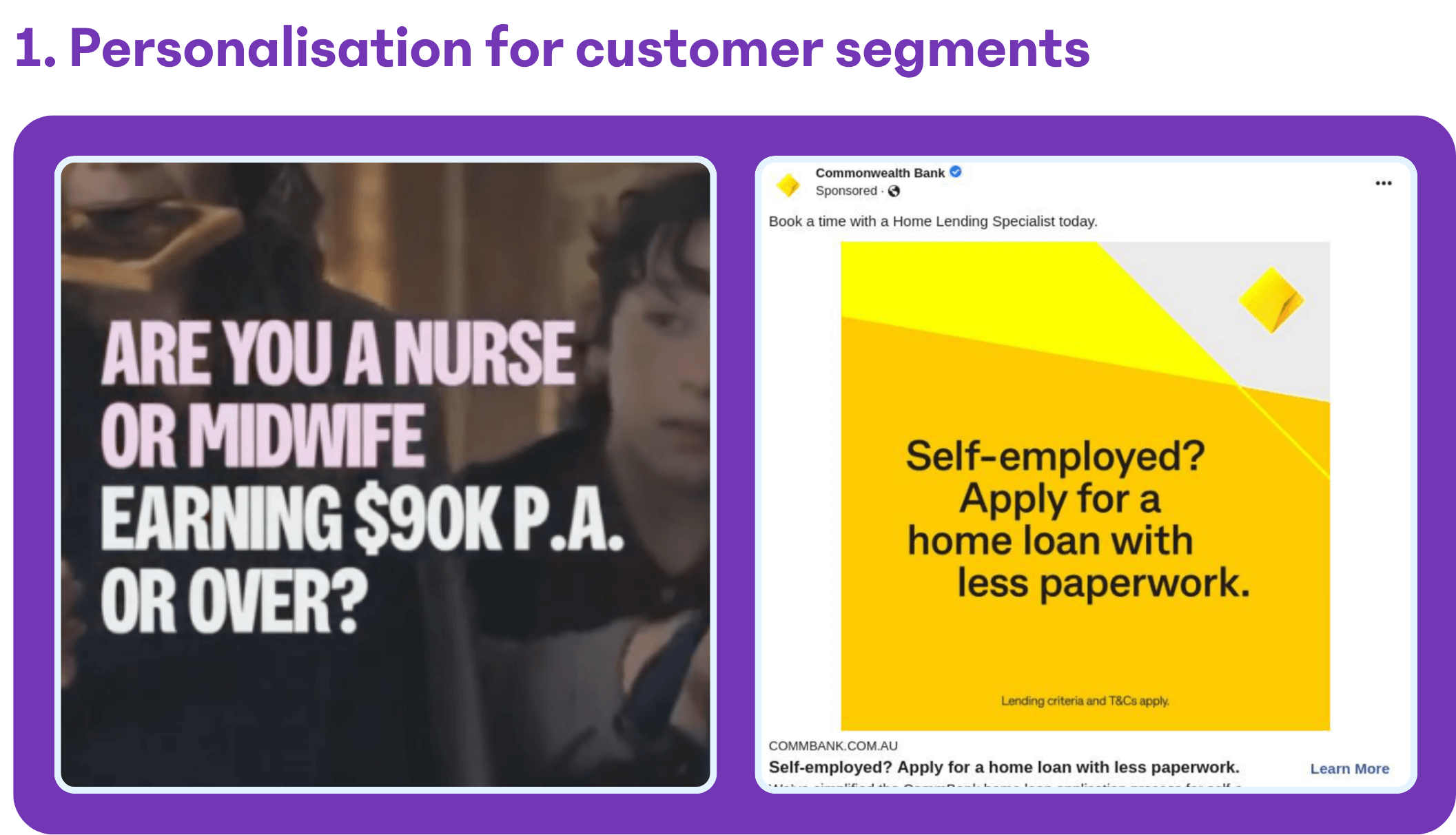 Source: Advertising Creative, Commonwealth Bank ads
Both Westpac and CBA are making concentrated efforts to tap into niche markets. For instance, CBA ads targets the self-employed, while Westpac ads aims to attract nurses and midwives, filling a gap in a largely underserved market.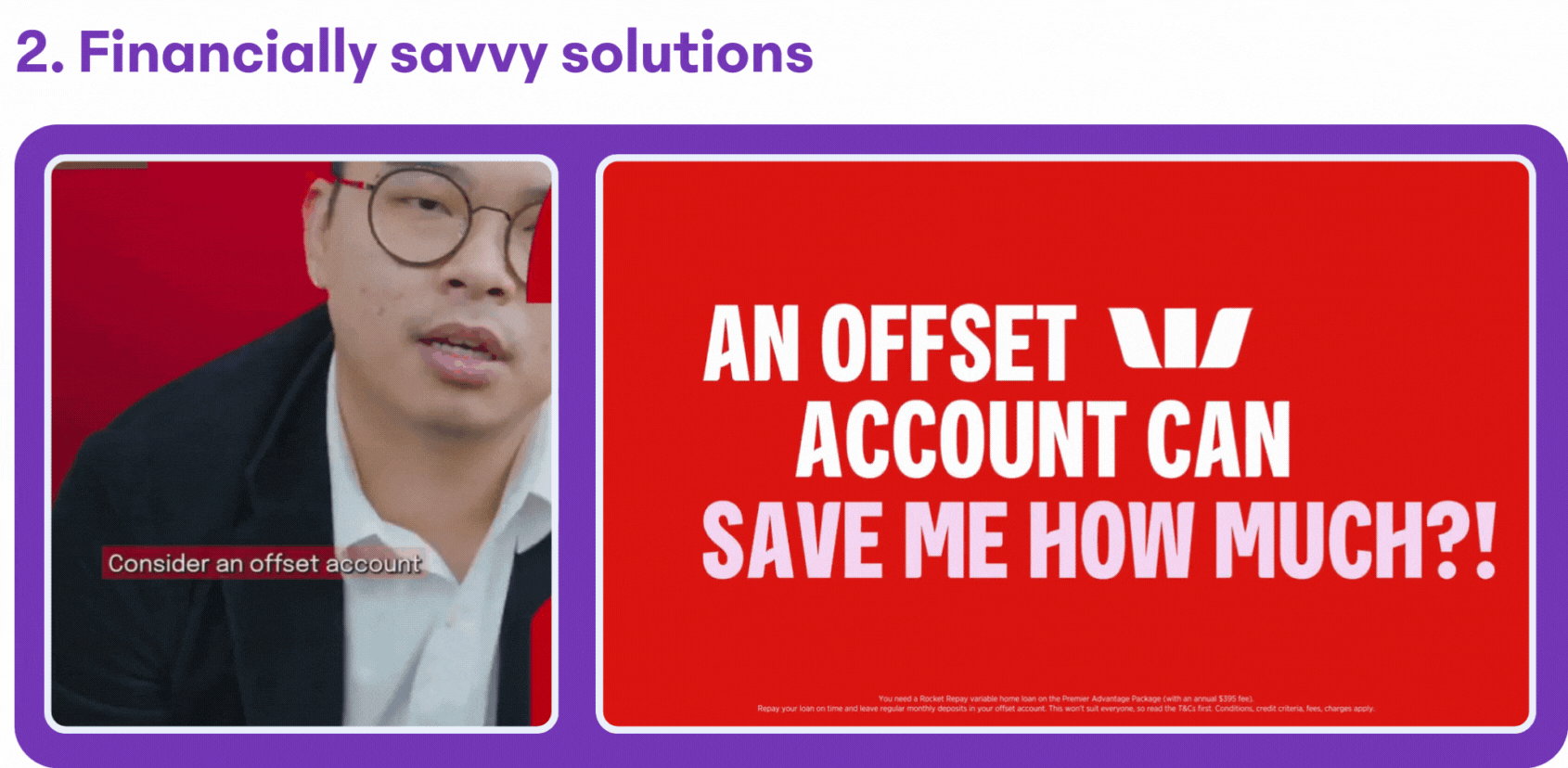 Source: Advertising Creative, Westpac ads
Westpac and NAB have introduced 'offset accounts' in their Home Loan creatives. This feature aims to attract financially savvy customers by allowing them to reduce their mortgage interest.
Curious about how your creatives compare in the Home Loan sector? Unlock this and more on Bigdatr. Start here.
Top Online & Offline Media Channel Insights
Digital Dominance
The industry is leaning heavily into online channels like Digital Search and Display. CBA dominates Digital Search, capturing audiences actively searching for banking solutions. Please refer to the full report for brand and Publisher Share of Voice growth comparisons across online and offline channels.
Emotional Storytelling
Offline channels like Free-to-air TV in Metro Australia offer an opportunity for emotional storytelling. Looking at FY23 media value trends, Westpac and NAB are seizing key financial periods to capture audience attention.
The Billboard War
Out of Home advertising remains a key channel for Australia's Big 4 banks to reach and engage their audience. This form of advertising is particularly effective for capturing eyeballs in high-traffic areas, combining the power of static and digital billboards to maximise visibility.
Commonwealth Bank is going big by advertising on the largest billboard in the southern hemisphere for brand building. While their 'book an appointment' call-to-action is a straightforward yet effective way to capture high-intent leads in the home lending segment.
ANZ, top 3 on this media channel, continues to push their 'Financial Wellbeing' campaign message through this channel, empowering consumers to take more control over their personal finance using ANZ's online banking solutions.

Source: Advertising Creative, Commonwealth Bank ads
Want a granular view of the top media channels for your industry? Start a free trial of Bigdatr for near real-time creative coverage across online and offline channels. Choose your industry here.
Banking & Finance Trends to Watch
Seasonal Strategies: Keep an eye on fluctuating investments during key financial periods like EOFY and holidays.
Niche Targeting: Brands are increasingly focusing on specific customer segments to increase their market share.
Digital Transformation: Online Banking is a rising star, offering engagement and service delivery opportunities.
Don't miss the opportunity to benchmark your brand against industry leaders. Sign up for a free trial of Bigdatr and create a comprehensive report on your competitors and industry trends.
The full report is available upon request. Ask us for a copy of the FY23 Banking & Finance Advertising Report here.
*Media Value figures are an accurate estimate at the time of publication, 23 Oct 2023. Figures are subject to change as new data becomes available.