BigDatr, Coles campaign, Every Part Of Every Day. We've Got You Covered.
BUPA pushes diverse product offering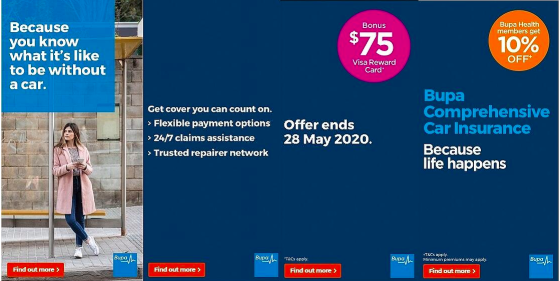 Source: BigDatr, BUPA campaign, Because Life Happens, Digital Display (April 17 - May 15)
Looking back year-on-year BUPA's advertising spend has remained relatively flat with a ~$15m investment YTD, however their approach to market has differed. Last year their focus in May was to further anchor themselves as a trusted healthcare provider; BUPA's Members First campaign was a heavy TV and Radio buy, but focused on a singular creative theme. This year we see the brand spanning many media channels (with a high proportion of Digital investment C. 47%), and varying the product focus: their Vehicle Insurance product present in over 30% of the ad appearances in May this year. Although BUPA is promoting a variety of products, and thus the brand's total spend for May (~ $3.1m) spans a few categories the brand promotion will likely have a halo effect as they appear a multi-faceted business.
*This Media Value figure is currently still in forecast mode so exact investment may be higher when backdated.

Source: BigDatr, Coles campaign, Every Part Of Every Day. We've Got You Covered., Out of Home - oOh! VIC (Apr 13 2020 - current)
Coles Gets State-Specific
Another brand growing in presence across the Insurance category is Coles who across March and April has focused the total of its advertising spend on car and general insurance as well as other Banking & Finance/Corporate Branding messages. Whereas in April 2019 Coles split 34% of advertising spend across NSW/VIC/QLD, with the remainder spread nationally, this year 85% of their spend in April has been seen nationally with only 15% split across the ESB states. The brand has also shifted its channel strategy this year: Digital channels have accounted for around 85%+ of their spend whereas this time last year their OOH spend averaged around 30% for Q2 with Digital sat at around 67%.

Source: BigDatr, NRMA campaign, Help Is Who We Are, Free-to-air TV, NSW & QLD (March 29 - May 24)
NRMA Feature Creature Comforts
NRMA has pushed an emotive, All-Australian TVC to market as part of their Help Is Who We Are campaign this year. As a brand they have continuously invested a high proportion of spend into what we deem to be corporate branding, but throughout 2019 significant spend was also distributed into Roadside assist promotion (averaging at 34% per month between April and June). Vehicle Insurance was being advertised heavily by the brand at the start of this year (around $370k in Jan alone through a combined Brand and Retail approach), but NRMA's tone has pivoted from April onwards to help promote pride in their Australian heritage with a focus on customer service.
Patriotic Creative for Budget Direct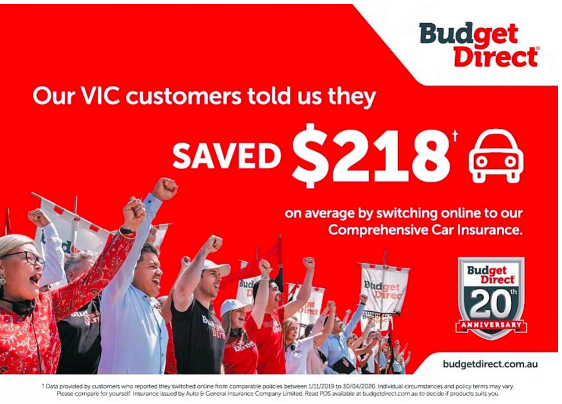 Source: BigDatr, Budget Direct campaign, Budget Direct 20th Anniversary, Newspaper, VIC (May 26 - Jun 3)
In celebration of their 20th anniversary, Budget Direct launched a tongue-in-cheek campaign combining both Brand and Retail messaging. Their TVC first appeared at the tail end of April and featured a parody of the William Wallace speech scene from Braveheart, drumming up enthusiasm for Budget Direct's identity. This has been followed by state-specific Retail messaging in mainstream Newspapers celebrating the total money saved by consumers in each state on their vehicle insurance by using Budget Direct. Where many brands have been pushing softer statements, Budget Direct are proud of their straight forward proposition and have remained true to their identity - cleverly achieving cut through by being bold (and a $2.4m+ investment).
---
Data Deep Dive: Vehicle Insurance YOY
2019 saw spending peak a little later for the vehicle insurance category: Just over $7m investment was seen in May 2019 with $10.4m noted in June 2019, versus $10m+ already in May 2020

AAMI featured as one of the big-spenders, with close to $1m invested in May alone

Youi's message to market is clear: If You're Using Car Less Right Now, We'd Like To Give You Temporary Relief On Your Car Insurance Premiums. Using a heavy digital buy and TV sponsorship of 'Lego Masters' Youi's marketing investment has almost doubled YOY but the brand retains continuity across its selection of core media channels (Digital & TV). This year they have chosen to include a smidgen of Radio activity (under $100k) to boost frequency: reaching consumers through all broadcast channels minus Out of Home

Source: BigDatr, Youi campaign, If You're Using Car Less Right Now, We'd Like To Give You Temporary Relief On Your Car Insurance Premiums., Digital Display (Apr 27 - Jun 4)
Where other sectors have slowed down as a result of COVID-19, the Insurance category has been incredibly active - many capitalising on this time to grow their brand across verticals (i.e. General Insurance, Vehicle Insurance, Home Insurance and other Banking & Finance products).