Source: BigDatr Afterpay Small Business? Dream Big campaign
Buy Now Pay Later Services Take the Limelight

Source: BigDatr, Afterpay Small Business? Dream Big campaign, Out of Home, NSW, April 15 - May 14
With use of credit cards dipping since the onset of COVID-19, consumers are turning to alternative ways to better manage their money: 'Buy Now Pay Later' (BNPL) being one of these. With many shoppers looking to manage their spending upfront and sidestep interest charges, payment plans can be seen as a good alternative.
Since the start of 2020 we have seen Afterpay invest over $3m in advertising, on par with other tier 2 spenders such as Latitude Financial and BOQ, with the peak of Afterpay's spending coinciding with the initial mass outbreak of COVID-19 here in Australia. Interestingly, less than 10% of the brand's marketing spend has been directed into above the line channels, instead the brand is investing the majority of their funds into Search, with a smattering of Social and Display in support. Clearly marketing to a younger audience (Millennials who have reportedly shirked credit card spending in recent months), Afterpay advertising has been visible across retail outlets and transit digital panels using Out of Home to capitalise on the younger demographic when they are considering their spending habits.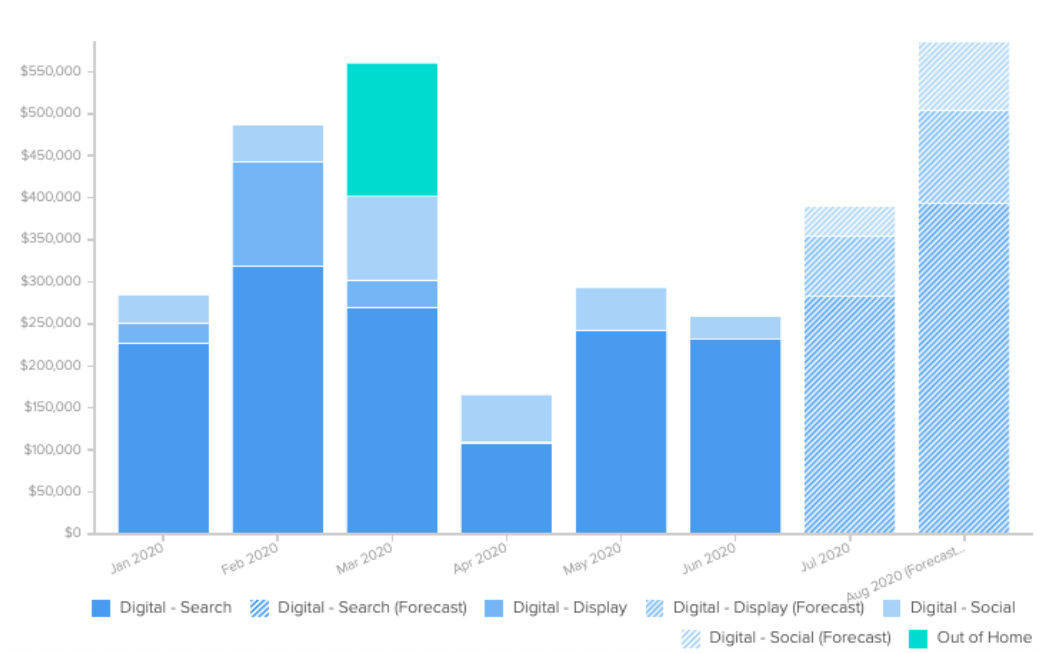 Source: BigDatr, Media Value, Afterpay,- Media Type, January - August* 2020\ *Note - August figures are still in forecast mode, whilst we expect July to increase slightly due to late digital spends
Zip have also appeared on Out of Home placements to encourage consumers to pay for bigger ticket items using their service, along with heavy digital presence and features in mass media Newspaper titles to drive consideration using their modest marketing budget.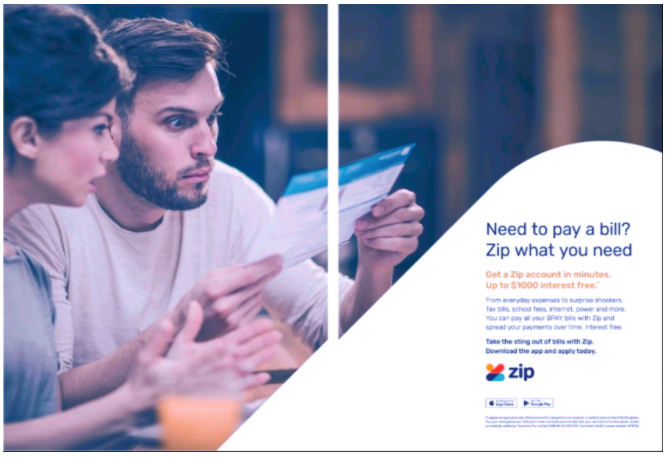 Source: BigDatr, Zip Money Zip What You Need campaign, Newspaper, NSW, QLD, SA, VIC, Herald Sun, The Advertiser, The Courier Mail, The Daily Telegraph, June 5 - 8
Forecast Outlook: Financial Services

Source: BigDatr, 12-month industry forecast (Banking & Finance, General Insurance, Health Insurance, Vehicular Insurance). Dates: 2019 - 2021, all media channels
On a positive note, the view to 2021 is slated to be more buoyant from a Financial Services perspective. Using our intel from previous spending trends across the industry we predict that as the year gets underway marketing investment will tip over the $100m mark towards the beginning of the year, with the peak in March being $11m+ greater than the investment seen this year, in March 2020. Where traditionally March has been a pivotal time for Health Insurance brands where their communications focus on rate rise, with many holding off until October 2020 for this year's rate increases this may disrupt their flow of slated changes into for 2021.
It will come as no surprise that our predictions foresee TV being a mainstay channel for marketing investment in the months to come, with Radio and Out of Home taking reduced portions of the pie in comparison to a growth in Search, specifically.
Home Loans: Category Focus
As the effects of COVID-19 continue to ripple through the market, many Home Loans providers are competing for consumer attention as mortgage rates have dropped. From March to July marketing spend across the Banking & Finance sector contracted by around 50%: dropping from $80m+ in March down to under $40m in July. With this contraction we have seen brands who offer a variety of products (such as Commonwealth Bank and Macquarie Bank) consolidate and be more selective with their category spending. From January to August, 35% of Commonwealth Bank's substantial $44m marketing investment has been directed to this category, with Online Banking taking a significant $5m+. 72% of Macquarie's marketing investment has been directed into their Home Loans offering, using a cross-channel blend of Digital, Out of Home and a heavy Radio presence (both Metro and Regional).

BigDatr, Macquarie Bank Great Home Loans For Good Borrowers campaign, Digital Display, Sep 14, theguardian.com
Competition has certainly been prevalent within the Home Loans category over the last few months - many brands offering cashback incentives, and others promoting their multi-year fixed rate loans products. IMB's Retail-heavy approach has been split promoting both their Budget Home Loan and their 3 Year Fixed Home Loan - although both campaigns have not seen a huge investment (C. $300k apiece), both have taken a broadcast-led approach with FTA TV supported by Radio. State-specific home loans providers have also maintained a solid presence to ensure local brand health such as Police Credit Union in SA and RAMS heavy press presence in NSW and QLD.