Some campaigns are cleverly and sensitively executed, while others have spurred immediate negative backlash. Let's take a look at brands demonstrating diversity in their campaigns, receiving immediate reaction from the public.
Nivea - "White is Purity"
Nivea received immediate backlash with its controversial "White is Purity" campaign theme line promoting the brand's new invisible for black and white deodorant. The image portrays a dark haired woman facing a window clad in a white bathrobe while sitting on the bed with the tagline printed "White Is Purity", which has now been removed.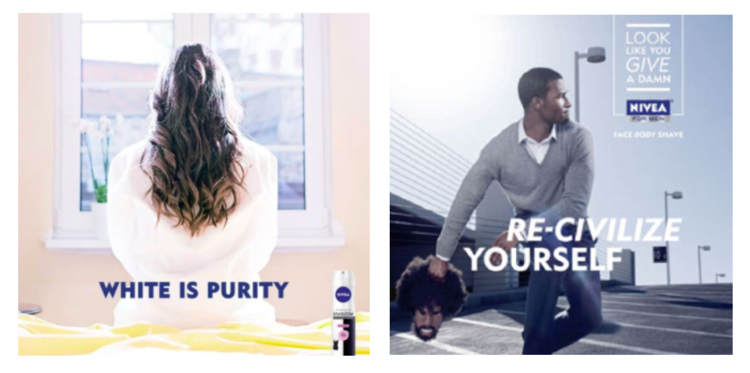 Above: (Left) Nivea's social media campaign "White is Purity". (Right) Nivea's 2011 print campaign "Re-Civilize Yourself".
Nivea intended for the campaign to be posted to its "Nivea Middle East" page, "The Nivea Middle East advertisement was not meant to be racially insensitive. We sincerely apologise. The post has been removed. Diversity, tolerance and equal opportunity are fundamental values of Nivea."
However, this wasn't the first time the brand has faced the storm with similar controversy. In 2011, a print ad depicting a cleanly shaven black man letting go of a former version of his bearded, afro-haired self against the tagline "Re-civilise yourself" was deemed racist and offensive, and was also removed from the market due to widespread criticism.
Magnum "The Ceremony"
Unilever ice cream brand Magnum depicts a wedding between two women to illustrate the brand's view on pleasure, diversity and acceptance with its new tagline "Pleasure is Diverse".\ Complaints were received for the ad, seen to be promoting 'lesbianism during family time', however the complaint was cleared by the Advertising Standards Board which ruled out that the ad was not in breach of any code. Unilever rejected the complaints stating that the ad fell within community standards "which treat gender and sexual preference fairly, impartially and tolerantly".
Pepsi - "Jump In"
Last week Pepsi's controversial ad featuring Kendall Jenner was pulled in less than 24 hours of launch for 'missing the mark' after receiving heat over social media and across the internet. The ad titled, "Jump In" borrowed heavily from the imagery of the Black Lives Matter movement, and quickly drew vicious backlash on social media.
The ad spot portrays a protest, where gay, black, Muslim and transgender persons appear to mingle happily as a line of policemen look on, and was criticised for trivialising and even glamourising serious issues that Americans protest for.
Meat & Livestock Australia
Meat and Livestock Australia is no stranger with driving conversation with their controversial campaigns promoting Australia Day each year. The 2017 Australia Day lamb campaign received mostly positive responses, however some in the Indigenous community said the ad was "highly offensive" and "disgusting". While intending to embrace unity and harmony, the campaign drew criticism of its depiction of the European invasion which failed to acknowledge the harsh realities of white settlement in Australia and the cultural sensitivities of the date of Australia Day for Aboriginal and Torres Strait Islanders.
Airbnb "Until we all belong"
Yet not all ads depicting diversity have received as much controversy as these. In Airbnb's mission to create a world where everyone can belong, the campaign is asking Australian's to make their support of marriage equality known by wearing the symbol of marriage itself - a ring.
Brian Chesky, Airbnb CEO and Head of Community, hopes the movement will spark conversations about acceptance across the nation by putting marriage equality back on top of Australia's political agenda.
"Openness and belonging are the heart of Airbnb - it's the core of what we do every day. We are committed to helping people belong no matter where they are in the world and strongly believe that everyone should have the right to marry the person they love.
— Brian Chesky
SBS announces 2017 Diversity Works Challenge
This week (10 April) SBS announced the finalists for the 2017 Diversity Works Challenge which aims to promote more diversity in advertising, giving progressive brands the opportunity to win one million dollars of free media space on both SBS TV and its digital counterparts.
Andrew Cook, SBS Director of Media Sales has expressed that SBS is thrilled with the response received to the challenge.
"The eight shortlisted ideas have integrated Australia's diversity into the fabric of their campaign concept, while achieving the brands overall marketing objectives, demonstrating that thinking with diversity works.
— Andrew Cook
Shortlisted entries include KWP! for Surf Life Saving Australia, BBAM for Steel Blue Boots, Starcom for Farmers Union Greek Yoghurt, Marmalade Melbourne for the Stroke Foundation, Ikon Communications for Barnados Australia and Carat for Holden, Medibank Private Health Insurance and La Trobe University.
This is also a great initiative for SBS to be involved with for their own brand reputation, who we recently saw collaborate with Holden to promote diversity and drive meaningful conversations.
At BigDatr we look forward to seeing which brand will win this diversity challenge, with the winner expected to be announced next month.