With the first post-pandemic winter season around the corner, Australians will be looking to stay healthy and start travelling again to find the warmer corners of the planet during our cold season.
In this article we will be taking a look at how private healthcare companies, retail pharmacies and travel companies are adapting their marketing strategies to capture seasonal demand using the Bigdatr platform.
Households have faced challenges with recent rate increases, leading to reduced disposable income as the RBA aims to temper the rise of inflation. In its recent announcement, the RBA highlighted that the cash rate target was raised by 25 basis points to 3.85%. This move signalled a similar outlook, with economic growth expected to slow due to factors such as rising interest rates, higher cost of living, and declining real wealth impacting growth1.
Who is signing up to private health insurance nowadays?
With the winter season fast approaching, private health insurance providers are recognising the need to differentiate themselves and cater to the unique needs of various customer segments. Analysing top competitors in the industry, Bigdatr's Advertising Creative library shows the target audience each brand is hoping to engage in their campaigns.
Couples sharing health insurance with separate extras limit
HBF's current campaign targets the masses of newly-weds from March with their mascots getting married. The focus of their humorous campaign is that extra's limits do not have to be shared among couples, with the slogan "share your life, not your extra's limits".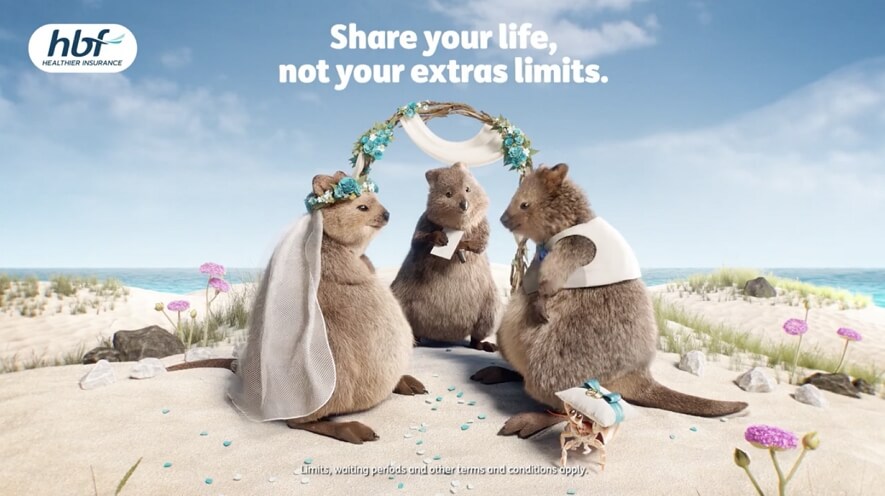 Source: Bigdatr, Advertising Creative, HBF Sign up for a free trial
No gifts at not-for-profit PIH
Taking into consideration the eye-catching offers that other brands use at this time of year to get customers into the door, HCF has opted for a humorous play on this with a sarcastic offer of gifts from their office to new customers.
This creative play on traditional advertising highlights "HCF giving more money back than the industry average", targeting money-conscious consumers who are looking for value rather than gimmicks.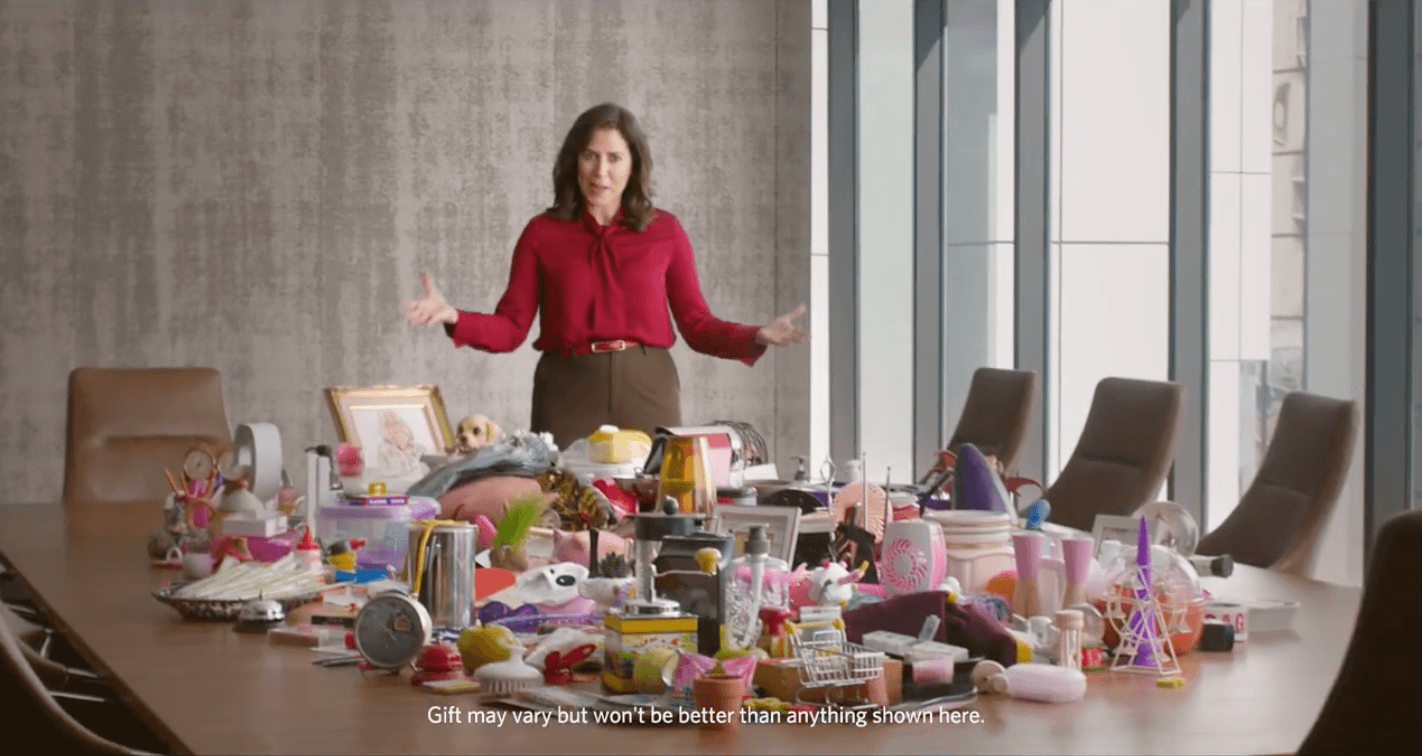 Source: Bigdatr, Advertising Creative, HCF
Targeting international visitors
With international travel back in full fledge, Bupa has opted to target overseas visitors in Australia. Their social media campaign encompasses diversity and showcases the brand's popularity among overseas visitors in Australia.
Their tagline "Chosen by more international visitors" is backed by a market share statistic from APRA which ranked them Australia's No.1 Health Insurance brand for overseas visitors.

Source: Bigdatr, Advertising Creative, Bupa
Industry expenditure on branding and extras offer
On the 1st of April, the annual industry average premium increased by 2.9%, meaning policyholders pay an extra $1.17 for singles and $2.58 for family cover per week. HBF's premium average is 4.49%, while Bupa and HCF's premium average fall at 3.39% and 3.335 respectively2. Their spending habits follow a similar seasonal trend, with advertising expenditure increasing from the start of the year.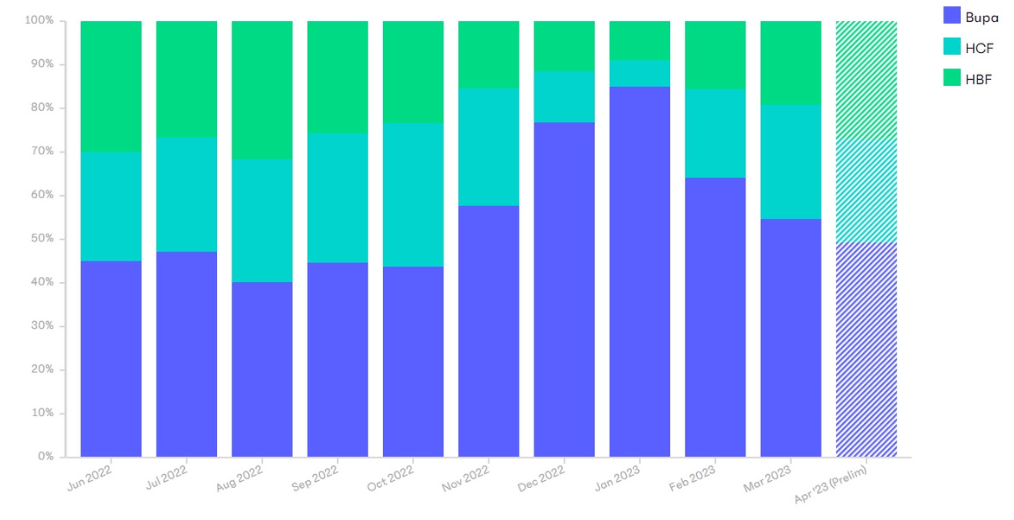 Source: Bigdatr, Media Value, Bupa, HCF & HBF
Bupa has taken majority share of voice in comparison to HBF and HCF's advertising expenditure. By focusing on extras coverage in 2022 and promoting brand image early this year, Bupa looks to potentially attract a wider customer base. With advertising spend at $7.5M for corporate branding alone, Bupa's increasing its market presence and brand awareness strategies.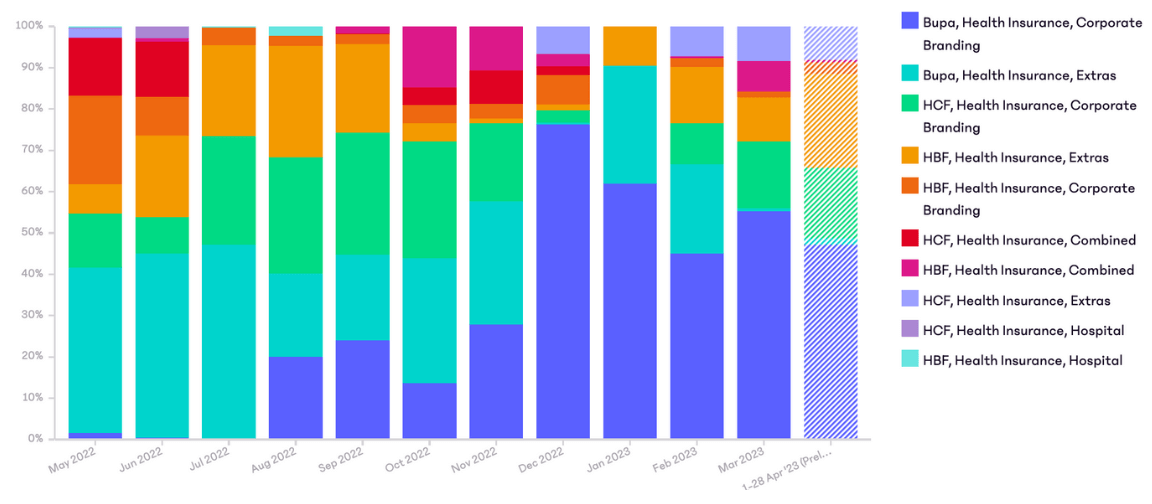 Source: Bigdatr, Media Value, Health Insurance categories
Cheaper medicine could mean less revenue for pharmacies
A recent change in cheaper medicines policy in favour of 6 million Australians could see pharmacies lose frequent consumers3. With fewer visits, pharmacies may experience a decline in revenue from prescription sales and ancillary sales of other items that customers purchase during their visits.
Here we see how retail pharmacies are mitigating changes in consumer behaviour, and as Bigdatr tracks published advertising creatives, we see trends in campaigns with top brands when it comes to promoting their over-the-counter medications, flu vaccination bookings and bundle deals with wellness products ahead of the winter season.
Multiple product offerings to encourage consumer spending
Chemist Warehouse's first 15-seconds of the 2-minute digital video promote their in-store flu vaccination service and cost, appealing to their budget-conscious audience. Advertising their huge range of wellness products and supplements for the duration of this video, like reading out a catalogue, they play competitively in the industry by showcasing their product offerings.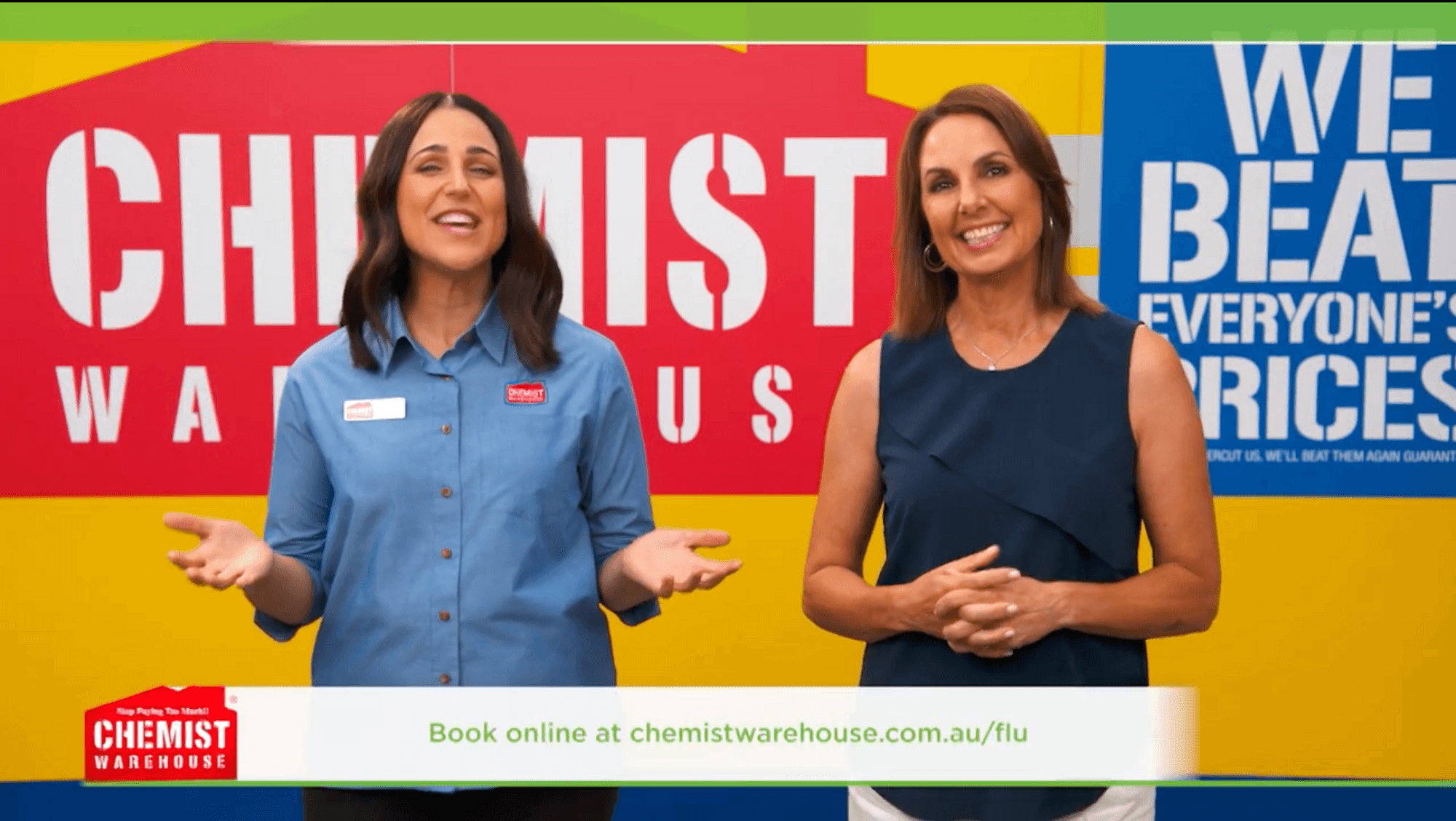 Source: Bigdatr, Advertising Creative, Chemist Warehouse
Pharmacy loyalty over three generations
A consumer-centric narrative is TerryWhite's current marketing campaign that creates an emotional connection with the viewer. It's a story about sick-days in bed and, not just the convenience of having family take care of you but also, the convenience of their TWC app.
By emphasising the importance of family health, it places TerryWhite to be a reliable healthcare partner for families and encourages brand loyalty.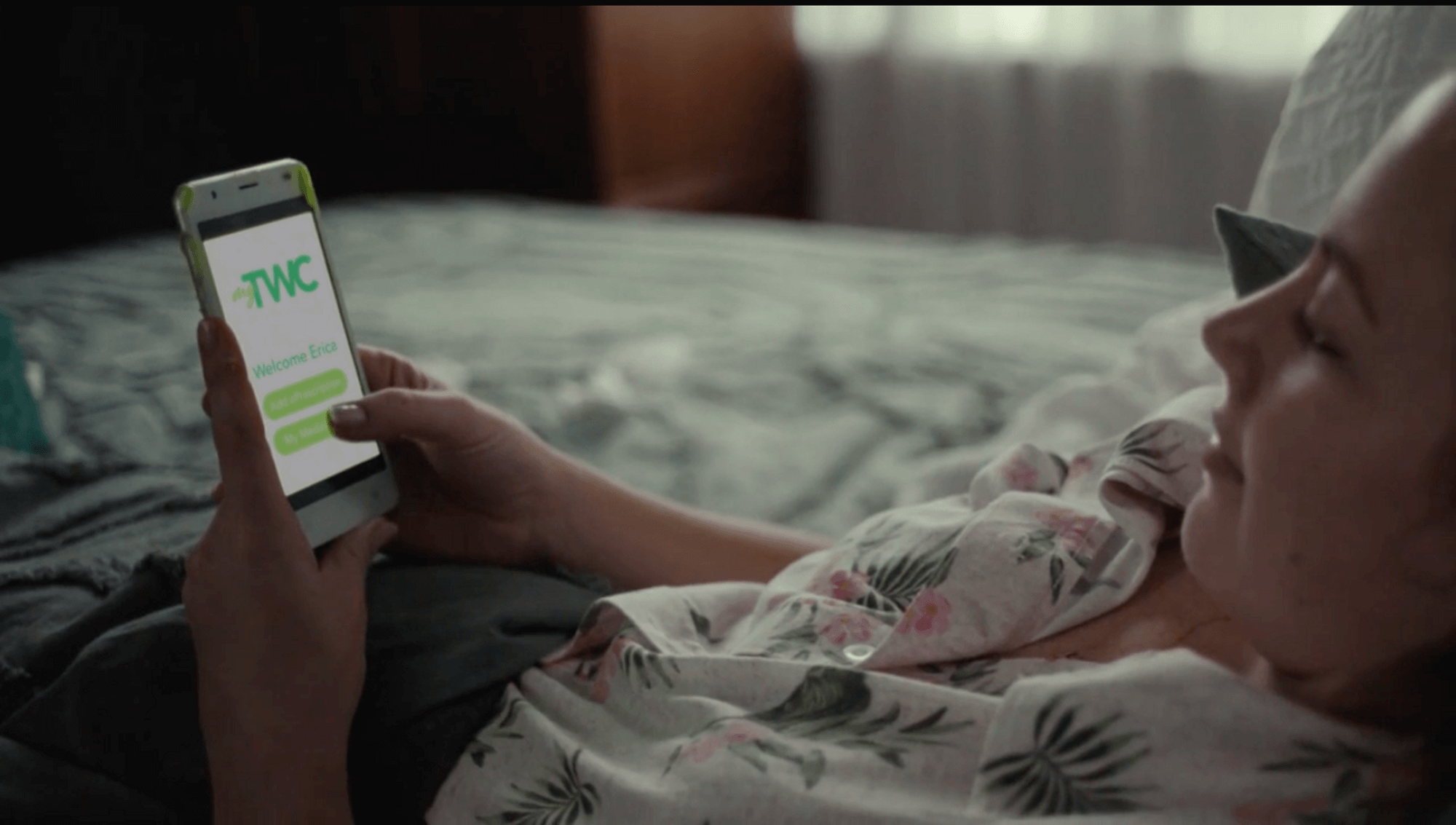 Source: Bigdatr, Advertising Creative, TerryWhite Chemmart
Empowering and looking after women
Priceline Pharmacy's women's health campaign uniquely targets the often-overlooked needs of older women experiencing menopause. By featuring a pharmacist sharing expert advice, the campaign establishes trust and connection with the target audience. This approach sets Priceline apart from competitors by offering a fresh, inclusive take on health and wellness advertising. The campaign's curated selection of menopause-related products reinforces the brand's commitment to supporting customers throughout their health journey.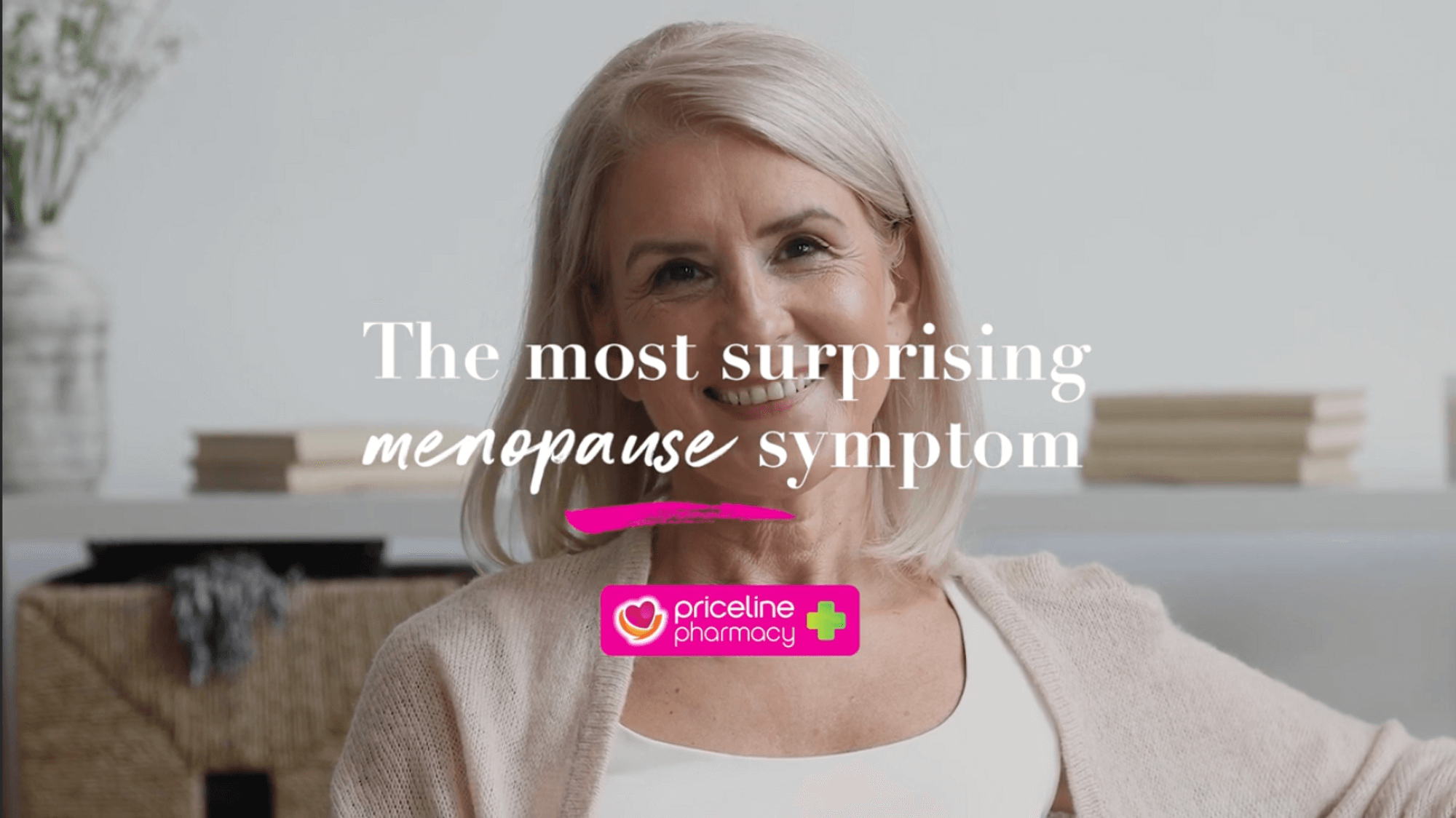 Source: Bigdatr, Advertising Creative, Priceline
Big spenders but cheaper prices?
In March this year, with a budget of over $4M similar to that of last year, Chemist Warehouse allocated almost 2.5x more than two of its competitors combined when it comes to advertising expenditures.
With households having lower disposable income, an aggressive market exposure means their price-competitive campaigns prevent consumers shifting to competitors in times of economic uncertainty.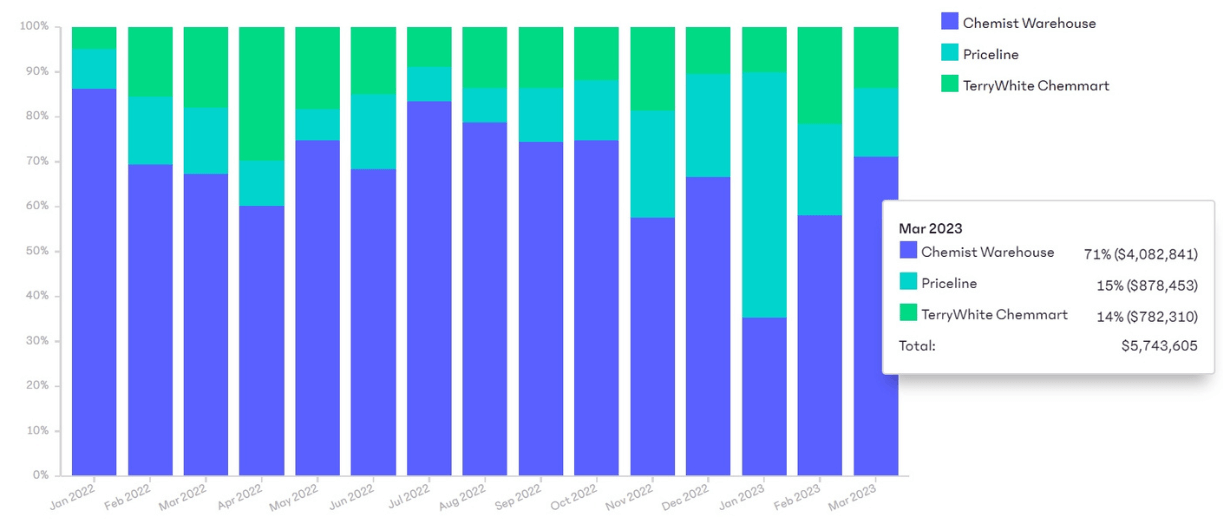 Source: Bigdatr, Media Value, Chemists, Chemist Warehouse, Priceline & TerryWhite Chemmart
Sun-seeking Australians escape winter chills
As the winter season approaches in Australia, travel companies are gearing up to cater to Australians seeking warmer climates and new adventures. With the pandemic becoming a distant memory, brands are offering enticing packages to sunny international destinations, allowing Australians to break free from the cold and reignite their passion for exploration.
Travel plans done for you
Understanding the economic challenges that some travellers may face, Flight Centre's digital video and TV campaigns highlight affordability and convenience in their offerings. Tailored travel packages to Europe and UK cater to various budgets and cultural interests ensuring that the dream of international travel remains accessible to those wanting to experience the northern hemisphere summer season.

Source: Bigdatr, Advertising Creative, Flight Centre
Earn extra cash when you're on holiday
Airbnb is captivating homeowners with their latest advertising campaign, which promotes the idea of listing homes as holiday rentals while the owners are away on their own holiday. It encourages transforming empty spaces into a source of additional income, to cover travel expenses or invest in future adventures. Straight-forward value proposition stating "get paid while you're away".

Source: Bigdatr, Advertising Creative, Airbnb
Stress less and save on energy bills
Although energy retail prices are increasing, having electricity in a new home is essential. Two energy brands fighting for consumer loyalty are taking different approaches, promoting incentives when you take your energy provider with you when moving homes.
Origin Energy has a Movers Rewards partnership with homeware brands that not only benefits customers but also strengthens their brand image, as it positions the company as a one-stop solution for customers' moving needs.

Source: Bigdatr, Advertising Creative, Origin Energy
You get what you pay for, guaranteed
Taking a different approach with their moving-day guarantee is EnergyAustralia, choosing to highlight the brand's reliability and efficient customer service. On the consumer end, this would eliminate stress and inconvenience during their moving process.
Take your brand to the next level with advertising intelligence
By focusing on value, convenience, and unique selling propositions, these top brands are demonstrating resilience and adaptability in the face of post-pandemic challenges.
Experience the edge that top brands have by embracing the same marketing strategies in overcoming post-pandemic hurdles.
Unleash your brand's potential with a no-obligation, risk-free trial of our platform and access unparalleled insights into your industry. No credit card needed.
*Media Value figures are an accurate estimate at the time of publication, 8 May 2023. Figures are subject to change as new data becomes available.
---
References
1. https://www.rba.gov.au/media-releases/2023/mr-23-10.html
2. https://www.health.gov.au/resources/publications/average-annual-price-changes-in-private-health-insurance-premiums
3. https://www.health.gov.au/ministers/the-hon-mark-butler-mp/media/minister-for-health-and-aged-care-press-conference-26-april-2023?language=en