From NAB's "More Than Money" campaign to Westpac's "We're With All Australians" campaign, bank ads are more emotive than ever before and aim to depict the banks as being compassionate to consumer concerns in an attempt to build consumer trust.\ The severe housing affordability crisis, increased living costs, access to quality education and being financially stable through retirement are all concerns that Australians admit to feeling uncertain about.
To address these concerns, CommBank has released its latest TV Spot "Because Together, We Can Find New Paths," evolving from the 'Can' campaign to back up a recent study commissioned by CommBank which highlights the everyday 'uncertainty' felt by Australian adults. The campaign promotes the bank's understanding of how their customers are feeling and shows their support in an 'uncertain world'.
Above: CommBank's TVC 'Because Together, We Can Find New Paths.'
In addition to CommBank's television campaign, the bank has developed an interactive ATM-led campaign which prompts its customers to answer a number of questions related to the overall problems Australians face. Some of these questions include:
1. 'Is the Australian dream of property still a reality?'
'Are our businesses ready to face the future?'
'Do our kids have the skills they need for tomorrow?'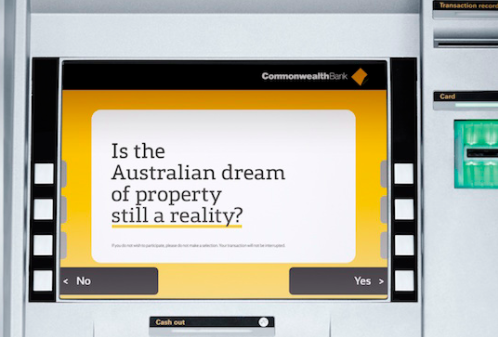 Above: Image of CommBank ATM presenting customers with the questions to help the bank build a better understanding of public opinion.
This form of customer engagement has not been conducted by any of the banks before, and will be the first ever interactive ATM in Australia. The survey will also appear online at can.com.au.
These questions will help CommBank understand the financial goals of Australians in an attempt to work 'together, to find new paths,' as the campaign promotes. The research conducted by CommBank discovered that 66 percent of Australian adults admit to feeling uncertain about what the future holds. Additional notable findings include:
Eight in 10 Australians (80 per cent) are worried about the cost of living in the future;

Seven in 10 Australians (70 per cent) are concerned about being financially secure in old age;

Nearly seven in 10 (68 per cent) cite future housing affordability as a notable concern;

Six in ten (60 per cent) admit they are concerned about having enough money for a rainy day (unexpected future expense);

Almost half (49 per cent) say achieving work-life balance is tougher than it was five years ago;

73 per cent want banks to do more to understand their needs and concerns;

72 per cent want their bank to be a partner in helping address their needs and concerns in a changing world.
Commonwealth Bank's General Manager, Sponsorship and Marketing Services, Stuart Tucker said it was important for the brand to address important issues that Australians are currently facing.
"This new campaign is all about showing Australians that we understand the uncertainty they're feeling, and to help them find new paths forward."

— Stuart Tucker
From the research it is clear that Australians are feeling anxious about access to education and employment, rising living expenses, taxation and housing affordability. The campaign developed by M\&C Saatchi, invited customers to take part in the research, in an attempt to better understand their concerns and uncertainties.
As CommBank states on its website, the campaign should enable them to 'develop new tools, guidance and services,' and this is the 'listening' phase of the campaign. The findings will be made available from 11 March 2017.
Using BigDatr to follow the journey of CommBank's campaign "Because Together, We Can Find New Paths" will give us insights into their media schedule which will include television, online video, digital display and out-of-home. We look forward to seeing how the campaign evolves further to actually show the Australian public how CommBank implements products and services that really 'Can' make a difference.