Audi celebrates Saudi Arabian women driving
Audi launches new TVC to welcome the women of Saudi Arabia to the driver's seat. The spot features a couple getting ready to head out on 24 June 2018, the day the driving ban finally ends. The spot, "Doors" created by Thjnk in Hamburg, Germany, shows the couple reaching a parked Audi vehicle, where the wife holds the passenger-side door for her husband before taking a seat behind the wheel.
"With this film we welcome the women of the Kingdom of Saudi Arabia to the world of Audi. We are happy to be part of their future explorations and invite them to have lots of fun with our cars," Jörg Dietzel, head of global creative and sales media, Audi AG, said.
Audi's latest campaign is the latest in a series of congratulatory work from brands. After the ban was lifted, Nissan offered driving lessons to women.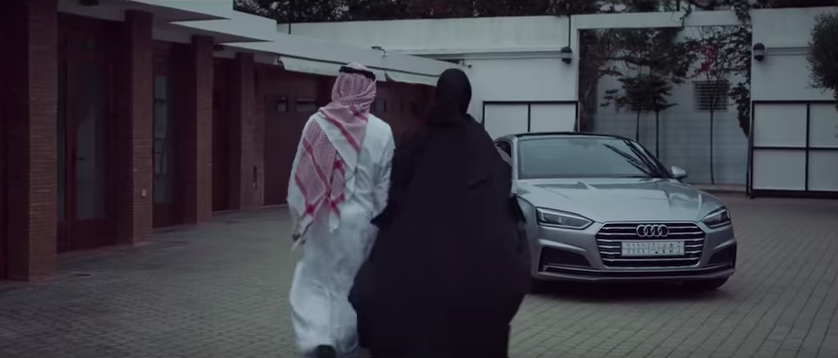 Sometimes history is written. This time, it is driven. Audi welcomes women of Saudi Arabia to the driver's seat.
Google rebrands its line of ad products

Google's ad products will be divided up into three major ad products: Google Ads, Google Marketing Platform and Google Ad Manager. Now known as AdWords will become Google Ads serving as the "front door for advertisers to buy on all Google surfaces" including search, display ads, YouTube videos, app ads in Google Play, location listings in Google Maps or elsewhere. Part of the change also includes Smart Campaigns, which will become the default mode for small business advertisers to easily identify actions including phone calls, store visits and purchases.
Google Marketing Platform combines DoubleClick Digital Marketing and Google Analytics 360 which acts as the company's analytics tool for marketers. Google Ad Manager is the third product that combines Google's monetisation tools for publishers, namely DoubleClick Ad Exchange and DoubleClick for Publishers.
The rebrand is expected to start rolling out in July.
Facebook launches 'Here Together' campaign in Australia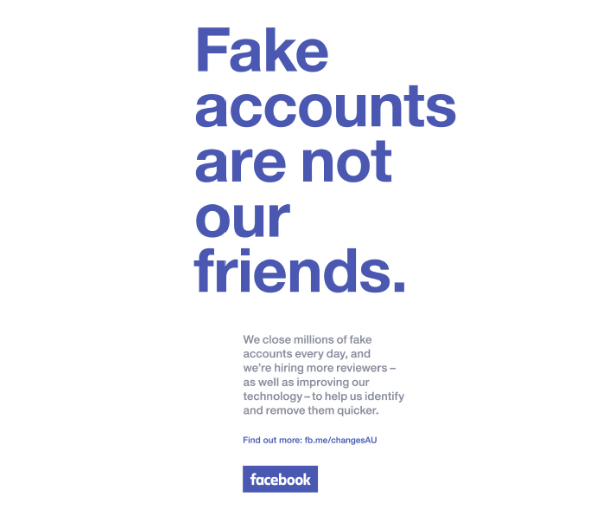 Facebook unveils 'Here Together' an eight-week campaign targeting Australian consumers. The social platform is aiming to drive awareness of the changes Facebook has made to protect people's privacy, remove fake accounts from the platform and ensure people have a positive experience using the platform.
The campaign launched across Australia via OOH, digital, TV and cinema with the hopes of restoring trust in Facebook, informing users about its efforts to combat fake accounts, data misuse and fake news - all of which the social media platform declares are "not our friends".
"It is our responsibility to make sure Facebook is a place where everyone can stay closer with the people they care about, and to make sure it's a positive force in the world", says Will Easton, managing director of Facebook in Australia and New Zealand.
Optus issues apology after its 'ball ups' with broadcasting FIFA 2018
Optus took out full page ads on page two of newspapers across Australia to apologies for its "monumental stuff up". The telecommunications brand bought exclusive rights to broadcast the World Cup matches live, and football lovers who paid for the sports package offered were left with repeated technical failures.
CEO of Optus, Allen Lew apologised to people affected and offered all Australians a free subscription to Optus Sport until August 31st 2018.
"Like you, we are football lovers. Our broadcast of the 2018 FIFA World Cup was to be one of our proudest moments. Unfortunately, we let you down.
Optus has given SBS the rights to every remaining game of the tournament.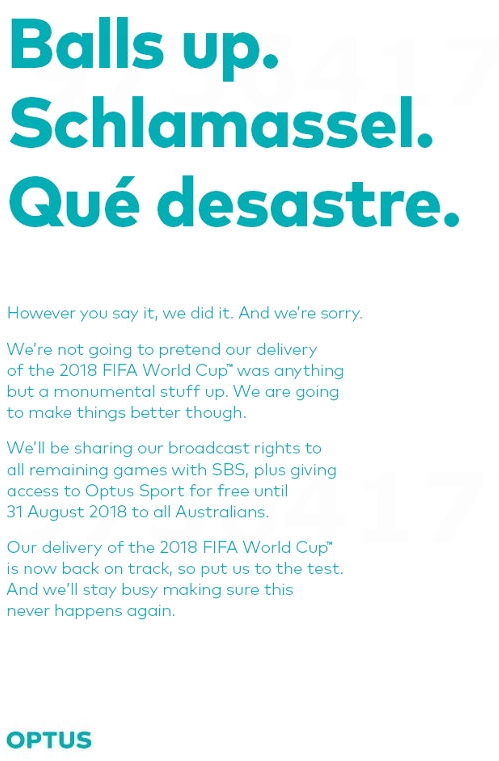 Dove launches 'No digital distortion mark' to show images free of digital manipulation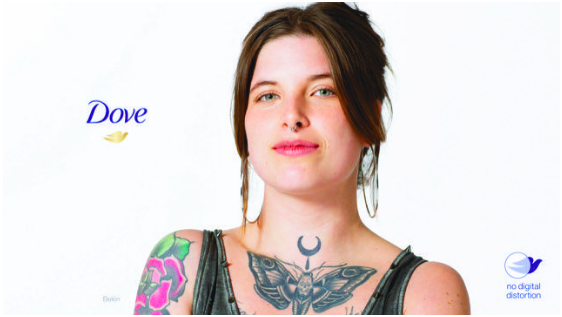 Unilever's Dove moves its "Real Beauty" goals further with the introduction of a branding mark indicating its advertising is free of digital manipulation. The "No Digital Distortion" label will kick off across branded content globally starting with Dove's deodorant campaigns. By January 2nd 2019, the mark will be incorporated into all static imagery showcasing women, across print, digital and social, representing the image is not distorted.
The 'No digital distortion mark' created by Dove, joins the Self-Esteem Project aiming to inspire women and girls navigate the media landscape letting them know that the image they see has not been digitally distorted.
"The Mark will help women identify reality and relieve some of the pressure to look a certain way, which is why we have created a new Evolution Film which reveals the extent of digital distortions and manipulations that takes place in media and advertising and brings to life the issue that women experience, says Dove Global Vice President, Sophie Galvani.
Shop Instagram stories with new shopping bag icon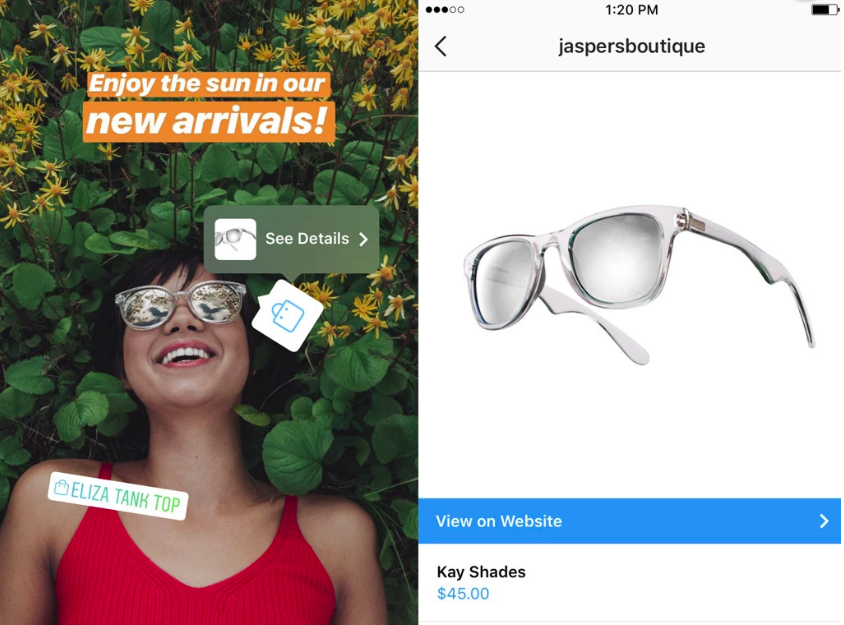 Image source: Techcrunch
Instagram is expanding its shopping features to Instagram Stories, after offering a way for users to shop looks through its feed. The new icon is giving a select number of e-commerce brands a new feature to help with their e-commerce efforts on the platform. Advertisers can add a shopping bag icon to their Instagram story that will display more details about the featured product.
Clicking on the shopping bag icon can display various types of product information, including more images of the featured product, images of the other products contained in the story, descriptions and pricing information for the product and links that lead directly to the brand's website to purchase the product.
According to Facebook IQ research, "more than one in three self-reported daily active Instagrammers surveyed said they have become more invested in a brand or product after seeing it on Instagram Stories."
Movements in Media, Marketing and Advertising
Nicole Sheffield, former News Corp chief digital officer (of six years) now joins Australia Post as executive general manager, community and consumer.

News Corp CMO, Tony Phillips exits to pursue his own consultancy business after less than two years with the company.

Jonathan Chadwick is appointed as Carats CEO for the Asia Pacific region.

KPMG Australia appoints former Publicis Communications chairman and Publicis Australia CEO, Andrew Baxter as senior advisor to the firm's entrepreneurial customer, brand and marketing advisory (CBMA) business.