New year, new car
New vehicle purchases skyrocketed January to March 2021, with sales up a huge 37% on this same time last year. Leading the pack in sales share were SUV Light, Medium and Large, as well as Pick Up 4x4. We witnessed record numbers in April, and May came in as our second highest new vehicle sales month in Australian history. And from what we've seen already, we're forecasting the industry to finish 25% up on last year.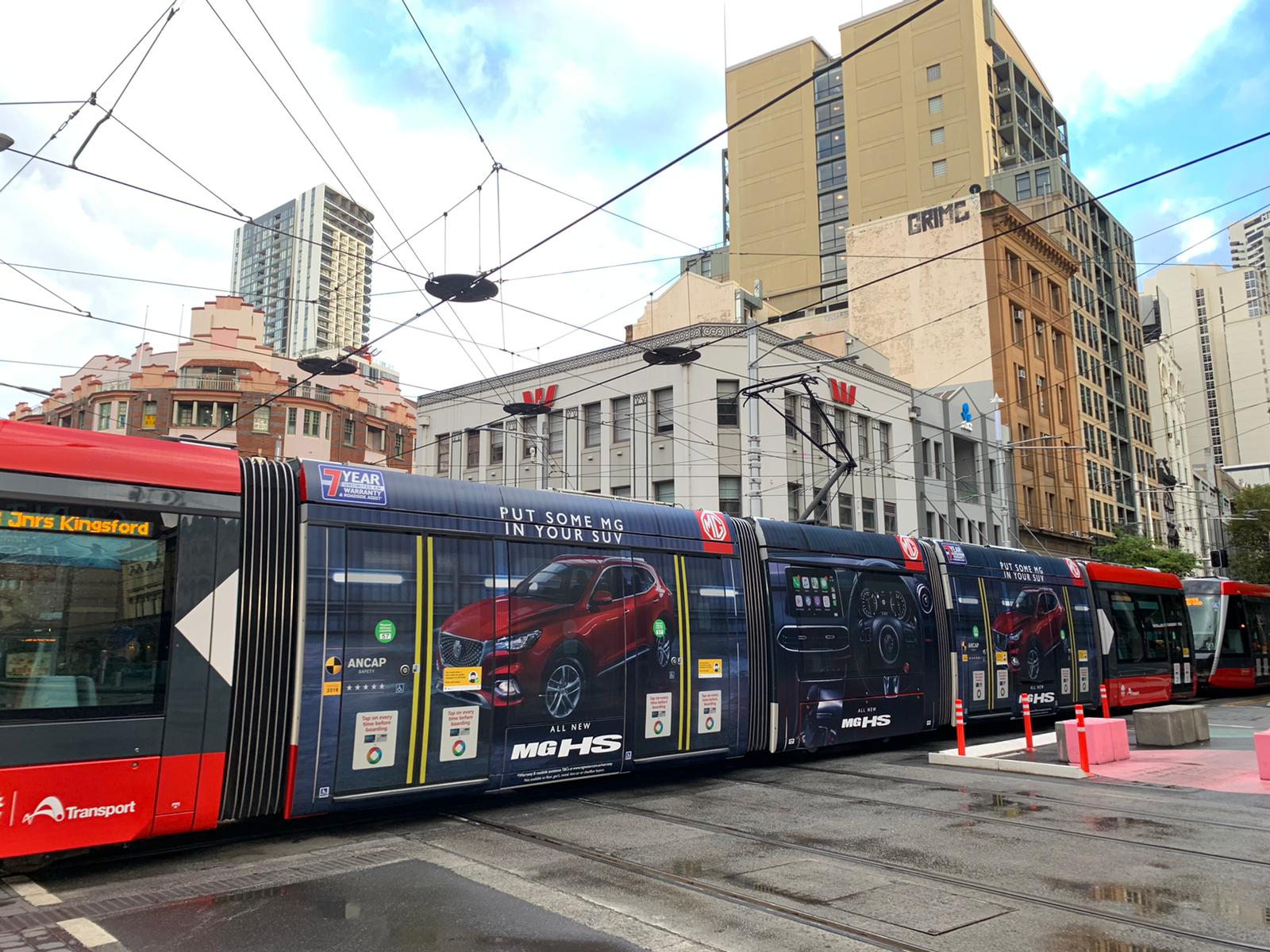 Source: BigDatr Automotive Advertising Creative - 2021
We've been seeing demand significantly outstrip supply in some segments. Manufacturers have been working overtime to keep up with build volumes, but the turbulent market conditions of 2020 such as lockdowns and shortages in parts supply have lead to a drop in the number of new vehicles hitting Australian shores.
This has caused a knock-on effect, whereby pent up demand from consumers has fuelled significant price growth across a number of segments dating back as far as 2020.
With consumers battling it out, manufacturers and dealers have seized the opportunity to hold back on the price point lever traditionally associated with the industry.

Source: BigDatr Automotive, Advertising Creative - 2021
What's driving the uptick?
When you consider everything the past year brought with it, the key drivers behind the uptick in demand and consumer competition in the industry become clear. We saw cheaper access to funding, increased property prices, and flow on effects from lockdowns. All these combined with household holidays not being a viable option meant consumers had access to more disposable income, and were eager to spend.
Automotive brands took note of this increased consumer demand and responded by letting the tap flow on retail campaigns. We've seen the share of retail based advertising in the industry balloon from 25% to a whopping 40%, with mainstream heavy hitters such as Toyota, Kia and Mitsubishi leading the charge.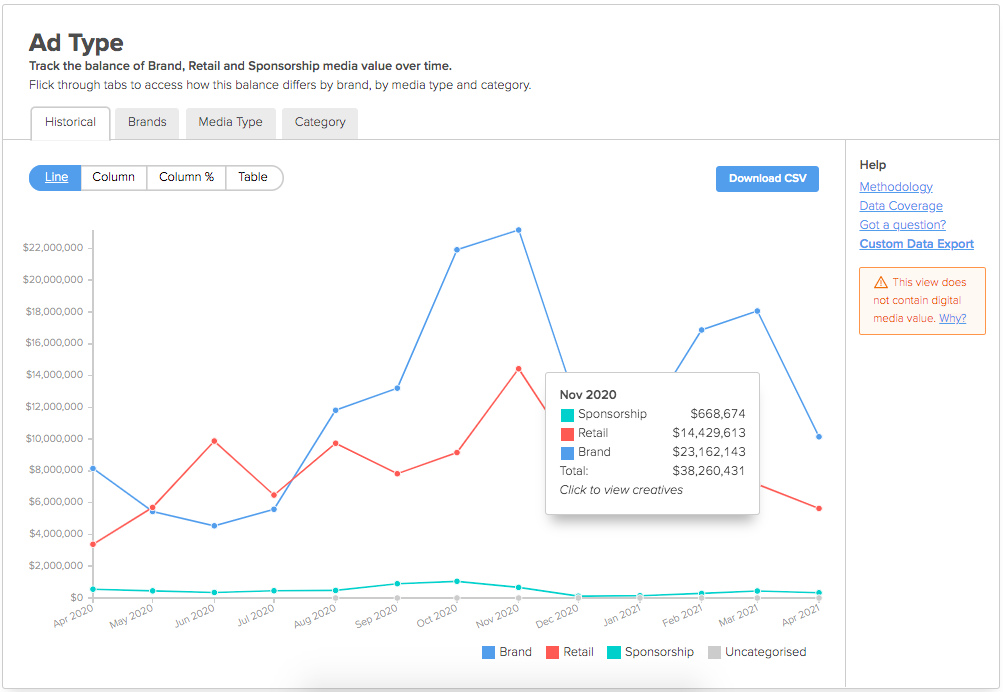 Source: BigDatr Automotive, Media Value, Ad Type Split - 2021
Locally we expect to see a big second half of 2021 thanks to the arrival of new models from the big brands, such as the Mitsubishi Outlander, Hyundai Tucson and the Kia Sportage models that keep fuelling the SUV Medium buyers' appetite. This segment consistently owns 6% or more of the share of spend from all manufacturers.
We're also eagerly anticipating the arrival of the updated Toyota Kluger, as we know it's a local fan favourite.
And, finally, the arrival of the all new Hyundai Ioniq and it's 2021 generation hybrid technology should prove interesting, as Kia will no doubt be hot on its heels with their updated EV6.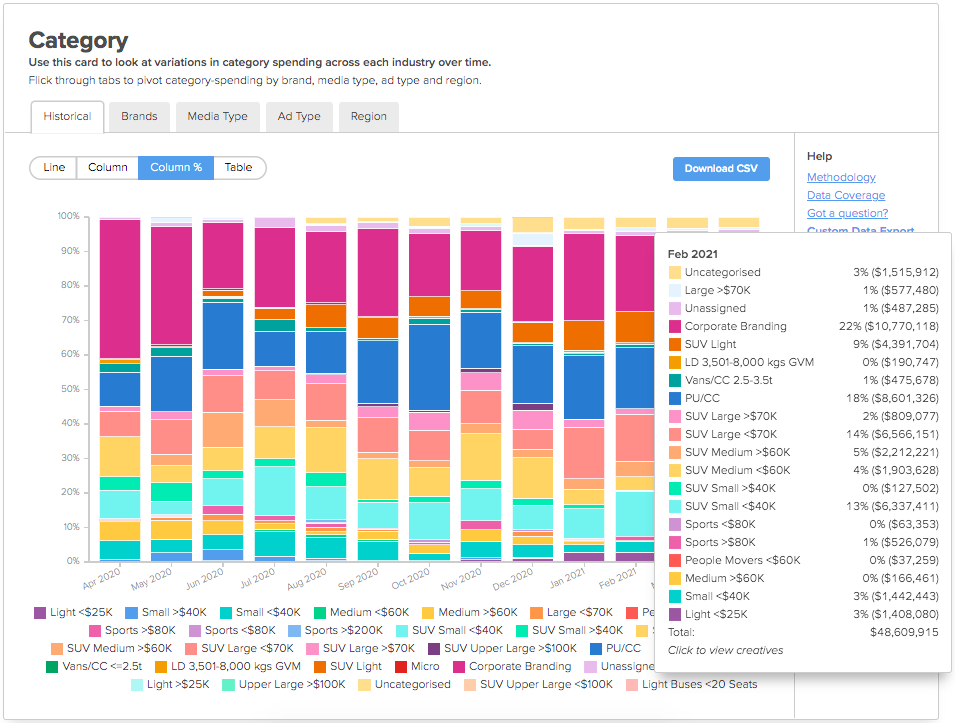 Source: BigDatr Automotive, Media Value, Category Split - 2021