Suzuki use their 'For Fun's Sake' brand identity to parody premium European luxury Autos
The Baleno model looks to harness market share for Suzuki in the Light <$25K segment with a tongue-in-cheek campaign emulating the look and feel of adverts from the European luxury segment.
The Das Talkomobile technology is a device that allows vehicles to talk to drivers and passengers - a value add that still keeps the model around the very affordable C. $20k price mark. Although this has the hallmark of a Retail campaign (the price point is integrated within the TVC) the brand personality is what categorises this ad - an example of 'Brandtail' advertising spanning TV and Digital placements for the $1m+ advertising investment.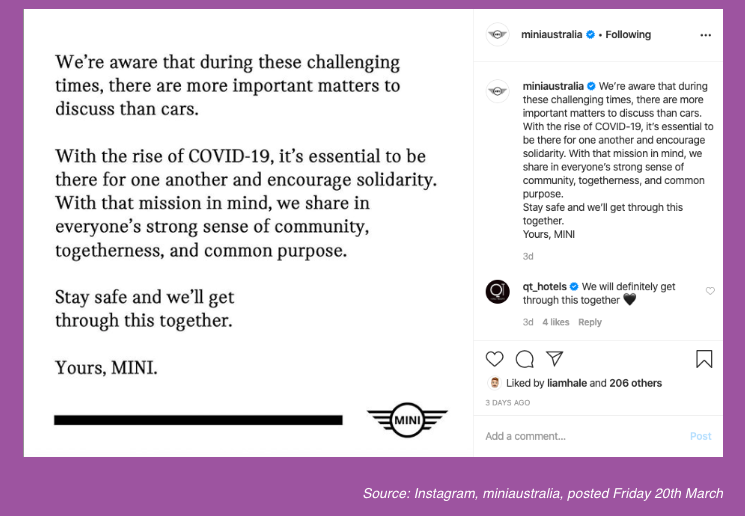 Source: Instagram, miniaustralia, posted Friday 20th March
MINI is trailblazer in corporate & social responsibility through recent comms on COVID-19 virus
Despite the current Automotive market facing hard-hitting sales challenges MINI has distinguished itself as a supportive and socially-forward-thinking brand in its latest social post. Although selling vehicles is a subject front of mind for all OEMs right now, MINI's recognition that people's health and safety is paramount is heartening.
Often thought of as the challenger brand within the BMW Group MINI inject a commendable personality into their latest post: harnessing the power of social media to humanise and disperse a message of solidarity to its 15.6k followers.
---
Our Insights of Note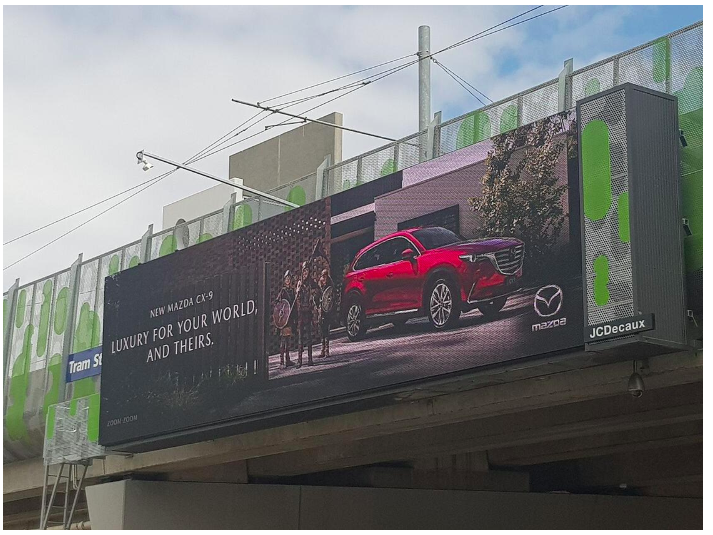 Interestingly, although TV does still takes the lion's share of media spend for both Brand and Retail advertising strategies across the sector, this media type has taken the biggest dollar hit YOY so far. TV still benefits from around 52% of traditional media spend across the Auto sector, but whereas Out of Home has grown in $ investment ($9.4m for Jan & Feb 2019 Vs $9.9m for Jan & Feb 2020), TV has come back from almost $33m to $24m. The impact of digital spending is clearly being heavily felt on TV, with brands potentially capitalising on the speed and flexibility of digital buys in a tough climate

Although it is too early to say for many brands whether their 2020 strategy will swing towards Brand or Retail across the year, Lexus have bucked the trend and invested almost 5x the amount into Retail over Brand advertising. Although at the pricier end of their segments Lexus have proffered complimentary upgrades and slashed price points to compete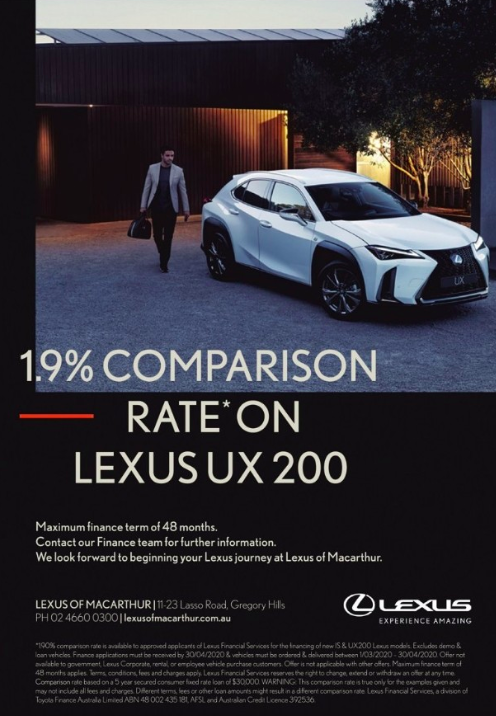 Source: BigDatr, Lexus, The All-New Lexus UX