This year the iconic summer tournament has up to 28 official sponsors including: ANZ, Kia, Coca-Cola, Optus, Medibank, Blackmores, Coopers, Woolworths and Mastercard.
Every tennis sponsor comes up with ideas of how they can build rapport with fans and align their campaigns. This is how ANZ, Mastercard, Coopers and Kia have done it in 2017:
ANZ continues its partnership with AO
ANZ is the Official Bank of the Australian Open. The bank is pushing their "Keep Moving" campaign featuring tennis champion and brand ambassador Novak Djokovic.
Above: ANZ 'Keep Moving' TV campaign featuring Novak Djokovic
ANZ promotes unique and admirable individuals who tackle their obstacles no matter how big or small. For example playing 5 sets in the extreme Melbourne 40 degree heat, but decide to 'keep moving' despite the challenges. The campaign is designed to align with ANZ's goals and brand positioning, "to shape a world where people and communities thrive." - 2016 ANZ Annual Report.

Above: An example of ANZ 'Keep Moving' Out-of-Home advertising
ANZ have been a proud sponsor for the Australian Open since 2010 and have continued to align their goals to grow their presence in the Asia Pacific region.
"The Australian Open exposes brands not only within the Australian market, but also throughout the Asia Pacific."
BigDatr first spotted the campaign on 29th Dec 2016 and it is currently running across Television, Digital and Out-of-Home.
Mastercard serves up a Grand 'Happy Slam'
Above: Mastercard 'Happy Slam' campaign
Mastercard serves us a fun and exciting, "Happy Slam" campaign using Pharrell's hit song 'Happy'. The campaign kicks off their three year commitment to support AusOpen.
The agency behind the TVC, McCann Sydney collaborated with the Digital Arts Network to create a virtual tennis tournament as a part of the campaign, aiming to bring at-home audiences closer to the game. 'Tap Tennis', invites fans to compete in a virtual tournament of tennis using the 'power of tap'.
This ties in nicely with Mastercard 'Tap & Go'...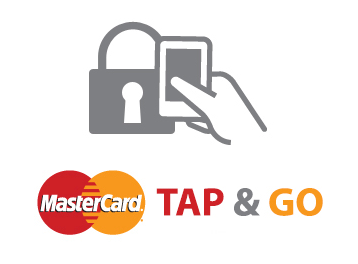 Above: Mastercard 'Tap & Go'
Play Tap Tennis.
Tap tennis offers fans the chance to win a trip to the tournament. Eight finalists will compete in a creative championship match using a custom-built oversized interactive 'Tap Tennis' table on Australia Day this Thursday at Melbourne Park.
The multi-channel campaign is using digital, social media, outdoor and onsite activation elements allowing fans to compete in a virtual tennis game. Former tennis stars, Lleyton Hewitt, Martina Hingis and Jim Courier featured.
Coopers knocks out Heineken as official sponsor
Australian Open has ended a 20-year strong partnership with Dutch original beer giant, Heineken and welcomed new official beer partner, Coopers. The Australian loved beer is a perfect fit for the Australian Open, and has won beer pourage rights for the next five years.
Coopers approach has been to emphasise the beer's Aussie roots: "Australian made and Australian Owned". They flip 'Australian Open' with the campaign tagline 'Open Australian.'

Above: Coopers 'Open Australian.' Out-of-Home advertising.
To celebrate the partnership, Coopers have launched a special 'Legends Summer Lager' with packaging that aligns an Australian owned beer with an iconic Aussie sporting event just in time for Australia Day. The limited edition packaging features tennis stories and fun Australian Open facts.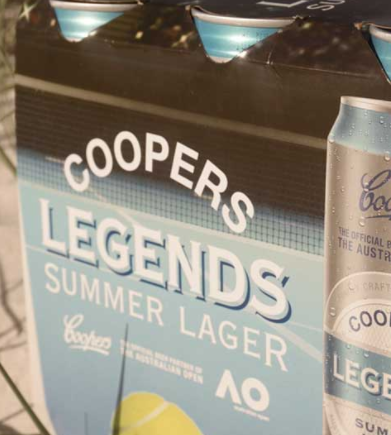 Above: Coopers Launches Legends Summer Lager to celebrate Tennis Australia partnership.
Kia Delivers, 'The Power To Surprise'
Kia has been a driving sponsor for the Australian Open since 2002, and are 'proud' to accelerate the growth of the grand slam tournament. Tennis champion and brand ambassador, Rafael Nadal, is featured in their "Everyone has the power to surprise" TV Campaign. The message behind the campaign is that it takes more than just the players to play - everyone helps make the tournament what it is. They associate the speed of the tennis ball, with the 'drive' of the 'all-new' Kia Rio that has undergone a design change.
Kia Grand Slam Deals
This month, Kia are running "Grand Slam Deals" to tie in with their partnership with the Australian Open. The retail campaign is a reoccurring theme that was also used at this time last year.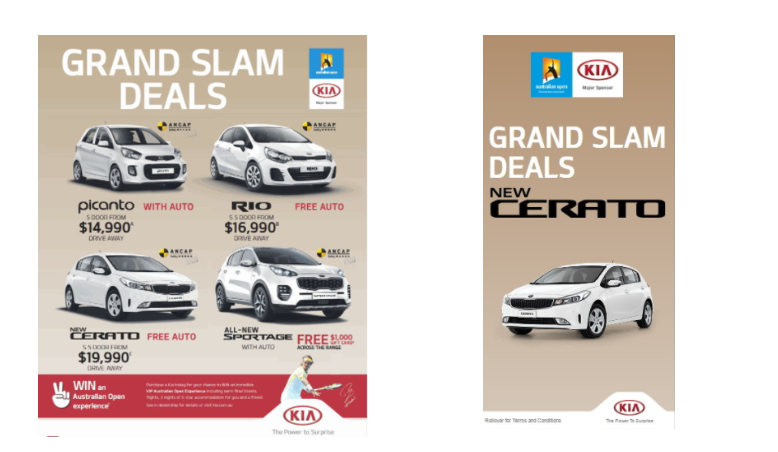 Above: Kia 'Grand Slam Deals' Retail Offers Newspaper campaign (left) and Digital (right)
Sporting event sponsorships continue to be competitive alliances that help build branding characteristics. ANZ promote 'excellence', and that they, 'help people meet their goals'. Mastercard sells a positive world, 'beyond cash'. Coopers takes pride of its Aussie heritage, 'Australian Made Australian Owned' and KIA believes in 'the power to surprise'.