Source: BigDatr, Hello World, Global 2020 Sale campaign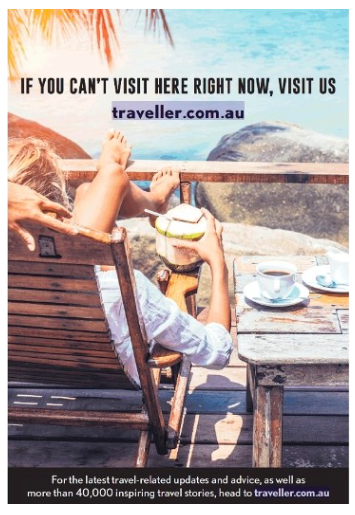 Source: BigDatr, Traveller, If You Can't Visit Here Right Now, Visit Us
Press Pause or Lean In?
Let's preface by saying it would be remiss of us not to address the decimating impact COVID-19 has had on the Travel industry. With any departure from Australia currently on hold, and even regional travel prohibited, the industry faces a sea change like never before.
How brands respond to this unforeseen adversity during this time will likely define their ability to recover once the infrastructure is back in place and health risks at bay. With Traveller the sentiment is kept positive, with an aspirational feel, driving consumers to take action online and keep up to date with news - as well as potential deals for when the market opens up again. Hello World have interspersed Retail advertising promoting local, Australian travel to boost the economy with more supportive, reassuring messaging with Here For You Today. Tomorrow. Always.
What this does bring the consumer is quite a confused state of affairs across the industry - and erratic spending in support of this fluctuation also.
Travel & Accommodation Portals
Historical Overview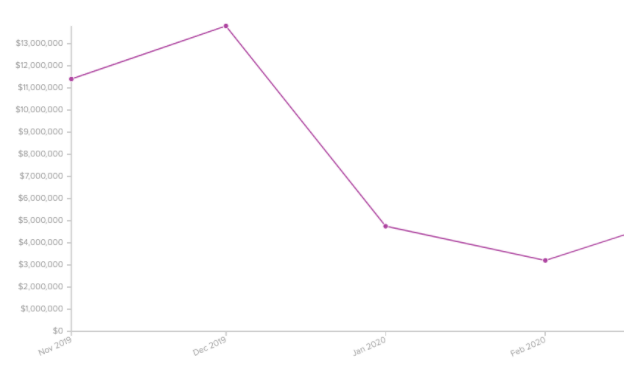 Source: BigDatr, and SMI, Nov 2019 - March 2020, Media Value, Travel & Accommodation Portals
Taking a look at the Travel & Accommodation category in-platform we can see media spend across Travel Portals dropped dramatically by C. $9m from Dec 2019 to Jan 2020. Although traditionally a slower time of year for the travel industry the impact of the COVID-19 travel bans will likely mean a crawl back to a level of 'healthy' spending; still impossible to climb to the $9m seen in his category in March 2019.
With that in mind, this category still benefits from a diverse spend across media channels. Given the audience is so broad, capturing people in moments across their day when they are receptive is key. With the consumer journey evermore fragmented the traditional brand-builders of TV and Out of Home stake their claim with significant share (60% and 15% respectively for Jan 2020) working in tandem with the immediacy of Digital, and Newspapers addressing the more traditional audience set.
January Hello World Sale Takes Poll Position for Spend across the Flights Category

The Australian-based travel agency invested $1.28m to kick of the year in Jan 2020 with its Global Sale - more than 3 x the investment of the prominent campaigns by Travel Associates and Flight Centre in the same period.
Using high-frequency broadcast channels (TV and Radio) alongside appearances on travel-specific digital sites and a broad Newspaper buy. Flooding the market at this time of year would likely have been a beneficial strategy to encourage a short, sharp sales spike if travel conditions had not been sadly curbed due to the current climate.
Other Insights of Note
Using a conservative budget across Feb and March Intrepid Travel was hyper-targeted across VIC and NSW states only, focusing on targeting people already out 'n' about using Out of Home Rail small format. In this partnership with oOh! Media, Intrepid Travel diversified its approach and took advantage of oOh!'s cross-channel assets with a bespoke site takeover on the Junkee platform to advertise their Women's Expeditions. Even on a small budget, this is an example of a brand buying with an audience-first approach in mind and likely gaining trading efficiencies whilst doing so using a singular supplier to reach their audience both on and offline.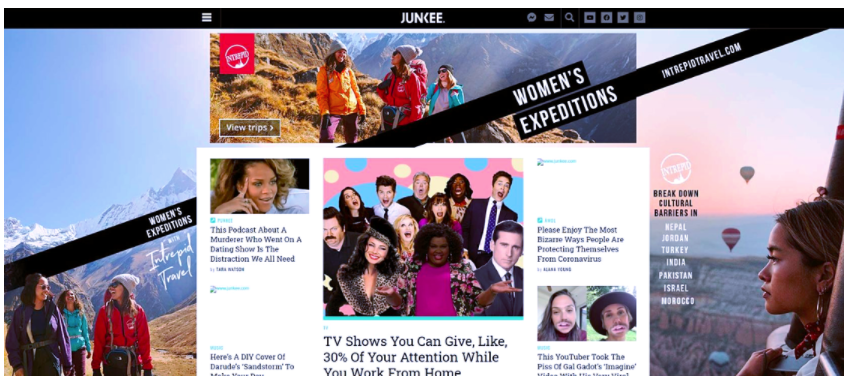 Last month (Feb 2020)** Retail spend overtook Brand spend in the Airlines category - this was the first time media spending intent has flipped in this way since March 2019 when an Air Asia 'Mega Sale' sale hit the market. On average Brand spend overtakes Retail spend in this category by $1.6m across a year*; healthy Retail bursts underpin a lot of the brand-building as a constant in this category. This year so far spend sits at a conservative $6.4m, with the industry noticeably 'holding its breath' and regrouping ahead of likely deciding on an approach for the next quarter.
*Period tested March 2019 - March 2020 (inclusive)
** Feb 2020 numbers are currently a partial read