The Trend
Since 2011 we have witnessed a strong shift towards digital advertising, but does this mean that we are approaching the demise of print media? In particular the use of Magazines as a means of creating greater brand equity. BigDatr has analysed three years of data covering 200 Magazine Publications and over 9,000 editions - the findings are alarming. First discovered was the significant difference between the major Automotive brands and their media mix to include Magazines as a key component of their marketing strategies.
With a focus on the Automotive industry, data from the study produces the following index ranking with brands that invest the high est to lowest in Magazines:
Brand Current Media Buyer BigDatr Magazine Index Score Roy Morgan Brand Loyalty Mazda OMD 10.6 58.8 Toyota TMS 7.0 57.0 Subaru SMV 5.0 57.0 Volkswagen Mediacom 4.4 62.5 Nissan Carat 3.5 42.3 Hyundai Initiative 3.4 44.5 Holden Carat 1.8 38.4 Mitsubishi MEC 1.6 36.2 Ford Mindshare 1.5 42.3 Suzuki Maxus 1.3 33.0 Honda ZenithOptimedia 0.9 42.6 Kia Initiative 0.8 37.8
Note: BigDatr Magazine Index Score is defined as the number of advertising spots placed within Magazines in comparison to the total Automotive category. The average model range has a six year life-cycle with a mid-life facelift. There is generally significant marketing activity after any new model or facelift release.
Given the distribution cycle of magazines and the nature of advertisements heavily skewed towards branding, we've overlaid the 2014 Roy Morgan brand loyalty data to see just how closely these attributes align.
Brand loyalty is defined as the percentage of consumers whom intend to purchase a new car within the next four years and will also purchase the same brand of vehicle they currently own. A higher score represents a greater likelihood of consumers purchasing the same brand of vehicle they currently own.

Above: Some of the Magazines included as part of Mazda's advertising strategy.
Data shows that there is a strong positive influence on brand loyalty with an increase in Magazine advertising (correlation r = 0.80). The below chart represents the current Automotive market as of Feb 2015.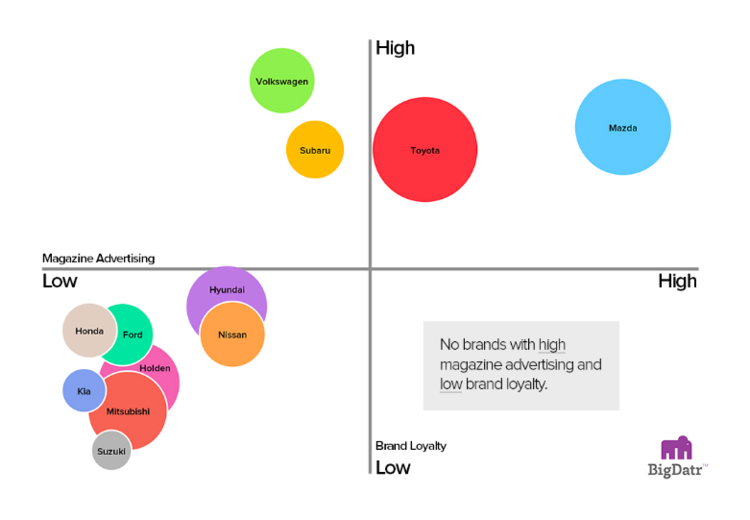 Above: the size of each bubble represents the relative 2014 private vehicle sales by brand.
Further analysis within the small cars valued under $40,000 segment finds the top sales performers Mazda 3 and Toyota Corolla, each advertising in over 25 unique Magazine publications over the last three years. Further, both the Mazda 3 and Toyota Corolla were the most promoted vehicles in this segment, with the respective brands also releasing the two most active campaigns.

Above: BigDatr's Spot Monitoring report for Mazda 3 shows a skew towards Brand advertising from Feb 2014 to Feb 2015.
The two campaigns, The Next Great Drive Begins at 11.19% SOV and All New Corolla A Lifetime Of Goodness at 7.97% SOV respectively within the small cars valued under $40,000 segment, were both importantly brand only advertisements. Contrary to both Mazda and Toyota, the Kia Cerato has not made a single appearance in any Magazine over the last three years and shares ranks with some of the lowest consumer loyalty brands.
Damien Meredith, formerly the Sales Director of Hyundai and now Kia Chief Operating Officer told The Motor Report in July 2014 Kia have been "on sale" too long in Australia.
Over the years, we've conditioned the consumer that we're a cheap and cheerful car company, and we've got to change that. It's time for the consumer to understand that we've got a fantastic product, it's put together with high quality and that's where we've got to focus. (themotorreport.com.au)
Most notably however is the significant difference in brand loyalty for brands that have moved away from Magazine advertising and others still utilising the traditional media type - Kia (37.8) and Mazda (58.8) both perfect examples. Given this we must ultimately ask ourselves if Magazine advertising deserves to be left behind in the wake of the digital revolution, or if this traditional media type is being severely neglected. Are only those that continue to use Magazines as part of a strongly developed marketing strategy gaining the advantage this media type proves to deliver?