Source: BigDatr, Hyundai A Little Goes A Long Way
How Are Brands Responding?
There are a few common themes as we look cross-category; a pull-back on aggressive Retail campaigns, more heartfelt brand sentiment taking front and centre and a trend towards silence from usual seasonal high spenders (such as Suncorp, Coles Financial and NRMA).

Source: BigDatr, Hyundai A Little Goes A Long Way Free-To-Air TV, 2-10 Apr 2020
Although now is not currently high-time for Retail advertising it will be telling what many brands choose to send to market around End of Financial Year timing (May/June). We're already seeing a trend for Retail-focused brands to be less aggressive in their approach - Hyundai's preferred direction for Retail over Brand messaging in 2020 is lately toned-down, with no visual price points included in their A Little Goes A Long Way campaign. Instead they have chosen to include the reassuring tagline "because right now a little goes a long way".
Kia and Lexus communicate a 'safety first' approach, both leading with the mass-reach, storytelling capabilities of TV for empathy. Kia's Stay In. Stay Safe campaign was launched early April and includes a short narrative - no product focus whatsoever - while Lexus' Here For You reminds consumers the brand remains consistent and their product offering also.
During the initial phase of the crisis no doubt smart media buyers looked to swiftly re-allocate chunks of media dollars: favouring Radio, TV and Digital channels to reach consumers during their increased time at home. Not only has the content and tone of advertising been adjusted, but likely also the channel and mode of delivery to ensure the message has the best chance of landing with the intended audience.
A Raft of Supportive Messaging
Rather than brands overtly focusing on their own products and services - which could seem self-serving at this time - many are looking to reach out to communities in need, using Corporate Branding or similar. Looking at February for the Health Insurance industry, Corporate Branding took 56% share of media spend compared to a 34% share for this same category in January. Investment in this industry in total did almost double from $8.5m in the quiet month of Jan to $16m+ in Feb, with Corporate Branding as a subset almost tripling in investment. March will likely see a similar trend, although we expect to see a hefty drop in all expenditure come April so although the overall investment will likely contract across the Health Insurance industry over all - the Corporate Branding category will still likely take the lion's share of this contracted spend.

Source: BigDatr, BUPA Because Life Happens Out of Home, oOh! Media (NSW), 30 March - current
With over $1m injected into BUPA's Because Life Happens campaign, it has been hard to ignore, and currently sits in the top position of that Corporate Branding category within Health Insurance for Feb. The campaign's content covers the topics of natural weather abnormalities (hail storms), along with mental heath support and cancer recovery - all covered with sensitivity and positivity: A rare balance achieved. Although simple in its premise the supportive tone helps differentiate BUPA as the recognised body to look to in times of strife.
Supermarkets Advertise More Humanely
With us taking trips to buy groceries from supermarkets rather than opting to dine out these days, Coles and Woolworths are capitalising on their prime position in the market. Activity in the Supermarket category has not paused, with offers flowing through each media channel more than ever.
Messaging is balanced with slashed price points positioned next to bold, more compassionate wording within the creative. If the retail behemoths are taking advantage of being the go-to for most consumers they appear to be doing it with a little more integrity than is usually attributed to the category.

Source: BigDatr, Coles Helping Lower The Cost Of Easter Newspaper (National), 7 April
Usually as much aggressive as it is aspirational in advertising methods, the Travel category has tended to step away from its signature competitive comms. Some Travels brands and portals have still managed to distinguish themselves as adaptable even in the face of such strife. We've hand-selected a few examples below: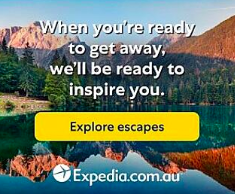 Expedia provides an inspirational and comforting message to market - with no time pressure.
Uncertain times, but they distinguish themselves as steadfast with a simple and clear brand proposition.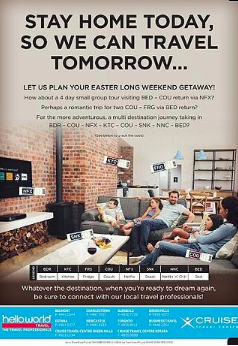 Hello World (part of Hunter Travel Group) took a similar tack and reminded readers of the Newcastle Herald that so long as they put a hold on travel plans now - the future can hold more adventure.
An example of a brand targeting local readership to help reaffirm that sense of community - a trend we have also noted in other industries over the last month.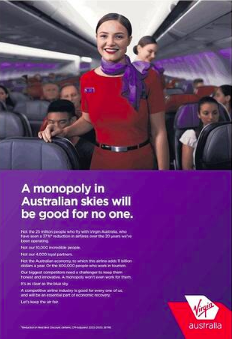 Although Virgin Australia has suspended all international flights until 14 June 2020 the brand has taken advantage of the longer copy afforded by a full page ad in Print to reinstate its unique brand proposition Vs its key competitor - Qantas. Protecting the brand's market position while in a state of pause should help preserve brand sentiment for when the market can bounce back