Last month, Snap announced that they were building a self-serve tool for advertisers and now have rolled out the new 'Snapchat Ad Manager' buying tool on Monday.
Snap's Ad Manager self-serve tool will give advertisers full control, and remove friction in the ad-buying process. This means that pretty much anyone can purchase ads on Snapchat removing the reliance of an account manager.
The Ad Manager tool is designed for advertisers big or small to advertise on Snapchat with the ability to manage, optimise and view reporting metrics on the campaign's performance. There is no minimum spend required, with advertisers being able to get started with just a few dollars.
Opportunity for smaller businesses
The latest self-serve tool will cater to small and medium sized businesses, enabling advertisers to save on large costs by reducing labor-intensive costs. Snapchat's move to introduce Ad Manager is a move to scale its ad platform.
"Last week we announced our first Snap Ads self-service product, called Snapchat Ad manager. Our goal is to put the power of our ad products into the hands of every advertiser, regardless of their size. This tool supports all of our ad products, targeting capabilities; and goal-based auction solutions, which allows advertisers to bid for swipes or bid for app installs.
— Imran Khan (Chief Strategy Office of Snapchat)
Advertisers will get access to performance data of their campaigns via Snapchat Ad Manager and also be able to choose specific objectives for the campaign, and targeting ads based on demographic factors.
Snap Publisher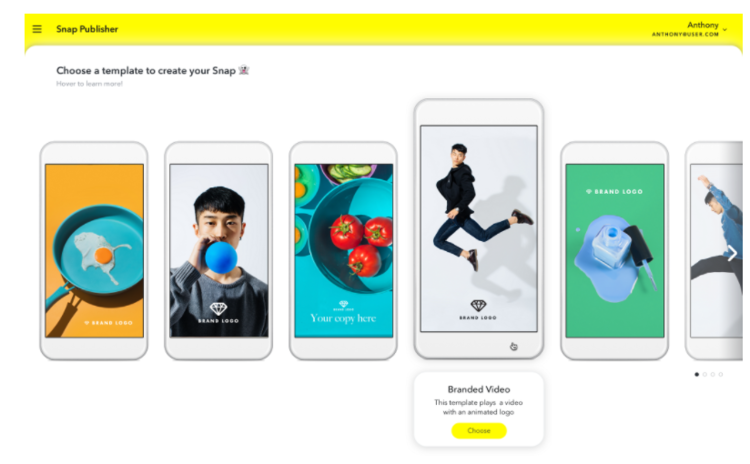 Above: Advertisers can create their own advertising artwork using Snap Publisher
Snap has announced new tool Snap Publisher which gives advertisers the opportunity to design ads in-house via Snapchat, which will roll out sometime in July. Advertisers can create an ad within minutes, with a library of themes provided by Snapchat.
Snap Publisher will import brand assets, trim horizontal videos for vertical format, offers themed ad templates for different campaign objectives, adds motion to static photos, opportunity to run an A/B test to different ad variants for performance, and lets marketers buy through the Ad Manager with just a few simple steps.