We know that Q1 is critical to the Private Health Insurance (PHI) industry as it sets an overall direction for the rest of the FY. With 2021 the first year since the original COVID-19 outbreak, we're expecting to see the PHI industry build on the strong messaging and media value they invested in the turbulent climate of 2020.
With a global shift in how we worked, lived, socialised and managed our budgets, it's no surprise that each category felt COVID's impact differently. 2020 saw a shrinking number of Australians retain their PHI as consumers tightened their purse strings, an effect that was unsurprisingly most evident among younger consumers under the age of 30.
Today, we're narrowing in on exactly how PHI brands navigated throughout 2020 to retain their relevancy, and focusing the trends we expect to see in 2021.
PHI has got you covered
We saw a number of PHI brands combat the uncertainty 2020 brought to the sector via a focus on messaging that communicated how they were there for their customers. Several brands utilised reassuring and positive messaging to frame COVID as more of a blip on the radar as opposed to its centrepiece, at least as far as PHI was concerned. They communicated to customers that their cover had the freedom to move, adapt, and morph with the changing landscape; regardless of what your circumstances were, your cover could move with you.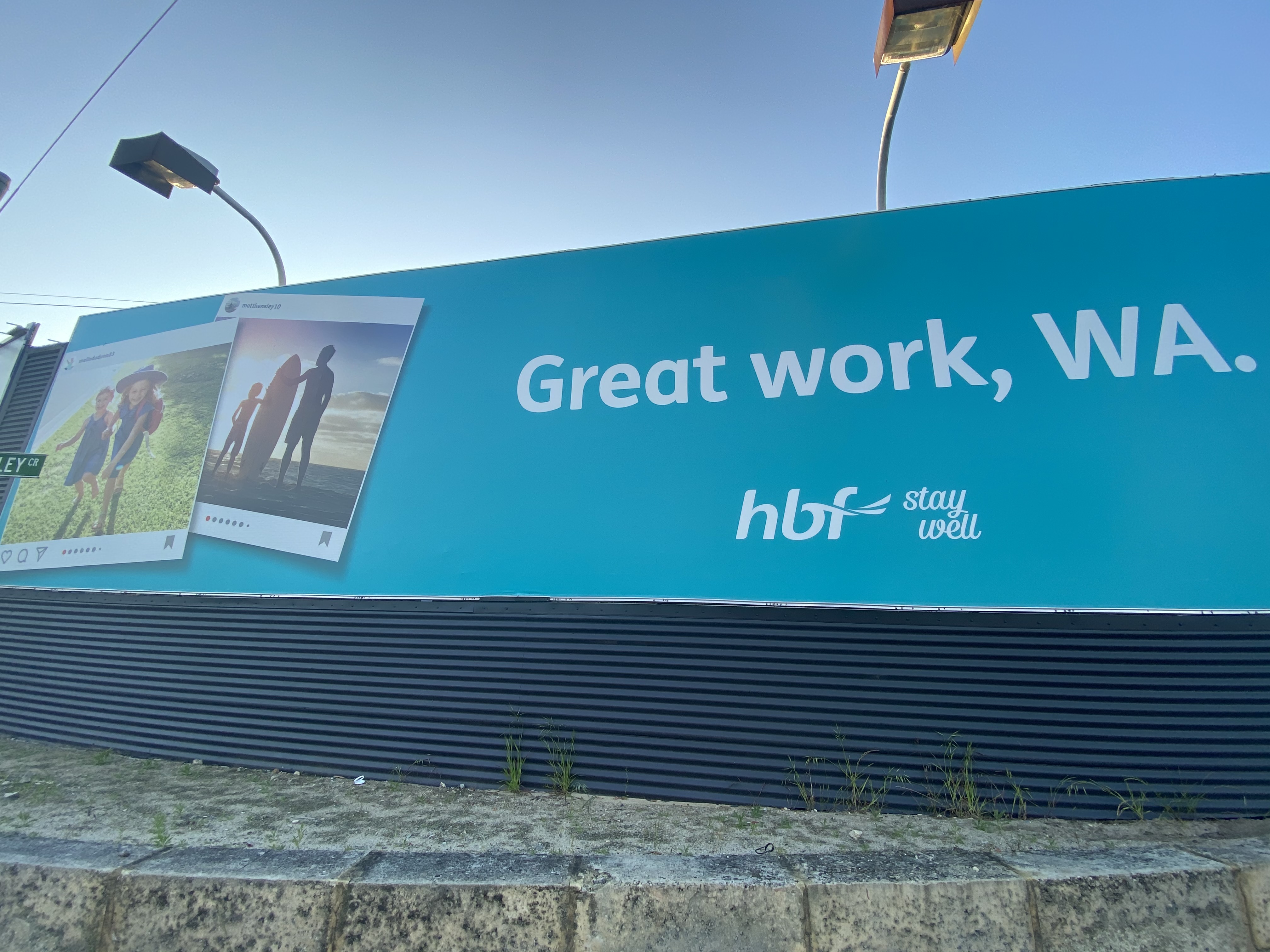 Source: BigDatr Private Health Insurance category, Advertising Creative - 2020
Consistency through chaos
Despite the uncertainty that 2020 brought for marketers, there was one thing that the PHI category continued to maintain: consistency. With an overall continuation category-wide of historical trends seen in 2018 and 2019, brands continued to invest in and refine their messaging using free-to-air TV and digital assets.
It should come as no surprise that the sector's focus shifted to brand-related campaigns, awareness and education. Although Brand versus Retail split was much closer in 2019, 2020 positioned PHI as a category that cared for its customer base, and the messaging we saw coming from brands helped cement this with consumers.
2020 reflected the trends and investment levels we saw in 2018 and 2019. March and May continued to be PHI's biggest months and 2020 was no different: the category invested heaviest across these two months, so much so that even as the pandemic wreaked havoc we only saw an estimated $7million drop in total media investment compared to 2019 across March and May specifically.
Source: BigDatr Private Health Insurance category, Media Value, Brand .v. Retail - 2020
PHI Brand versus Retail split 2020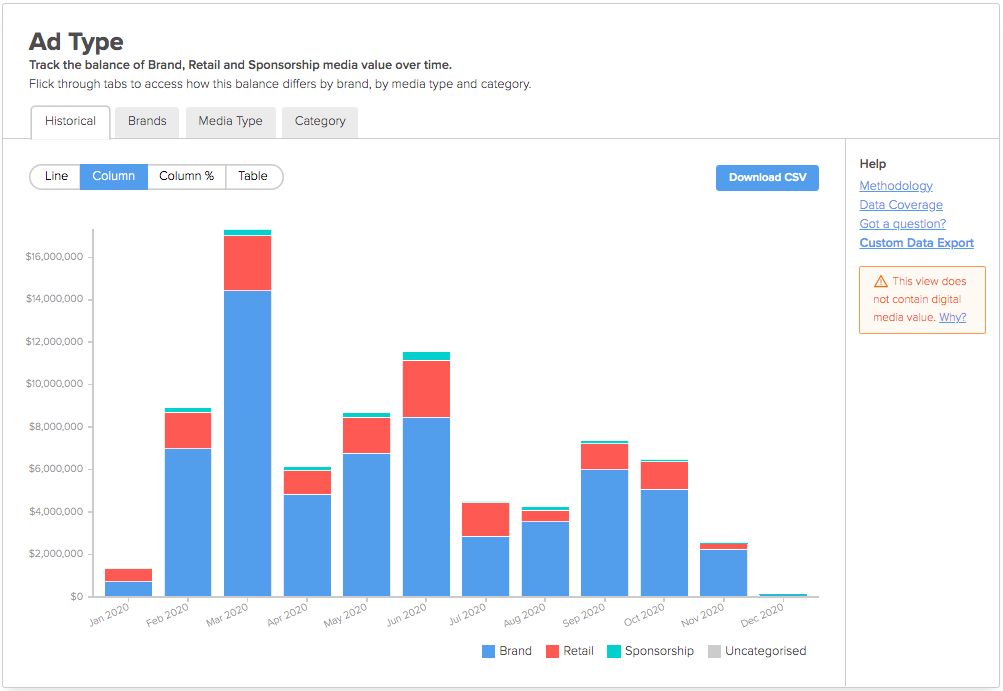 At a time when other categories pulled back or completely stopped investing in advertising the PHI sector continued to display its boldness and fortify its partnership with consumers through continued ad expenditure.
Free-to-Air TV, Search and Digital Display all had a strong share of voice within the PHI media mix and, much like 2019, Search maintained its lead as the most invested channel with an estimated $15million gap between it and its nearest competitor, Free-to-Air TV.
Source: BigDatr Private Health Insurance category, Media Value, Media Type - 2020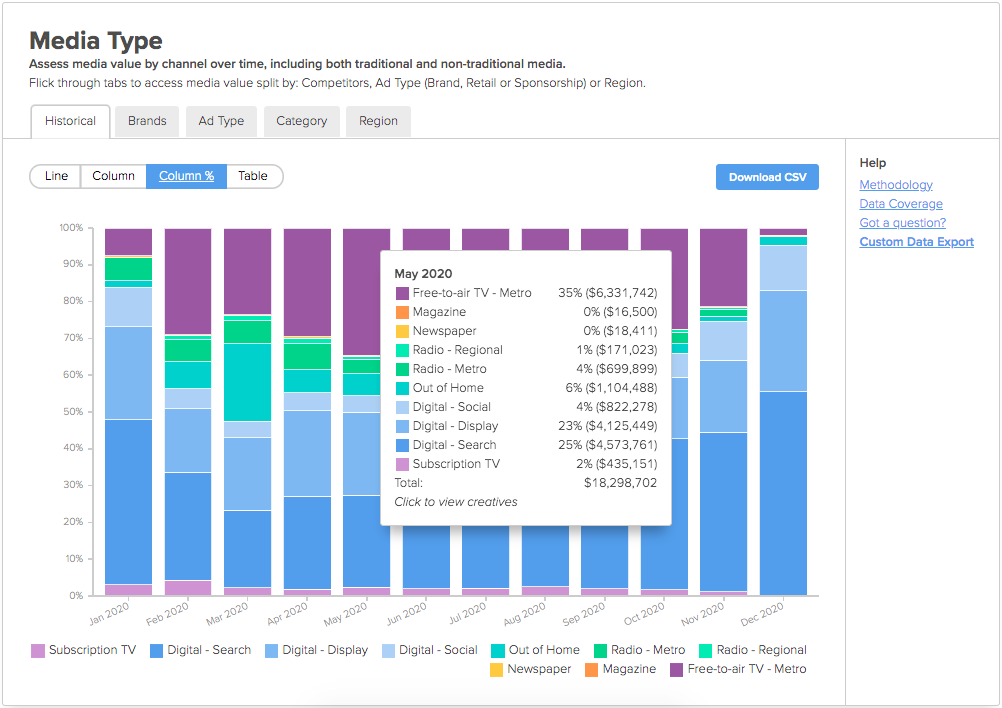 Brand messaging proved once again to be the favourite among PHI marketers as the focus of awareness and education based advertising. Some highlights of the brand based campaigns we saw in 2020 include Bupa's Because Life Happens, Medibank at Home, HCF Uncommon Care and NIB It's Worth It.
2021 projections
We're projecting a similar pattern for 2021 for the category, with key March and May expenditures reflecting what we've seen YOY. Unlike 2020, however, we're forecasting June as a key player in driving post-EOFY PHI messaging.
OOH took a backseat last year due to our movements being restricted, but expect it to make a resurgence as a primary channel alongside Free-to-Air TV and Search in early 2021. We're expecting overall PHI category investment to remain flat YOY from 2020, as such this share onto OOH to come from competing media types.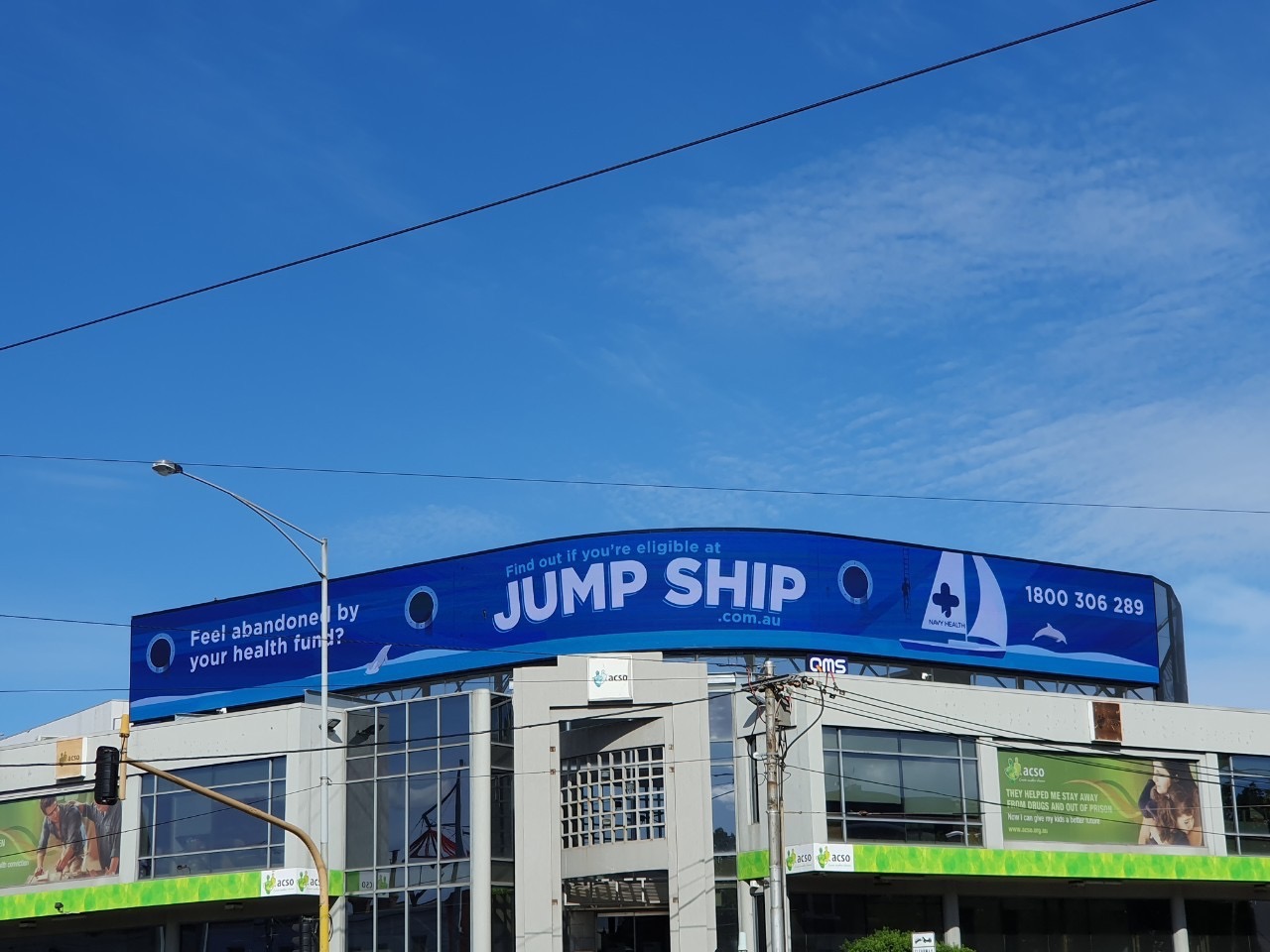 We're forecasting Bupa to leverage its buying power with reinvestments in OOH, while HCF will continue to push its Eastern Seaboard expansion and capitalise on its very successful set of TV campaigns from the middle to back end of 2020.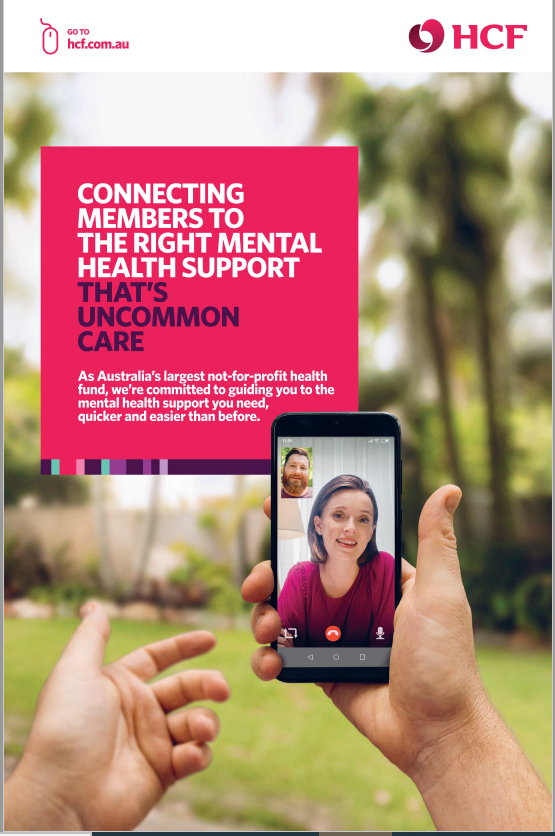 One thing we see changing in 2021 is the increased use of Retail focused advertising. We believe brands will want to make the most of their continued media investment and market presence in 2020, and unlike other categories who pulled out or stopped completely, PHI bucked the trend and continued to invest and stay relevant when it meant most.
We're forecasting more acquisition, price-point, offer and incentive based campaigns to hit over the March, May and June periods. With Digital Display being a large focus thanks to its ability to drive consumers directly to online sign-ups, expect to see brands push incentives to consumers signing up online directly, with the possibility some PHI brands will use this lever and create individual campaigns focused on this message.
These will most likely be similar in nature to what we saw from NIB Join Online, HIF Join and Receive $100 cash back, Bupa's 6 Weeks Free and Qantas with its Points Bundle & Rush activity back in 2019 and 2020.