Campaign Round Up
In June last year Optus recruited the services of comedian Josh Thomas to be the face and voice of the More Yes campaign. This move was focused on developing the 'Yes' brand in conjunction with the offers and services they provide. As a result, over the last three months from 1 Nov 2014 through to 8 Feb 2015, the most active campaign was Give More Yes!, making up 30.68% of all Optus media activity. Following in second and third were the $115 Entertainment Bundle at 20.90% and Optus NBN Is Here at 13.33%. These two campaigns clearly highlight the two main offers/services which Optus have been pushing to consumers. Together these three campaigns combined comprises of over 64% of Optus' media strategy and brand positioning over the given time period.
Share of Voice (Nov 2014 to Feb 2015)
Optus has been able to amplify their messages and solidify themselves as a market leading contender with an average 17.52% SOV compared to the industry brand average of 6.80% SOV. This is further complimented by targeting over 40% of television advertising at either the first or last position of commercial breaks. By utilising it's ad positions and overall placement, Optus seeks to align the brand with the positive and publicly attractive 'Yes' driven ethos.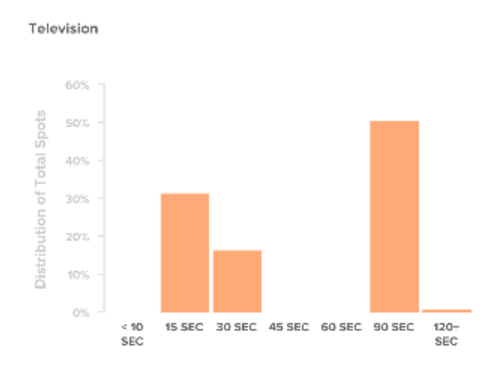 The data also shows a skew towards longer 90 second television commercials. These better classified infomercials focus on product features and cost savings when bundling multiple services. "Optus knows families need flexibility and great value".
It is important to note that there was a sharp dip in Optus SOV over the Christmas and New Year holiday period, this was due to two coinciding factors - during this period the Optus Give More Yes! television campaign stopped, while ALDI Mobile had an exponential increase in advertising activity with the More Than Others campaign.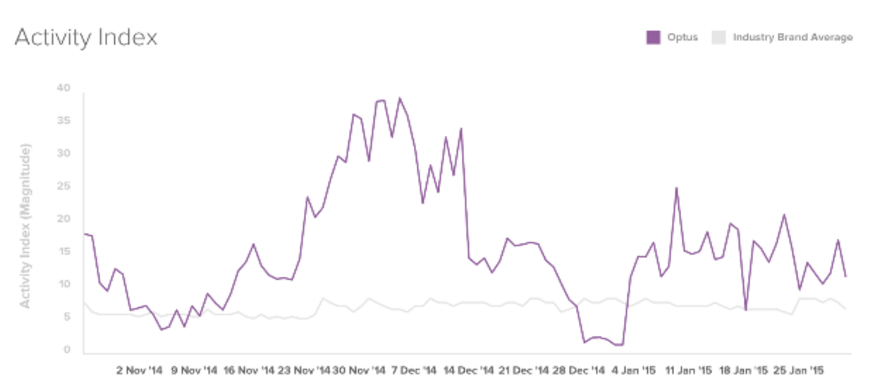 Partners
Optus continues a now ten year partnership with the Australian Open in 2015 and have been supporting Tennis in Australia since 2001. This partnership involves the provision of cutting edge technology to Australian Open staff and media, as well as a free WiFi and network reception boost for the fans and visitors of the tennis spectacle.
By providing these services, Optus establishes itself as the only telecommunications partner with the the Australian Open and Tennis Australia. This allows the company to have unrivalled access to large crowds whilst further strengthening the relationship it has with the Australian public.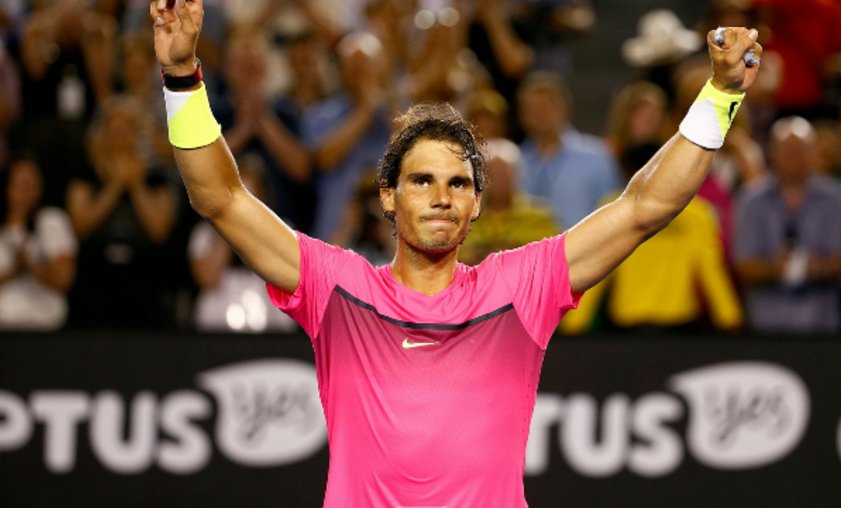 Strategy
According to the Singtel Annual Report for 2014 , in the financial year of 13/14 Optus focused on offering simple products, delivering brilliant services and building a great network. This strategy has continued into the 14/15 financial year with the advertising campaign strategy focused on a positive 'Yes' attitude for the products, business services and customer support they provide.
Furthermore, Optus' strategy for television is heavily skewed towards day-time advertising with over 50% of spots being distributed between the hours of 10am to 5pm. This can be attributed to the type of offers being released by Optus, for example the $115 Entertainment Bundle, which targeted young families and in particular mothers of children who would be attracted to the entertainment focused bundle.

Finally, the NBN related advertising from Optus has seen hyper local targeting, with different advertisements being distributed coinciding with locations for which the NBN roll out continues to be established. The Optus NBN Is Here campaign was also distributed largely in out of home media through provider oOh! Media , allowing Optus to deliver a personal approach within each locality.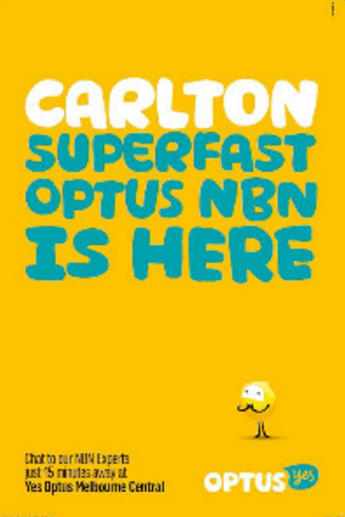 Product
The two main products being offered by Optus have been its Entertainment Bundles and the NBN Service. The entertainment bundle includes home phone, broadband and Optus TV with Fetch which was offered at $115 per month until the 9th of February. Prices for this bundle have since dropped to $90 per month across all bundle products with unlimited broadband data. This campaign is heavily focused on data usage and is driven by the advertising campaign We've Struck Data!.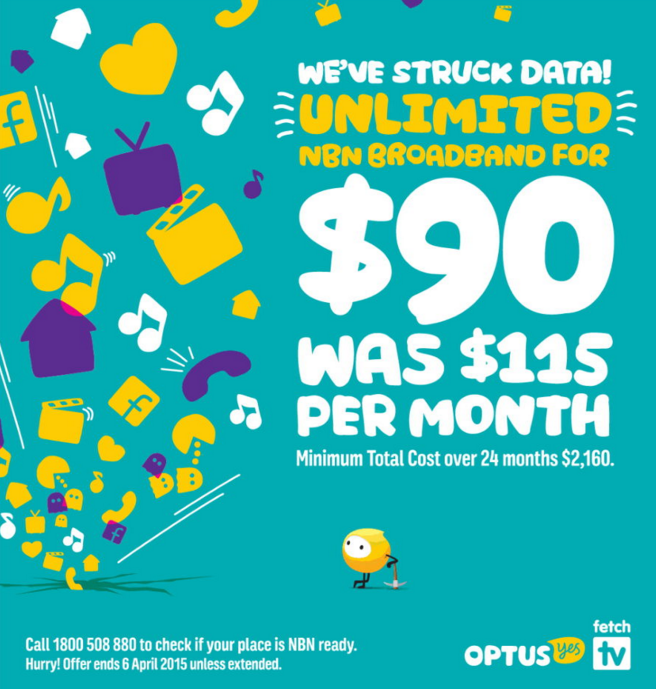 Conversely, the NBN service has largely been promoted as an awareness campaign, providing the public with the knowledge that the service now exists and can be purchased through Optus. This trend has started to shift towards bundled products with NBN being at the core of the offering seen through the release of The Big Home Bundle Is More Awesome With NBN and Grab Your Optus NBN campaigns.
Other products to be offered include the Optus featuring Foxtel service, which has not been advertised by Optus through any media outlets and the 3GB Data No Lock In SIM-Plan offer running until April 2015. The 3GB plan is another attempt by Optus to provide data focused offers to satisfy a market trend of consumers requiring higher data limits.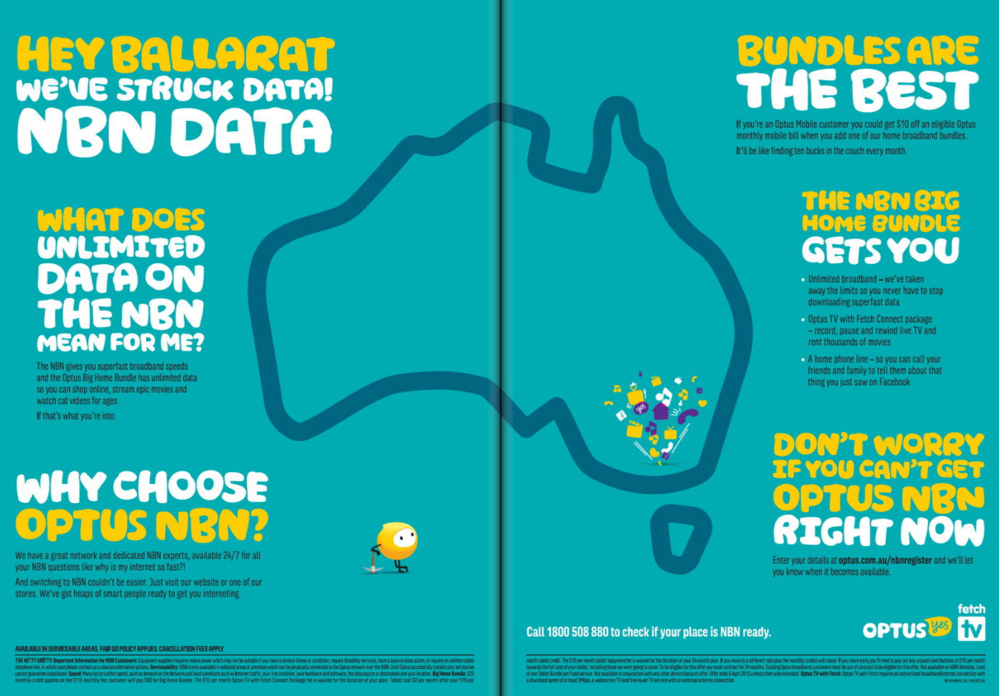 BigDatr Forecast
Expect new campaigns to be released in conjunction with the Samsung Galaxy S6 and S Edge release in March 2015
Expect a further NBN push focusing on retailing bundles with other products and services
Expect a greater number of mobile data focused plans and potentially stand-alone data plans
Optus to release a campaign to support the 3GB Data No Lock In SIM-Plan $45 retail offer
Potential for Optus to rival Telstra public hotspots with a similar service. Possible partnerships with high scale brick and mortar brands, shopping centres and other high foot traffic districts.
Trends to futher extend the bundling of products/services with media streaming services such as:
Presto, Stan, Quickflix and Netflix for tv shows and movies.
Pandora, Spotify, Rdio and I Heart Radio for music.
These services may potentially be supported by unlimited data usage offers when bundled with any given network provider.