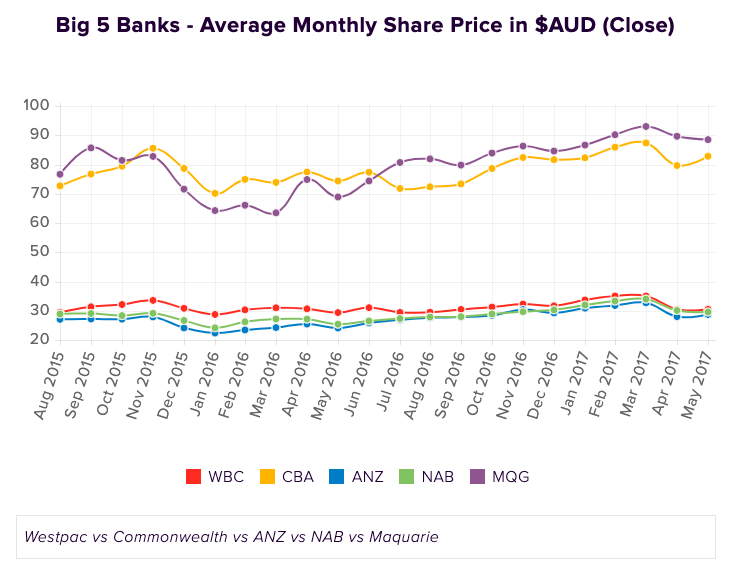 The retail banking space is transforming rapidly with brands advancing in digital technology, fostering a connection with customers and banks. Macquarie Bank enhances the digital banking experience for consumers, launching its new online and mobile banking platform in September last year for personal banking customers. The digital platform is no ordinary digital e-bank offering, rather it harnesses a combination of features that is the "first" to the Australian market by taking a more personalised approach. Digital disruption is setting new benchmarks in customer experience, with many brands empowering new technology in their business models.
The innovative and personalised digital banking system developed by Macquarie Bank also acts as a money management tool for customers. Not only will customers be able to view a list of their online transactions, but also manage and track their spending so that it aligns with their budget and goals. What makes Macquarie digital app so appealing is that it draws inspiration from customer experiences delivered by popular apps including Netflix, Facebook and Spotify.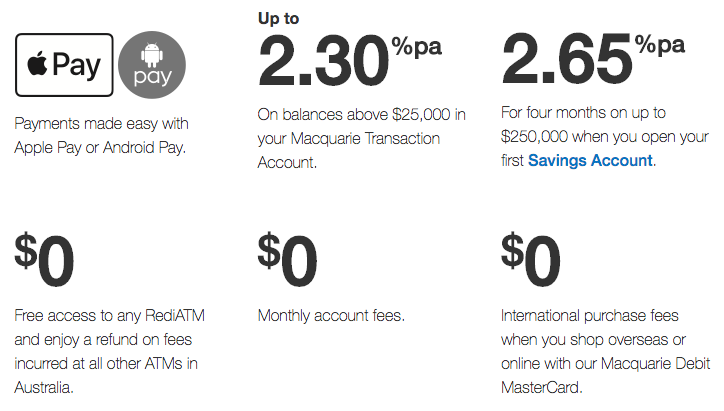 Macquarie Bank Transaction Account Offers
Macquarie's app won the CANSTAR Innovation Excellence Awards for its number of unique and intuitive features including:
Automatically categorising transactions - Using machine learning technology that groups customer spend on groceries, travel, leisure, food, drink, technology and more.

Giving customers the ability to search like Google - The way users turn to Google for answers, customers can do the same within the app by asking specific questions about their own transactions. E.g "How much did I spend on groceries last month?"

Add Hashtags and track transactions - Customers can tag statements, tax returns and important documentation to easily track what they are looking for. For e.g. #Tax

Upload receipts and warranties - Customers can attach receipts and warranty documents keeping everything all in one place without having to worry about lost receipts.

Set saving and spending goals - Gives customers the ability to set goals and stick to their budget. Customers can view cash flow trends to help manage their overall net wealth position.
Combining all these unique features in one platform enables customers to better manage and control their funds and provide greater insights into their spending behaviours updated all in real time. The move represents the bank taking the extra step to guide customers rather than simply listing all their transactions. The competitive nature of the digital space in banking is fierce with Macquarie Bank launching its new tech to position themselves differently from their competitors.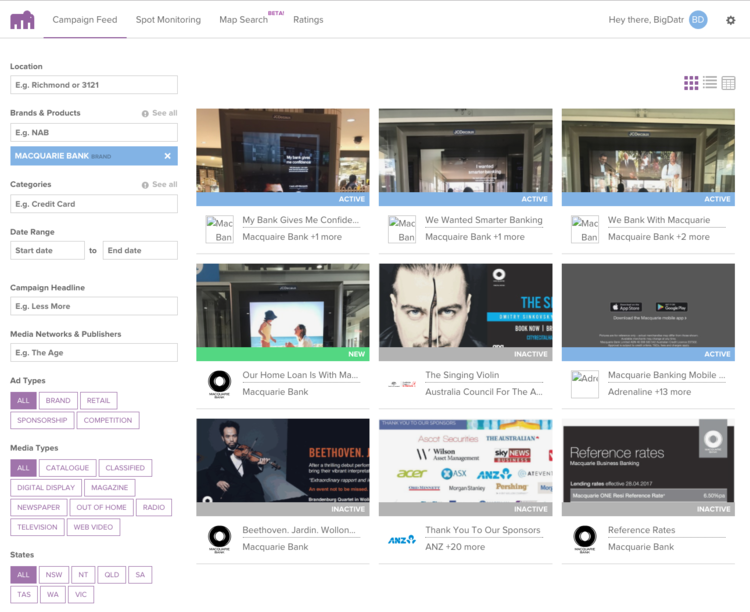 BigDatr's Campaign Library collection of Macquarie Bank campaigns
BigDatr's Campaign Library has picked up Macquarie Bank's very first campaigns targeting consumers which rolled out in June, across Out-of-home, Digital, Newspaper and Online video. Campaigns launched include "We Bank With Macquarie", "My Bank Gives Me Confidence", "Our Home Loan Is With Macquarie" and "We Wanted Smarter Banking." The campaigns message promote the smarter choice banking with Macquarie and the digital journey will ensure quick online transactions that can be made effortlessly.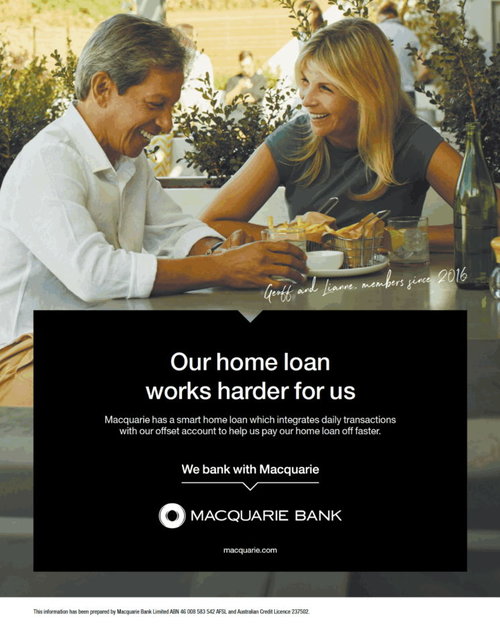 Macquarie Newspaper campaign Source: BigDatr Campaign Library.
The newly launched e-banking, is an attempt to break into the consumer transactional market, home loans, savings accounts and credit cards. Macquarie Groups shares have climbed with share prices moving up and to the right, with much growth potential still to be seen for the globally diversified business.