As the great Australian dream slowly vanishes for some, there has been a definite shift in mind-set when purchasing a home among younger Australians. This is reflective of inner-urban apartment living being promoted as an alternative urban trend, as it offers closer proximity to inner city social and employment opportunities. In addition, the tech-savvy and urbanised younger buyers are seeking a different arrangement, location, lifestyle and style to previous generations.
New Apartment Project Launches by State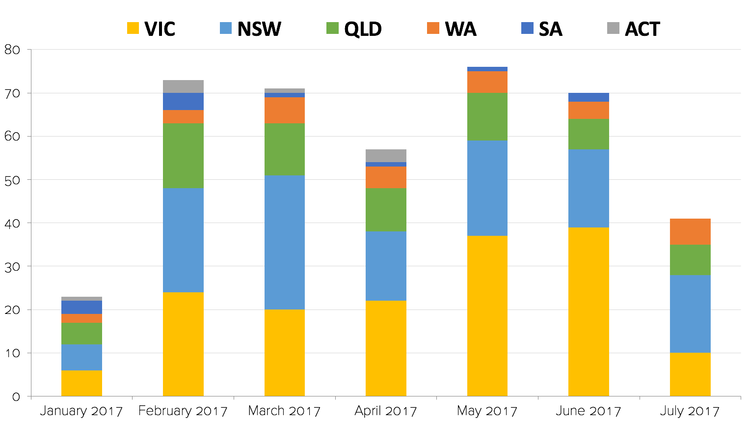 New Apartment Project Launches by State (_Source: BigDatr)
With the combination of rising property prices and changes in buyer behaviour, the market has reacted positively to a radical surge in the number of people embracing apartment living. Victoria has been popular for new apartment projects over the last seven months. With five of the top ten suburbs Australia wide, the inner mixed zone of Melbourne has stood out for new apartment projects. The recent boom of project launches in Australia indicates a change in property buyer behaviour and the one important driver being lifestyle.
Click on the interactive map above which shows us that advertising has been prevalent in the major cities across the country, with Melbourne and Sydney showing a greater spread of suburban apartment projects. (Source: BigDatr)
While lifestyle and affordability are primary influencers for most buyers, to locate a property that incorporates both is becoming more difficult for first home buyers looking to break into the market. Due to the growing housing affordability crisis, some are choosing to 'rentvest', making their first property purchase an investment while renting themselves in any location they wish. This is a smart purchasing decision as it allows the buyer to get a foothold into the property market sooner rather than later. Consequently, with the increase in 'rentvesters', locations with strong rental opportunities are more attractive than ever before.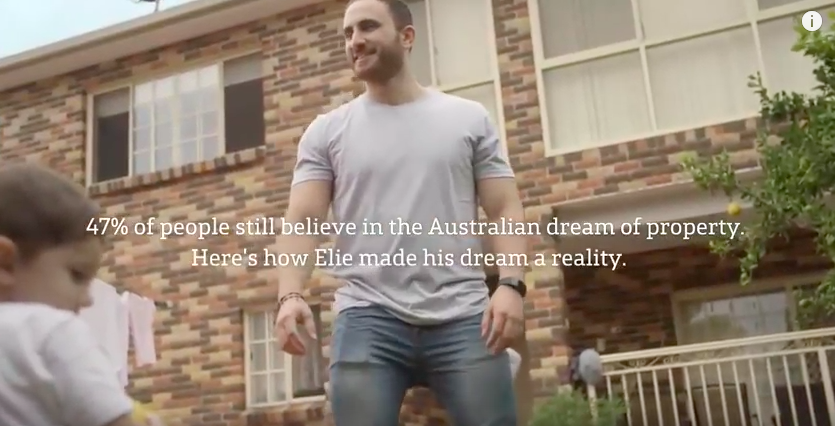 Commonwealth Bank's pathway to reaching the property dream with 'Rent-vesting'
Top 10 Suburbs Australia wide with New Apartment projects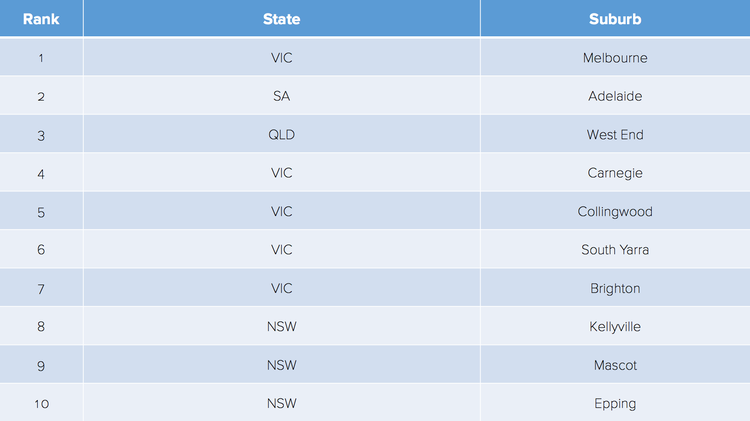 Top 10 Suburbs Australia wide with New Apartment project (_Source: BigDatr)
Overall Australians looking to buy property are being forced to be more creative in their purchasing decisions and saving strategies. According to Canstar, a survey from Mortgage Choice indicates that buyers are making lifestyle sacrifices to buy property. The majority of people (78.1%) are cutting back on day-to-day spending to achieve their property investment goals, while not taking holidays is the second lifestyle aspect being sacrificed at 55.4% of investors.
Other aspects of investors lifestyles being sacrificed include:
Delaying the purchase of a vehicle 38.7%

Taking on an additional job 20%

Changing jobs for higher income 18.4%

Delaying having children 10.8%

Moving back in/staying with your parents or in-laws to save money 8.6%

Moving to cheaper shared accommodation beforehand to save 8.2%

Other 1%
Australia's skyrocketing property prices is causing first home buyers to take a longer route to home ownership are are being forced to rethink their property buying strategy, with the option to rentvest presents both choice and flexibility for buyers.