The New i30 N-line - Performance Never Sleeps
Hyundai's new i30 ad for its N-line reveals its boldness and sporty facelift refresh for the i30 N hatch and fastback. The i30 digital campaign running across Facebook, Youtube and Instagram takes a bold new direction, showcasing the sporty design and thrilling performance.
The i30 N hot hatch to the all-new i20 N, the N range gives drivers an all-round sporty experience to satisfy performance-oriented enthusiasts. For those who aren't aware of Hyundai's lineup, the N in the i30's name stands for Namyang, which is the location where the firm has its base in Korea, and also Nürburgring, the German race track which is the location of where the car was developed.
The New i30. Remarkable
Hyundai's New i30. Remarkable campaign is running across Digital Out-of-home and Television.
Take a look at the different creative variations for the new Hyundai i30 ads across digital.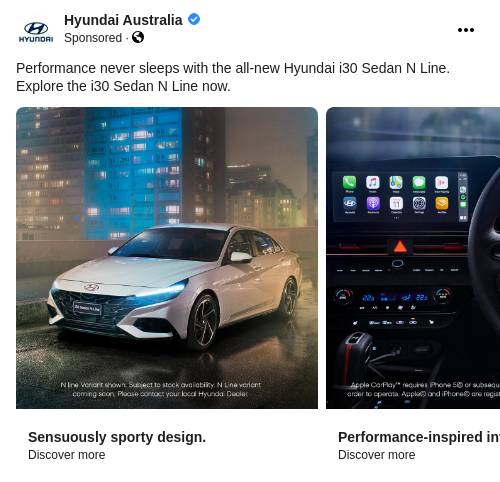 Related Products