2022 was an uncertain year for Australia's financial services sector, with interest rate rises dominating the headlines. And there seems little prospect of better news in the short term. This means another year where marketers will need a plan and budget that supports strategic and tactical activity with the flexibility to align to changing market conditions.
Knowing your competitors' messaging and how, when and in what channels they've spent their money can help you make more informed decisions in the future. Using Bigdatr's platform, we uncovered these insights for the Big Four. Let's dive in.
Despite the varying budgets, the spending pattern is similar across all four, and when compared to the previous twelve months (not shown), all but one spent similar amounts, with the outlier upping their budget significantly in 2022.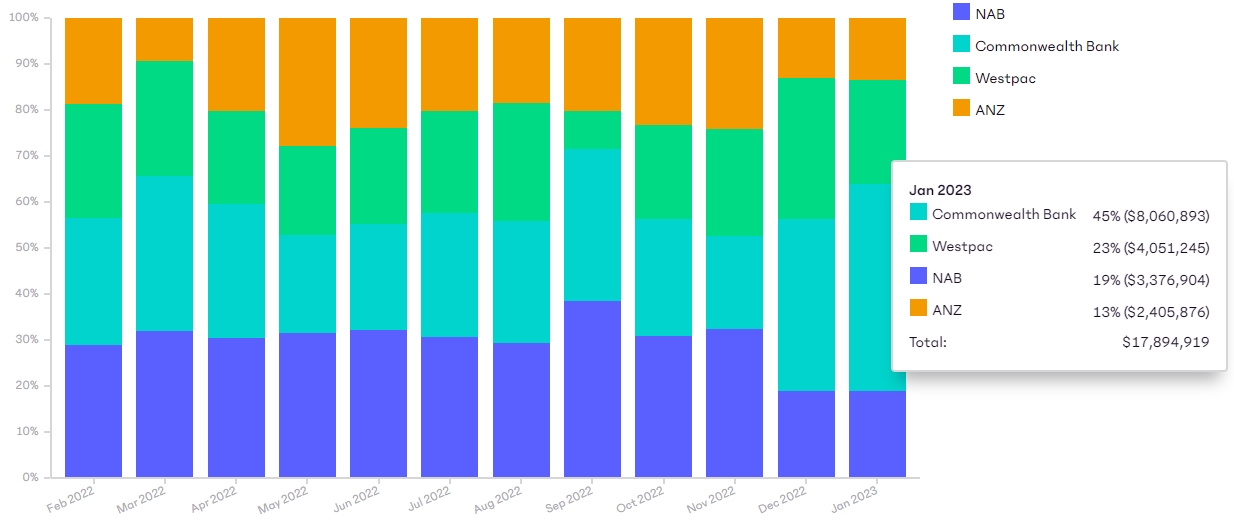 Source: Bigdatr, Media Value, Banking & Finance, Big Four. Start a trial to discover how much the Big Four spent in 2022.
Digital and TV most popular channels
Looking at where they allocated their budget, digital channels saw the highest spend with NAB leading the pack on social, and Westpac spending a similar amount on display.
What's really interesting is that both of these industry brands were outspent. eToro, the crypto trading platform, pumped an additional $10m into display advertising, followed by PayPal at $25m over the year. Whether the crypto market continues to outspend traditional banks in display remains to be seen, but we wouldn't be surprised to see it drop given crypto's rocky year.
The second largest slice of the budget pie went to free-to-air TV in metro regions. Spending was similar to last year for most of the brands, except for one, which doubled its budget.
Westpac was eighth in terms of media value, outspent by microloan company Wallet Wizard, followed by Athena home loans, Bendigo Bank and Macquarie. We'll be watching subscription TV with interest this year—budget allocation was around double for all of the Big Four compared to 2021. And out-of-home advertising spend increased too, perhaps capitalising on workers' (hybrid) return to the office.
Home buyers targeted
Delving into the categories the brands are spending in, we can see that home loans jumped at the start of the interest rate rise and have broadly continued to be high till the end of the year when typically, ad and marketing spend drops over the quieter months of December and January. Across the Big Four, home loans accounted for 26%1 of the total ad spend for the year.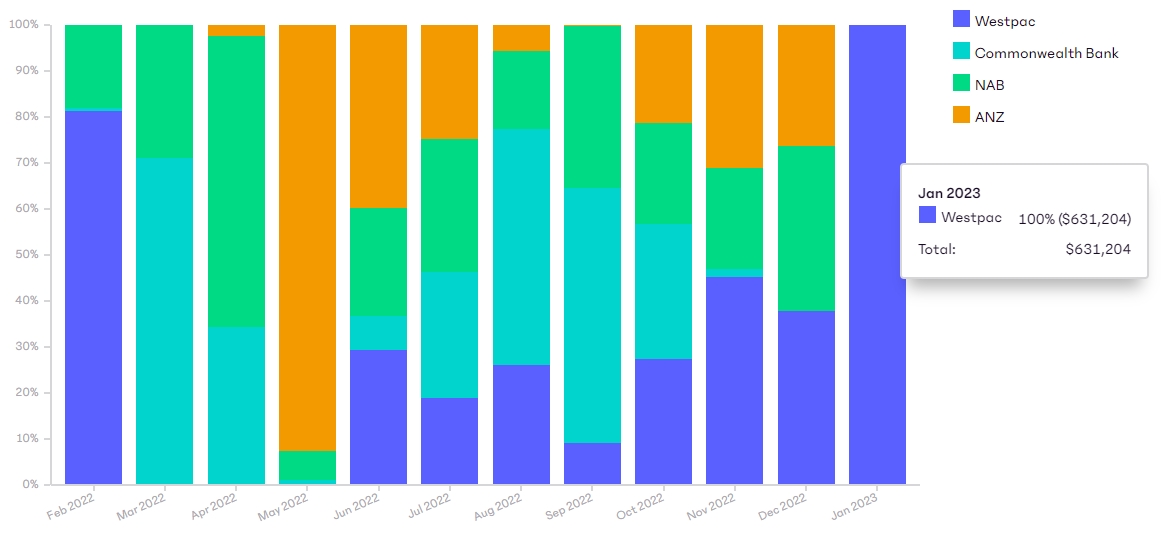 Source: Bigdatr, Media Value, Banking & Finance, Category Home Loans, Big Four
Comparing the brand ads creative, each one focused on different aspects and drivers of the home buying experience.
CBA: Home loans for real life
Deciding to target every segment of homeowners, from first-time buyers to family and downsizers, their ad was aspirational and uplifting.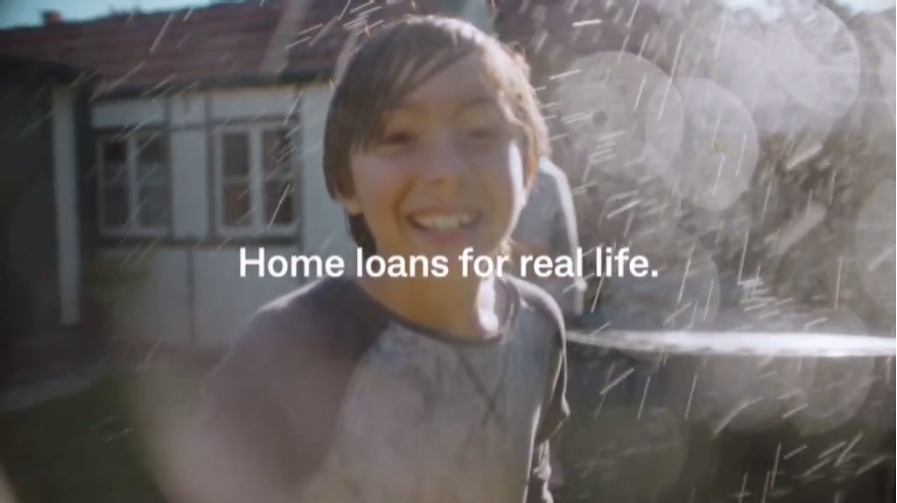 ANZ: Simpler home loans
Also going for broad target appeal, ANZ, in line with their other advertising—remember David Hasslehoff?—chose the humorous angle to communicate their simplified home loan offers.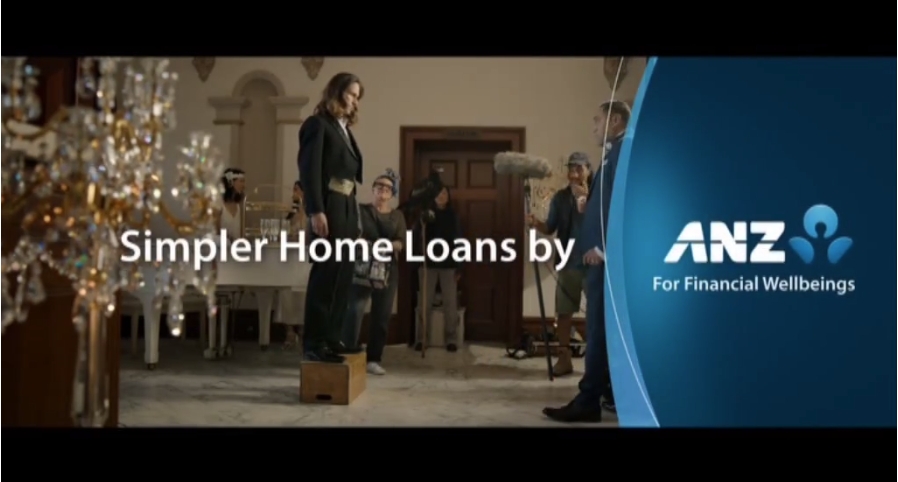 NAB: our experts are here to help
Tapping into the agonising lows of losing that dream home, they countered the negativity with an ad that is fast-paced, full of action and has a high production value, keeping the viewer engaged.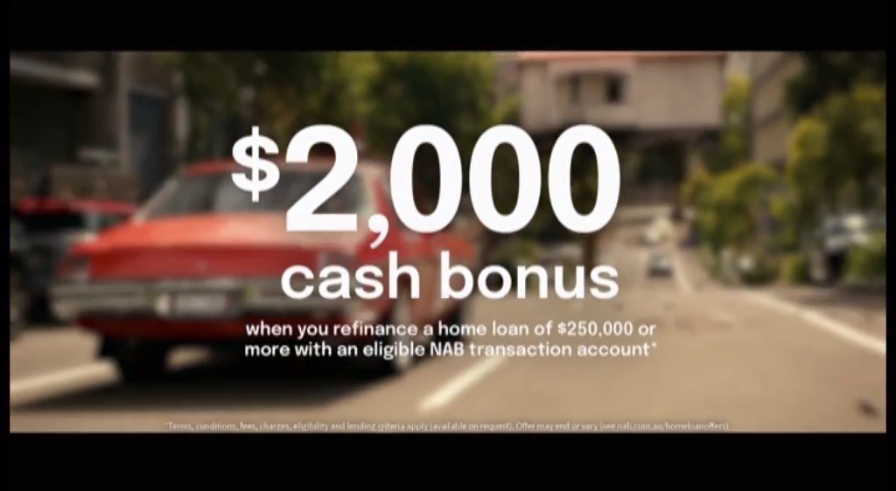 Westpac: Becoming a local
Empathising with first-time buyers and the current crisis in the rental market, their choice to specifically target families who had the goal of never moving again was unique.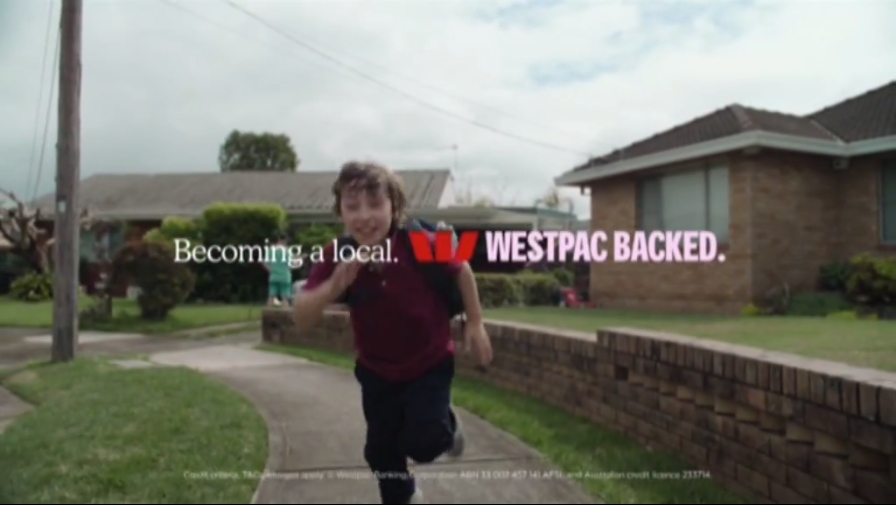 Ahead of the home loan push, the most significant spending was in corporate branding— with two of the four increasing their budgets between May-October, perhaps to reassure customers as interest rates rose month on month.
In-market messages
With corporate branding, home loans and business banking making the top three spends for everyone, ANZ was the exception. By differentiating and focusing more heavily on their online banking offer, they could well have achieved cut-through in the market.
Their fun Spenemy campaign ran from January-February 2022. It encouraged customers to categorise their spending in the app, which led nicely to the March launch of its digital bank offering - ANZ Plus.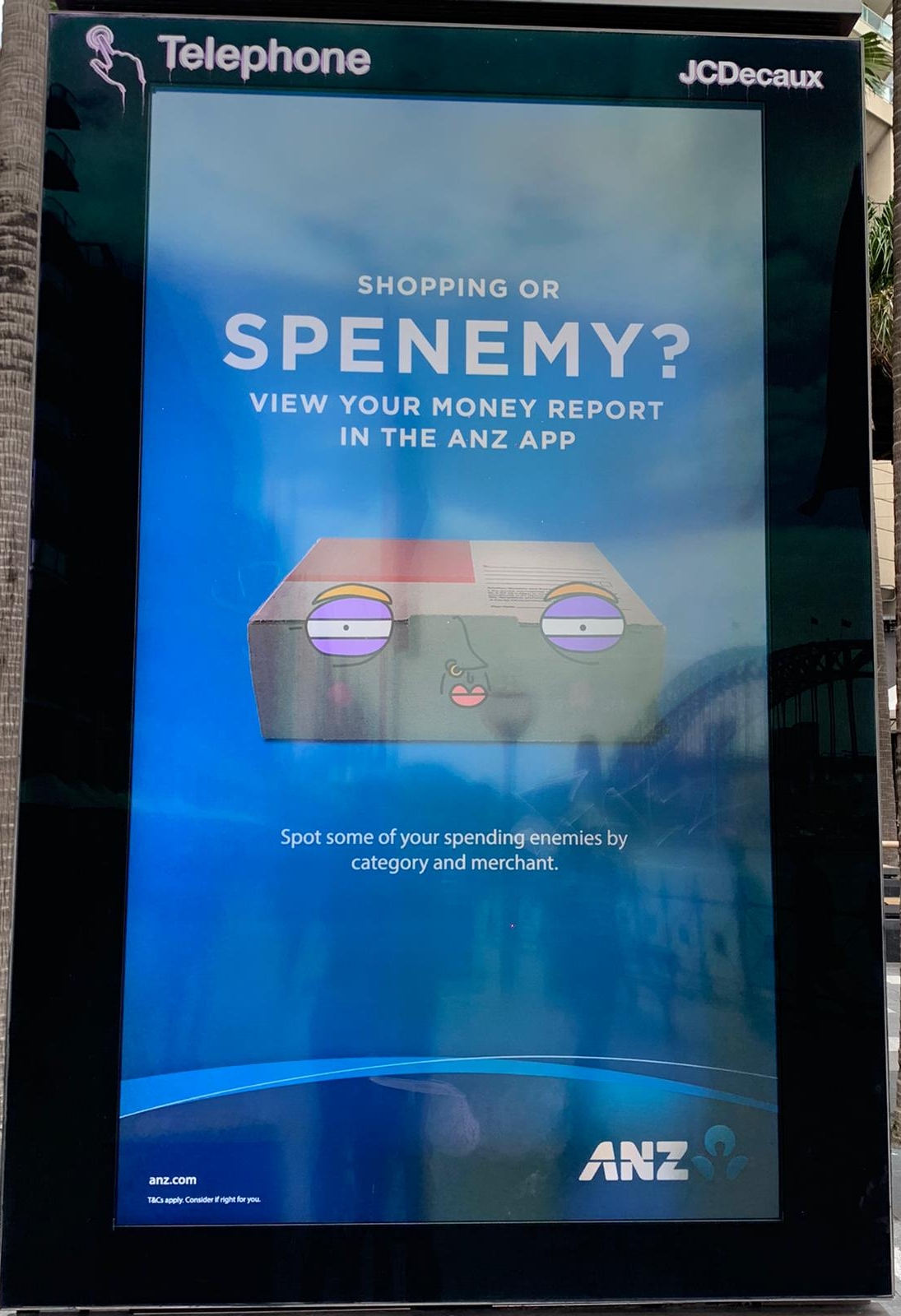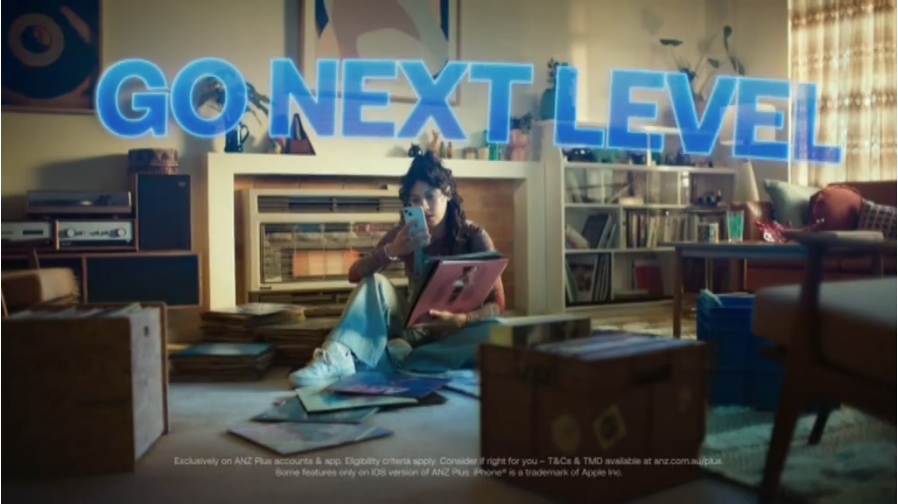 The ads appear on social, free-to-air and even twitch.tv. The approach seems to be working, with over 100,000 customers and more than $2 billion in deposits as of December 20222.
Business banking spend made up 18%3 of total ad spend across the Big Four, with mixed messages for business customers. CBA and NAB choose more broad messaging around making moves and easy choices, while Westpac incorporated the fallout from the early 2022 floods while trying to keep it applicable to all.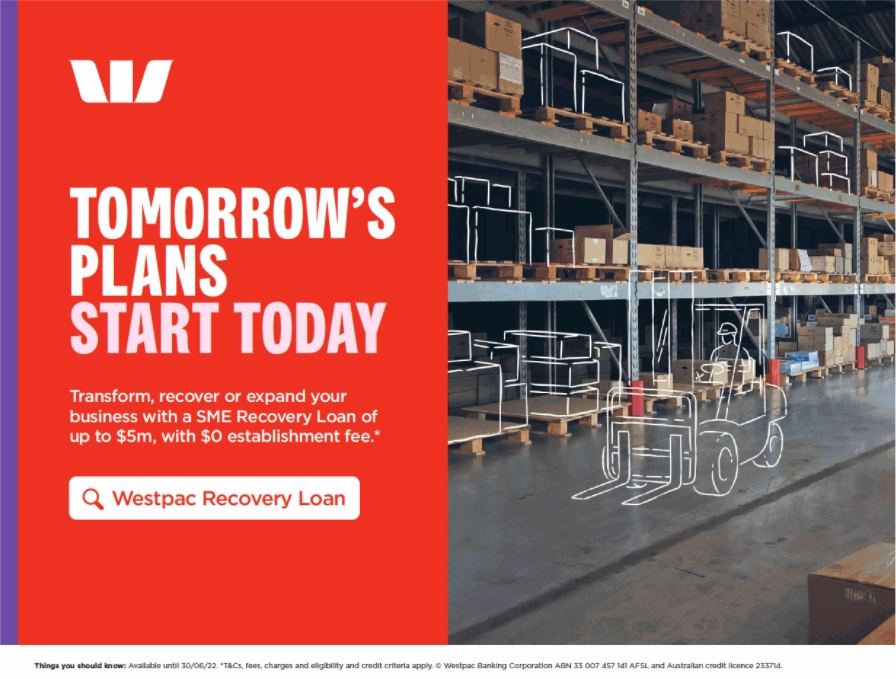 Not everyone's feeling social
A social media strategy is usually a must-have for brands; however, as we can see below, one of the Big Four is not a fan and hasn't been for a while. Since November, their spend has increased, so perhaps it's an emerging channel for them in 2023.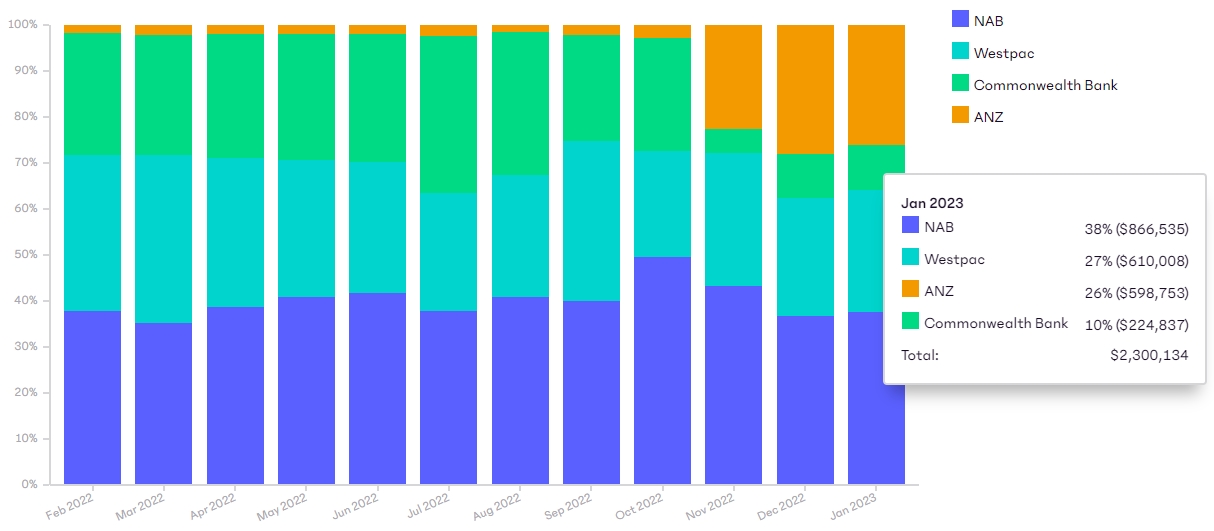 Source: Bigdatr, Media Value, Banking & Finance, Media Type - Digital Social, Big Four
Want more detail?
Register for a free trial on Bigdatr's platform and easily find, see and track your competitors' advertising and spend.
No credit card details required. We know you'll love the insider insights Bigdatr provides, and we can't wait to share them with you.
*Media Value figures are an accurate estimate at the time of publication, 28 February 2023. Figures are subject to change as new data becomes available.
---
References
$78,418,103 / $304,531,257 x 100 = 25.750
https://www.brokernews.com.au/news/breaking-news/anzs-digital-app-grows-rapidly-281592.aspx#:~:text=ANZ%20says%20its%20online%20offering,than%20%242%20billion%20in%20deposits.
$55,672,051 / $304,531,257 x 100 = 18.28