Competitors can see how any brand distributes their media spend (eg. Nike Vs Adidas).
Compare advertising strategies with automatic campaign activity break-down.
Search by keywords, products, creative themes or campaign.
Monitor industry benchmarks and trends.
A 'spot' refers to the number of advertising placements per campaign.
What the Spot Monitoring Dashboard looks like
After logging into the BigDatr platform, you'll find 'Spot Monitoring' on the top navigation bar. As a subscriber, if you can't see this menu option, contact your account manager to upgrade your subscription.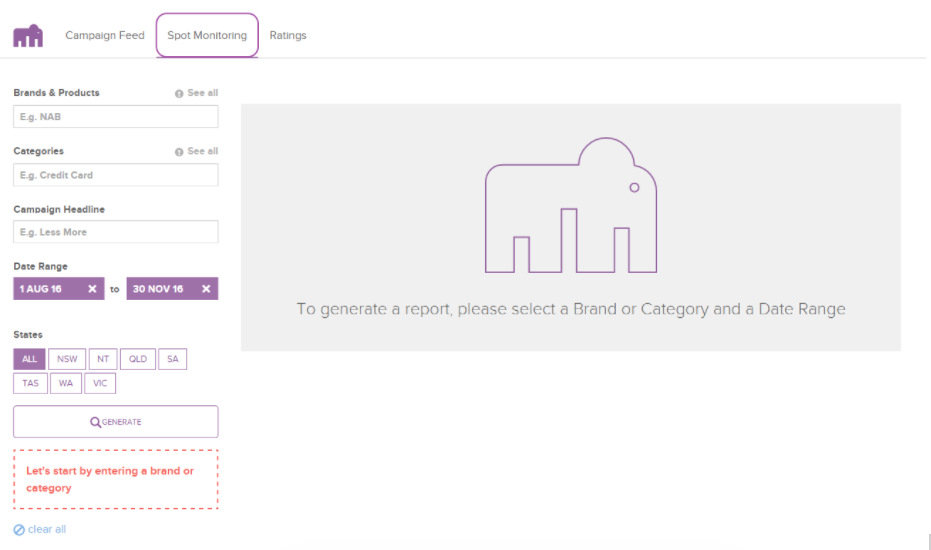 Above: A snapshot of the Spot Monitoring Dashboard before a report is generated.
Just like the Campaign Feed and TV Ratings tools, users can filter search by:
Brands & Products
Industry Categories
Campaign Headline
Keywords
Creative themes eg. Black Friday, Christmas
Date Range
States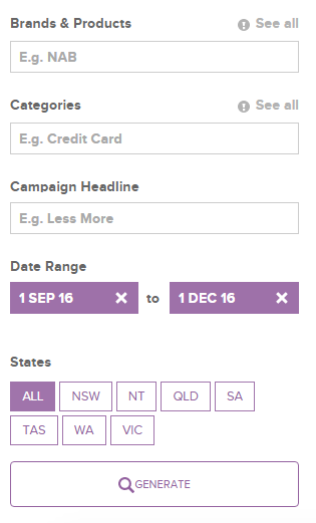 Above: Search filter options in Spot Monitoring.
See Industry Activity
Brands can compare campaign activity against the industry benchmark to assess where they are positioned within the industry. You can automatically see the most promoted brand and/or products and easily compare competitor activity. Brands use the Activity Index to counteract competitors that are dialing up their media spend, and see where and when they are advertising.
Let's take a closer look at the Automotive Industry as an example. Let's say we are interested in seeing who dominates marketing activity in the Small < $40K vehicle category during the last three months of 2016.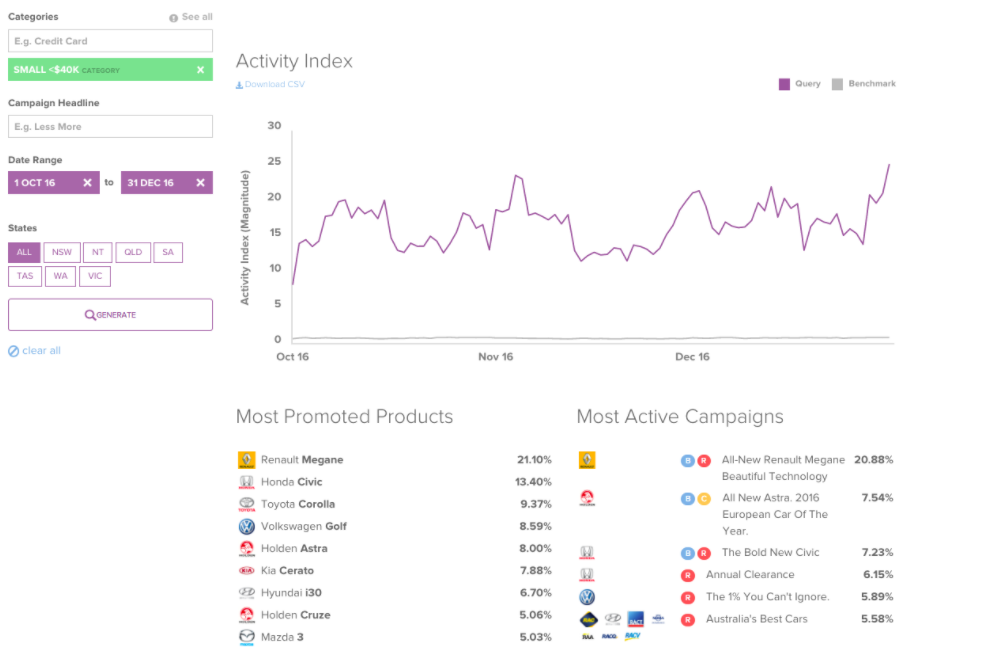 Renault's 'All-New Megane' campaign dominated advertising activity with a market share of 20.88%. Having access to this data is particularly useful for brands forecasted to launch a new vehicle in the market. The company can assess threats easily, see how competitors have done it before, and assess the most effective media channels to help inform their own campaign strategy.
Brands can filter their search further by selecting categories that best apply to them. Categories are segmented by product type. For example within the Insurance industry, there are a number of insurance products available, therefore, to make it easier BigDatr segments them for users.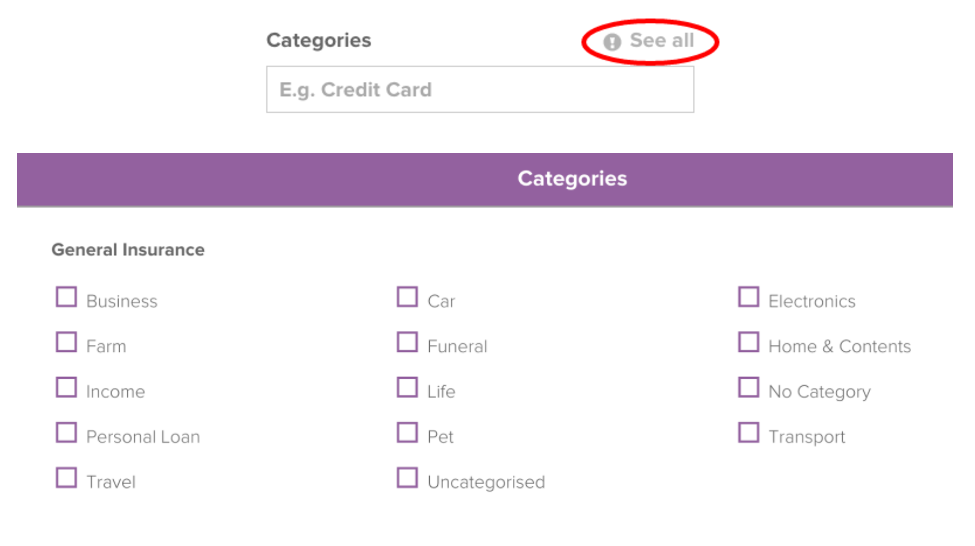 Above: An example of what categories are available to the Insurance Industry.
See which products were promoted the most
After typing in your search in Spot Monitoring, you can instantly see the most promoted brand or product within that particular industry.
For example, here is the most promoted Personal Care Products in Australia during 2016:

We can also compare specific brands like Neutrogena vs. Garnier's 2016 marketing activity:

We can see which campaigns dominated during the year…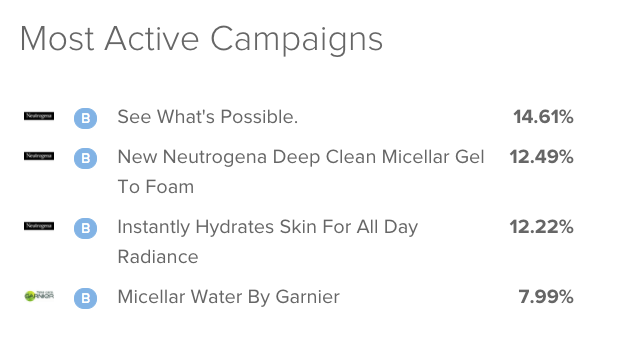 While their total advertising activity was a close match, Neutrogena's campaign dominance is likely to have given them an edge particularly as both brands push brand awareness as a priority…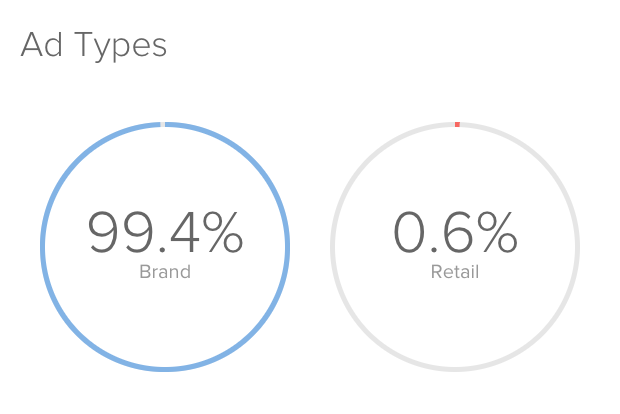 Spot Monitoring automatically dissects an industry's, a brand's or campaign's advertising based on 4 categories and the filters you have previously selected:
Brand centric advertising (B) - Advertising that is used to establish brand identity and increase awareness for the brand or product over time.
Retail based advertising (R) - Advertising to drive traffic and increase sales by creating immediacy with special offers usually within a time frame.
Sponsorship campaigns (S) - Advertising where a partner such as a non-for-profit, a charity or an event, has advertised the brand. Common forms of sponsorships include local sporting team, sporting events and community events.
Competition (C) - Advertising that includes a competition.
Here's an example of Spot Monitoring in practice for Health Insurance:
In January last year, Medibank dominated advertising activity: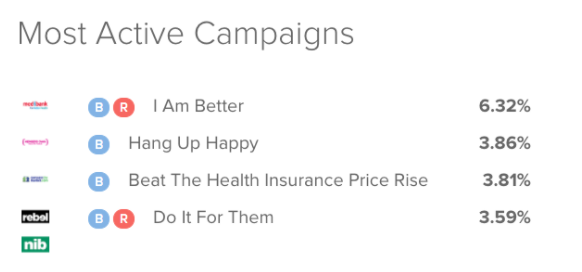 Above: Campaign Activity in the Health Insurance sector, January 2016.
This January, Bupa, who is now a client, has counteracted their competitors' market strategies by dominating advertising activity in the health insurance industry:

Above: Campaign Activity in the Health Insurance sector, January 1 - date, 2017.
We can view Bupa's actual campaign creatives. By clicking the campaign headline we'll be taken to the campaign feed: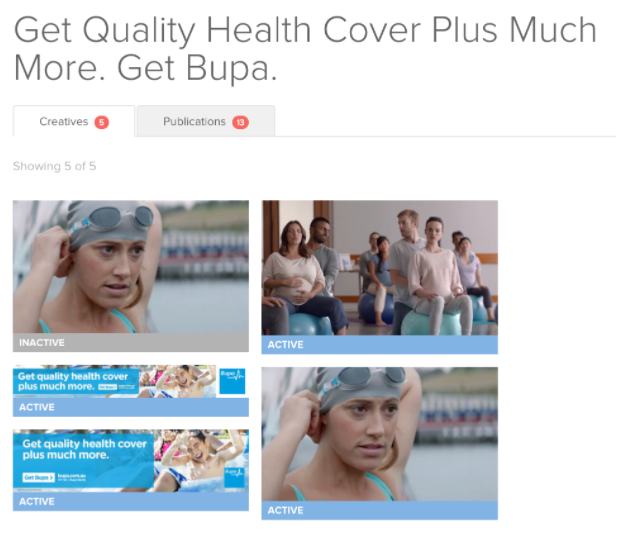 Above: Bupa's most dominant campaign so far this January.
View Targeted Days
A blue bar graph in Spot Monitoring reveals the overall distribution of spots across all mediums in the average week of the selected time frame. (Outdoor, TV, digital display etc.)
This is useful if you want to know what specific days your competitor is targeting:

View Targeted TV Time Slots
A green bar graph reveals how a brand or multiple brands collectively allocated their media spend across metro TV (Melbourne, Adelaide, Perth, Sydney and Brisbane). The light shaded green represents AM, separating it from PM which uses a darker shade of green.
The bar height measures the distribution of total spots.
For the chart below, we can see that the General Insurance industry tends to take a higher number of spots between 12PM and 5PM within the dates selected.

Spot Monitoring reveals TV Commercial Positions in Break
By understanding how a brand is positioning themselves in a break, a competing brand can counteract their approach and negotiate spot placement, or compare strategy effectiveness:

Break down of media allocation
With Spot Monitoring you can see how other brands and industries are distributing their budgets per campaign or collectively across Newspapers, Magazines, Television, Out-Of-Home and Digital advertising.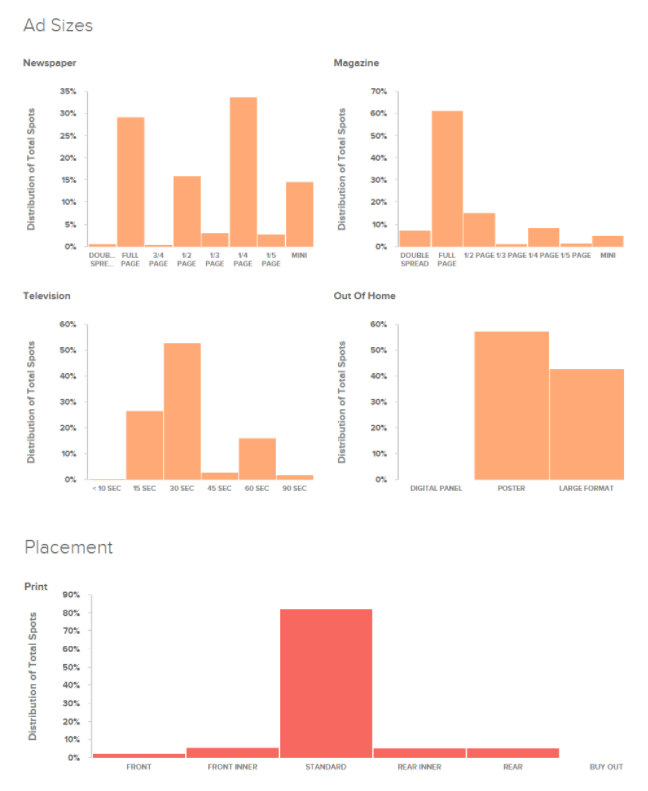 Above: An example of what campaign break down looks like in Spot Monitoring.
You can download a CSV of the data to measure against other data sets your team has.
Download raw data using the 'Download CSV' button. Data scientists like to use this to make customised data visualisations or to integrate the Spot Monitoring data with private company data.
Brands immediately obtain a competitive advantage in their industry by using BigDatr Spot Monitoring. They can quickly determine what is working and what isn't working, who's outperforming who and direct their energies to pursuing counteractive strategies while BigDatr automatically looks after their competitor intelligence.