Source: BigDatr Red Energy Powered By A Leader In Renewable Energy Small Business? campaign
Combining Verticals

Source: BigDatr, TPG Retail campaign Unlimited Data + Phone Line campaign, Digital, Captured June 12 - Aug 1
Dodo have flooded the market offering their fast-speed NBN with unlimited data, promoting their 'catch all' utility service in tandem. As many consumers have looked to consolidate their household spending, Dodo have cleverly edged their way into the Energy space along with their Telco focus - bringing back their previous bundle offer from last year which appeared across TV in NSW and VIC.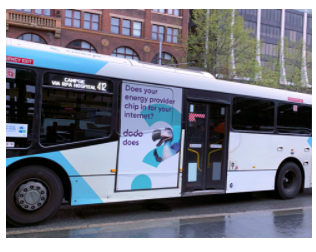 Sponsoring the 7News at the start of this week, and frequent appearances across Free-to-Air channels, Dodo has likely spent in the region of $1m on marketing since June 2020. They have also tailored their creative statement across Out of Home assets to lead with Energy, first and foremost: 'Does your energy provider chip in for your internet?' which better establishes them within the competitive energy segment.
AGL Offers Business Support

Source: BigDatr, AGL campaigns (left to right) 1) Get Up To 180 Lights Upgraded For Free. campaign, Newspaper, SA, The Advertiser, July 24 - August 21 2) Get Up To 360 Lights Upgraded For Free. campaign, Newspaper, SA, The Advertiser, September 4 - September 18
From July to September AGL doubled their value proposition for AGL business customers, initially offering 180 lights upgraded for free across their premises to an increase of up to 360 lights upgraded in conjunction with the SA Government's Retailer Energy Efficient Scheme (REES). Both ads appeared in SA's The Advertiser newspaper and complimented AGL's acquisition efforts in NSW and VIC using mainstream TV, Out of Home branding and Regional Radio placements.
In early July BigDatr noted a 4% increase in AGL's marketing share of voice across the Electricity & Gas sector, other notable Energy brands also had a significant increase in activity. Whereas Red Energy, and also Energy Australia (the second big-hitter in the Energy category) tend to focus their efforts on the Eastern Seaboard market, AGL has tailored their communications and output to focus on their heritage market of SA to build on a loyal, local customer base.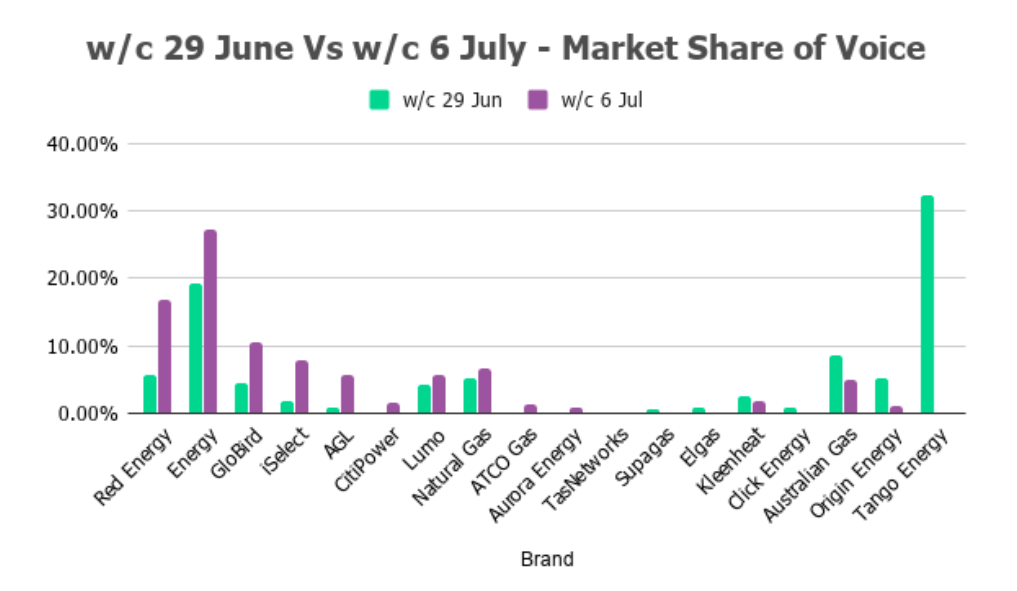 Source: BigDatr, Movers & Shakers data, w/c 29 June and w/c 6 July
Sustainability is High Priority
In Australia we have a renewable energy target of at least 50% by 2030. Given this is only 10 years away, we take a look at the brands that have this at the forefront of their communications: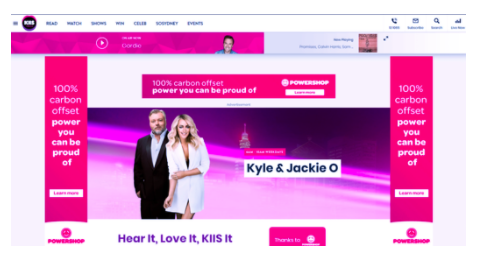 Powershop lead the charge with their proud 100% carbon offset power disclaimer across all of their comms: spanning digital site buyouts, Free-to-air TV Sponsorships, Radio activity and earlier in the year Out of Home.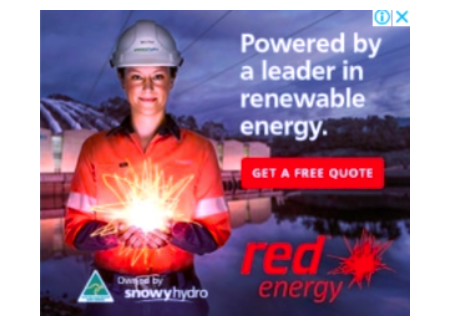 Along with celebrating having 100% Australian Energy and Gas, Red Energy claim to be powered by a leader in renewable energy using mainly digital placements. They also took to the streets in August using Out of Home to promote their employment opportunities here in Australia.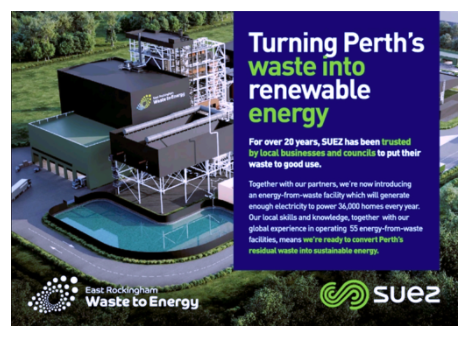 Although Suez may not be the most glamorous brand, they put a positive spin on their waste and water management systems using this placement in June which featured in Perth's The Weekend West newspaper. As their only ad placement noted this year this acts as a reassurance to their Perth community.