Source: BigDatr, Open Universities Australia, Explore. Choose. Enrol.

Source @ BigDatr, Online learning brands using this time to advertise to market (L-R): 1) University of South Australia Online, Get Your Career Into Shape and 2) Swinburne Online, Enrol in a Swinburne Online Degree
Online Learning: It's Time to Shine
In the face of the COVID-19 pandemic we are all challenged with changing the way we work, spend our leisure time, and consume information. As of last week the home lockdown regulations have resulted in around 1.3 billion learners globally to not physically attend school or university.*
Many online learning brands have taken this opportunity to remain top of mind - encouraging those who have more time at home to enrol in an online education course. Doing a quick reconnaissance across advertising for the Education sector over the last 7 days:
18 x creatives new to appear in market; 78% of these across Digital media with the remaining 22% appearing in local press titles or the Australian Financial Review

Around 50% of these ads call out online learning (either full or partial) as a key feature
How does the category use media channels?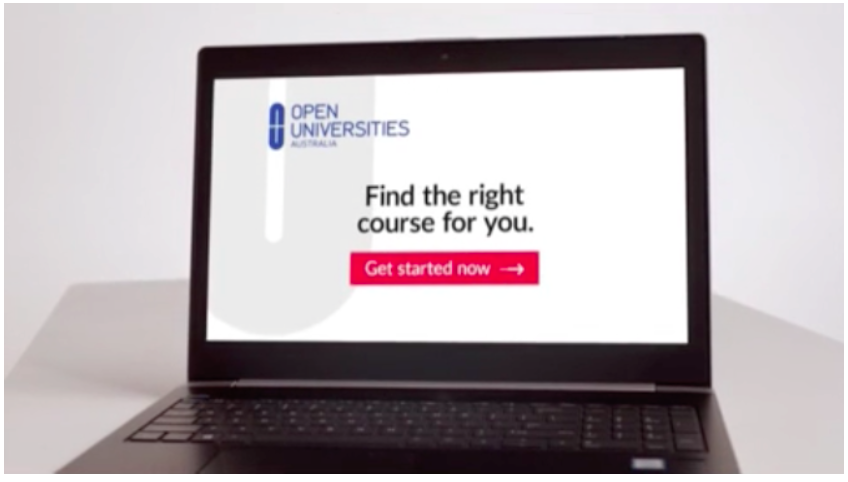 Open Universities Australia, Explore. Choose. Enrol.
As is usual for the Education category a high level of spending was seen across Digital channels to kick off the new year in Jan 2020: with 62% of all Education spend across non-traditional formats. Digital Search took the lion's share of this portion with 37% and Digital Social and Digital Display taking 13% and 12% respectively. Unlike other industries where TV dominates the landscape for this sector only 17% of spend appears across TV placements, while Out of Home, Radio and Newspaper advertising are still used as reliable forms of brand-building - potentially enabling a more localised approach with more targeted buys.
The largest spend to begin the year was unsurprisingly seen from Open Universities Australia with a continuation of their 'Explore. Choose. Enrol' backed by upwards of $1.3m advertising spend. Noticeably focusing on the broadcast media channels of TV and Radio this burst of activity uses a combined tactic of high reach and frequency of messaging to encourage potential students to enrol prior to enrolment closing date of 23rd Feb. Channels have also been selected to appeal to a younger demographic and avoid potential wastage, focusing on an Eastern Seaboard buy with radio channels fox1019, hit105, KIIS1065, Nova100, Nova1069, Nova969 and a much broader TV buy.
*Source @ World Economic Forum & Statista
Brand Spotlight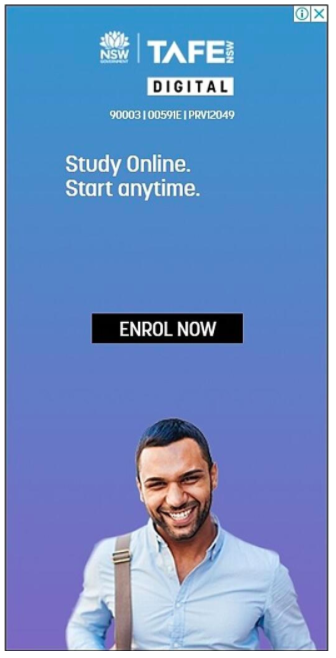 TAFE NSW
TAFE NSW has been particularly active in the last week releasing 6 x different creatives to market: half of this activity for TAFE NSW Digital.
This new varietal of creative for its online learning arm plays up the flexibility of courses with the key callout 'Start anytime'.
Brands splitting their online-only brand away from their mainstay name may be a sign of things to come: Education facilities forging a separate voice for their online portals to compete in an ever-changing market.
Other Things We've Spotted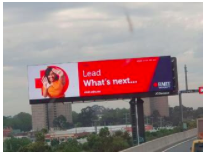 Royal Melbourne Institute of Technology (RMIT) has launched 'What's Next...' a solely Out of Home campaign focusing on the rail environment, with the addition of a couple of hero large format billboards on key arterials and heavily pedestrianised zones.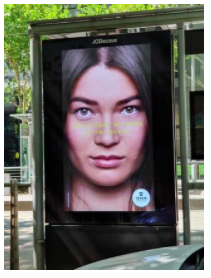 An aspirational campaign from Deakin University has appeared on the streets of Melbourne this quarter with 'The Future Belongs to the Ready'. Using a conservative budget wisely with a streamlined singular creative and supported by a tactical Radio buy using Fox FM.