Compare The Market - "Simples Fuel"
The most recent Compare the Market ad for 2020 picked up by BigDatr is the "Simples Fuel App" ad. The digital ad which ran across Facebook features their slogan: "Save on every tank with Simples Fuel". The ad which ran across social media was first tracked mid-November and features its famous meerkat characters Aleksandr Orlov and Sergei Vladimanov showing the app that finds the cheapest fuel wherever you go.
Compare the Market promotes the convenience of using the fuel app as it lets its users pick the cheapest fuel option within their location. The Simples Fuel app offers a variety of options such as Fuel Finder where users get suggested options along their routes and can add these choices to 'favorites' for easy access. Aside from the cheapest local option by postcode search, Compare the Market Fuel App users can also set their filter and preferences within the app. Users will also get access to Compare the Market's other services with a few clicks. Simples!
Compare The Market - "It Pays To Compare"
Here are the different creative executions for Compare The Market's campaign, "It Pays To Compare" which ran across Digital, TV, Out-of-home and Radio. The campaign features Dame Edna who rescues the meerkats after wandering around the Australian outback, because the possum catcher from the earlier campaign failed to compare. The Compare The Market ad campaign featuring Dame Edna greets Aleks and Sergei with her famous expression "Hello Possums". The campaign was first picked up in early March 2020.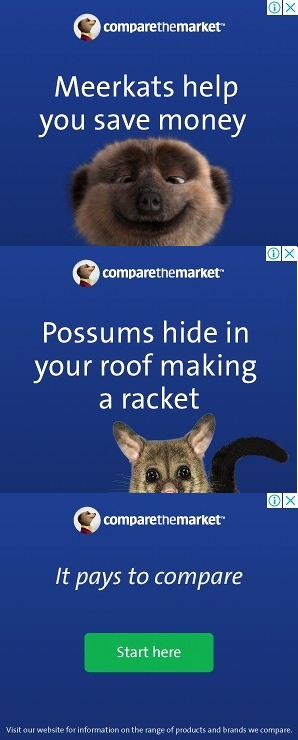 Related Products