Source: BigDatr Vodafone NBN Campaign
Data is the topic on everyone's lips

Source: BigDatr, TPG Retail campaign
Unlimited Data + Phone Line campaign, Digital, Captured June 12 - Aug 12
With an increase in the Australian population remote working over the last few months, it's likely that data consumption across mobile devices and home connections will have sky rocketed.
TPG have continued with their historic approach pushing their communication bundles at the benchmark price point of C. $60/month. In the latest set of creative examples they lead with this price point and a high frequency strategy using Digital and Out of Home media channels. Unlike previous TVCs of theirs released in 2018 and 2019 which led with their brand premise, their latest burst capitalises on consumers' increased screen time to achieve cut through with multiple appearances across the digital landscape.

Source: BigDatr, dodo campaign Unlimited Data NBN50 When You Add Electricity & Gas campaign, Out of Home, July 20 - current
Dodo have taken to market advertising their fast-speed NBN offering with unlimited data over July using Out of Home, promoting their 'catch all' utility service in tandem. As many consumers have looked to consolidate their household spending, Dodo have cleverly tapped into this market sentiment, bringing back their previous bundle offer from last year which appeared across TV in NSW and VIC.
Mobile Plans Marketed to the Older Age Range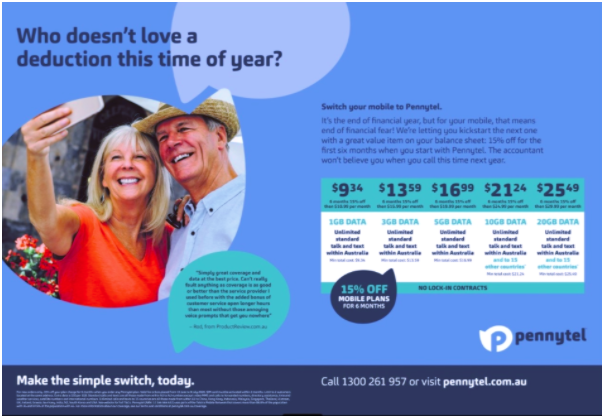 Source: BigDatr, Pennytel campaign Who Doesn't Love A Deduction This Time Of Year? campaign, Newspaper, NSW, July 3
Pennytel have approached the market with an advertising campaign targeting the older age segment showcasing their low-cost, SIM only postpaid mobile phone plans timed with the wrap of the financial year. Using a combination of heavy press activity (newspaper) and digital appearances, multiple creative executions demonstrate Pennytel's range of affordable plans. They have also interestingly paired their Retail-heavy approach in press with digital placements doing their primary branding job - distinguishing them as an Australian-based brand with human (not automated) customer service options. Although the brand's investment is likely relatively small compared to behemoth's such as Telstra, TPG and Optus they have made their budget work harder through a focus on NSW and VIC markets.
Communications - Movers & Shakers Snapshots
Some highlights of how brands have picked up or relinquished their share of spending across the category in the last few months:
Top Spenders
At the start of June we saw Vodafone and Belong both taking around 14% share of market media investment, with Telstra dominating market share with 28% and Optus rounding off the Top 4 with just under 10%.

By the end of July, Telstra were still dominating market share with 32%, but Optus had increased to just over 17% with Belong at 14% and Vodafone dropping down to just above 2% of the Top 4.