Christmas is nearly here and retailers are unwrapping their Christmas campaigns.
While the majority of supermarket ads are retail based, research released by Kantar Millward Brown in November highlights that ads that tell a story are more engaging. "However, it was only where the brand was deemed to 'fit' with the narrative, that generated higher levers of motivation." explains head of Global Research Solutions, Graham Page.
While the majority of supermarket ads are retail based, research released by Kantar Millward Brown in November highlights that ads that tell a story are more engaging.
We've picked a couple of Australian Christmas ads that do tell a story to take an early look at their campaign positioning in the lead up to Christmas.
1. ALDI's "Nothing Beats the Perfect Aussie Christmas"
"Nothing Beats the Perfect Aussie Christmas" is a theatrical-inspired ad featuring 'The Tinkletons', an American family who insists that their White Christmas celebration is somehow better than the Aussie's.
The team at agency BMF used the cultural clash to showcase traditional Aussie ways at Christmas, an interesting brand approach given Aldi is a German company. According to BMF the idea has come from how we're told to 'sing about sleigh bells and snow even though the mercury is sliding up to 40 degrees.'
The TV ad includes typical Aussie Christmas foods purchased of course from Aldi supermarkets, like Prawns and Ham. At one point 'The Tinkletons' even try to prevent an Aussie BBQ, a move that would never gel with Aussies.
The 90-second ad concludes that the way Aussies do Christmas is the way to go: both families sit along one long, dining table, and the Americans merrily conclude that, "There's nothing on earth that can beat this. We'll be back next year."
Along with the 30 and 15-seconder ads, Aldi have also published their ads in magazine, out of home, digital display, and print media.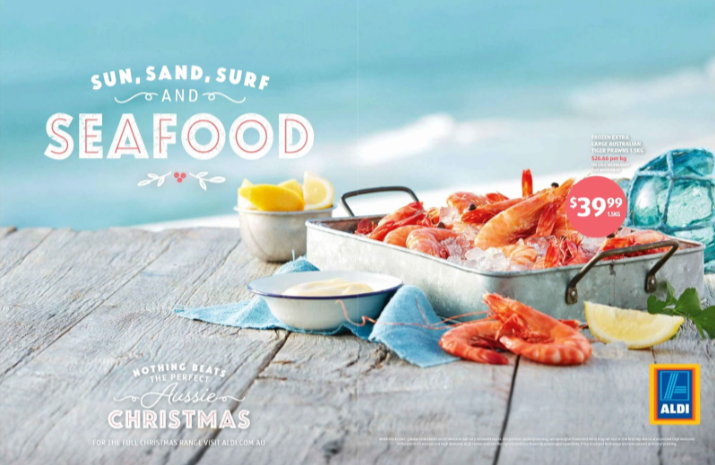 2. MYER's "Where Christmas Comes for Christmas"
Myers 2016 Christmas campaign continues the story of four animated characters from their 2015 Christmas campaign: Angel, Elf, Mouse, and Reindeer. Clemenger BBDO Melbourne Creative Director Stephen de Wolf and Myer took the characters on a mission to save the Southern Cross after one of the stars fell from the sky. This meant that Santa would not be able to 'navigate by the stars' to deliver gifts to Aussie kids at Christmas... Clearly a disaster. I guess being based at the North Pole so far away from the rest of humanity, Santa hasn't heard of GPS?
Regardless, it's a pretty cute ad that's sure to rope in the family audience on TV.
The creative artfully incorporates Myer's products as a replacement for the fallen star. The campaign is complemented with digital display and catalogue advertising.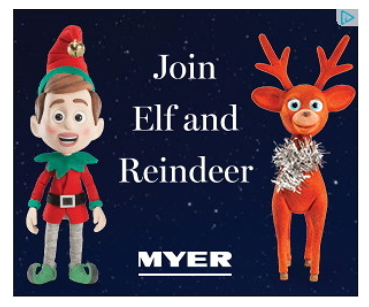 3. Telstra's "Give the Gift of Connection this Christmas"
Telstra's Christmas campaign tells the story of spending time with loved ones at Christmas. Agency, The Monkeys put emphasis on the power of technology that binds people together, even when we are miles apart. It's a nice fit with the brand don't you think?
Like Myer, Telstra also concentrated on publishing TV and digital ads for their Christmas campaign.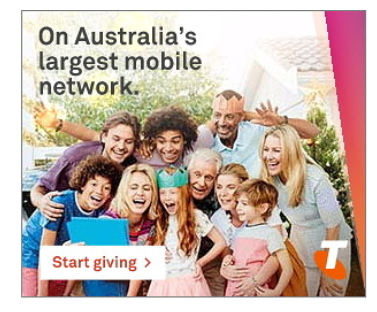 4. Woolworth's "We Love Christmas As Much As You Do"
In Australia we tend to love hosting street parties and being outdoors. Like Aldi, Woolworths is using traditional Aussie Christmas elements to create brand affinity, but with more of an inspirational approach, compared to Aldi's humorous one.
The 'Street Party' M\&C Saatchi campaign uses a first-person perspective, a 5-year old girl called Holly who narrates a series of events happening on her street in the lead up to Christmas. She's waiting for what she deems the best part of the season: the Christmas lights display.
Launched early November, Woolworths has spent the majority of the campaign budget on TV.
Who do you think told their brand's story better?