Will there be an EOFY push?
It shouldn't come as a surprise to anyone that the Automotive industry has suffered a significant decline, and has been heavily impacted by COVID-19. With dealerships experiencing a slow down in customer interest - many forced to close their doors temporarily to the public - and the supply chain nearing a complete halt, marketing spend across the category has followed suit.
Between March and April 2020 overall spend dropped by $20m+, with **April 2020 Vs April 2019 numbers in decline by ~$18m***. Although this is traditionally a time where Automotive brands look towards ramping up their advertising spend as we near the End of Financial Year (EOFY) period, the challenges of 2020 could force brands to rethink their approach.
Although we are forecasting a recovery in spend for May, brands do still seem to be taking a breath - adapting their tone to offer reassurance whilst still seeding Retail offers. An example of this being BMW's latest Joy Is Coming campaign, which may be suggesting the coming of a new normal, but also a tentative nod to EOFY timing also.
*At writing, April 2020 numbers are partially forecasted for Digital channels. This decline YoY may not be as steep
Source: BigDatr & SMI, Jan 2019 - May 2020 Media Value (Historical Overview)

Source: BigDatr, BMW 'Joy Is Coming' campaign, FTA TV captured May 10 - May 26 2020
Luxury Auto: A new tone
Whereas often brands in the luxury Automotive segment have worked to preserve their identity, hallmarked by being aspirational, many appear to be rethinking their approach.
We see Audi releasing numerous messages to market: the supportive, digital-heavy We're With You For The Long Term campaign sits alongside their End Of Financial Year event kicking off across Radio. Jeep have taken a slightly different tack by reminding consumers the breadth of product on offer, whilst also looking to drive traffic to dealerships through their Jeep Wrangler Book a Test Drive campaign. Jeep laid incredibly low during the summer months and instead has released pockets of spend to market during 2020 to support Retail pushes in March, and again a spike in May.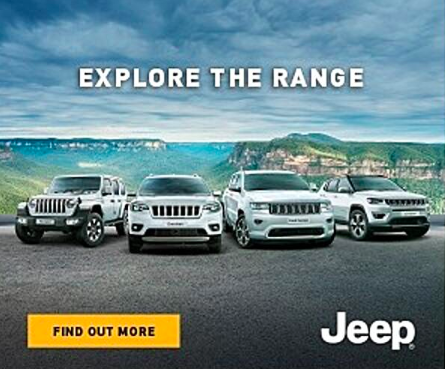 Source: BigDatr, Jeep 'Explore The Range' campaign, Digital Display, captured Jan 16 - May 27 2020
Elsewhere in market, Mercedes-Benz now appears as The Face Of Value using digital placements nationally in tandem with local Newspaper appearances (NSW-focused) to support local dealerships in the run up to EOFY. Since Nov 2019 Mercedes have kept their Brand advertising below 20% of total Brand Vs Retail spending. Although this is another Retail push by them, the tone is quite different to that of Mercedes from a few years back. Check out the quick comparison below: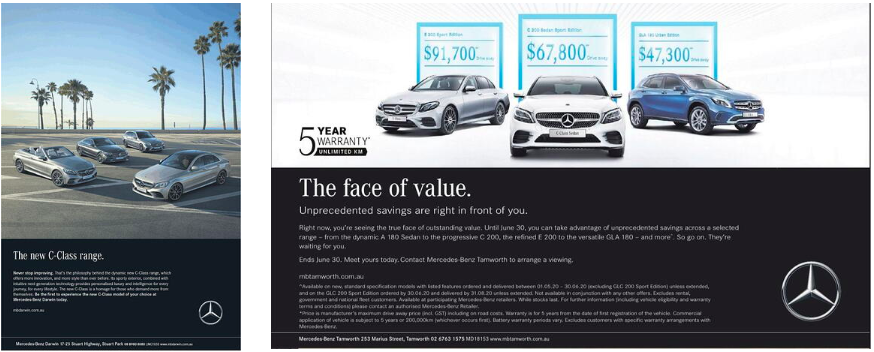 Source: 1) BigDatr, Advertising Creatives, Mercedes The New C-Class Range, NT News, Dec 2018\ 2) BigDatr, Advertising Creatives, Mercedes The Face of Value, The Saturday Canberra Times, May 2020
Dig into data: What do the numbers tell us?
We can gauge how *brands are performing currently in market using brand aggressivity as a barometer**. Although Hyundai usually outperforms the market comparative to their level of advertising investment at 4.75% share of spend comparative to their 7.56% market share. April this year saw them, overspending relative, to their sales at 15.18% share of spend Vs their 5.51% market share.

Many brands are reliant on offering high value above-the-line incentives to maintain a steady (although low) stream of sales. Isolating April, Ford's Above the Line Incentive cost per sale sits just over $4,000 with Nissan's over $6,000. Comparatively Hyundai sits lower at ~$2,600 with Mazda at ~$3,300. Hyundai and Mazda look to be opting for consistent value in incentives offered to weather the storm and protect their brand positioning.

Whilst advertising spend may be down overall, comparing how brands invest in each media channel YOY is often useful to evaluate how consumer media consumption may be changing. Last year TV spend took the lion share of Automotive spend for April at 35%, which has now grown to 45% this year - unsurprisingly with more people at home and an increase in viewing figures. Out of Home has taken a dip and is back from 11% last year to about 3% this year, with Digital channels taking up a high portion of this delta. Radio has not secured as much spend across the Automotive category in recent months as anticipated, and is backward at less than 1% for both March and April YOY. Some unlikely brands have still capitalised on Radio's ability to follow consumers whether in the car/at home and channeled more spend into this area - Porsche's You've Worked Hard, Reward Yourself...' campaign being one example of this.