Image: Volvo "$5,000 Cashback" campaign. Image source: Volvo.com.au
How has a drop in spend correlated for OEMs?
Over the last quarter we witnessed a sharp decline in advertising spend across the Automotive industry - close to a 50% drop in investment from $45m+ in February down to $21.3m in April. Many of the top spending brands across this period benchmarked around $10m (including Hyundai, Kia, Mitsubishi, Lexus and Mazda), with Toyota's investment sat at a huge $26m. Toyota focuses on Corporate Branding, promoting the HiLux and Supra, with their domination of the TV space would have been noticeable. They injected close to $12m across Free-To-Air TV across this period versus Mitsubishi with just over $6m (their closest competitor for share of wallet across FTA TV).

Source: BlueFlag, CMO Report, May 2020
As the above graph shows, although Toyota's media investment did drop from March to April 2020 (along with the rest of the industry) they did not drop spend as drastically compared to other OEMs, and have actually seen a sales increase as a result. In May 2020 their market share of sales was close to 23% with a comparatively lower share of spend at 16%. Both Kia and Mitsubishi, who lowered their advertising investment by 50%+ from March to April have seen their percentage share of sales also drop by a couple of percentage points versus the market.
*At writing, June 2020 numbers are not yet confirmed
Source: BigDatr & SMI, Feb - June 2020 Media Value (Historical Overview)

Source: BigDatr, Audi Brandtail campaign 'Make It A Positive End To The FInancial Year' campaign, FTA & Subscription TV captured June 22 - 30 2020
Luxury Segment Has a Resurgence
If we take a look at the recent VFACTS numbers we see a surprising trend in the market: popular luxury brands ended their sales slump trend and instead saw significant percentage growth from May to June 2020. Audi were up a huge 84.6% (contributing to a 0.4% climb YTD), Lexus up 60.8%, Volvo up 40%, BMW up 32%, Mercedes-Benz up 31.4% and Jeep up 7.1%.
Audi wrapped up FY20 with a 'Brandtail' message - excluding any overt price points and instead opting for aspirational, brand imagery. These 15sec TVCs feature models such as the SUV Large Q8, and are complimented by their Retail push across July where extended warranty and complimentary 5 year servicing in Set Your Sights Even Further Ahead. We're With You For The Long Term. This more subtle approach to Retail advertising has likely made their overall advertising investment work harder, as they have focused on incentives rather than price drops as seen in Retail ads in years past.
Lexus have also opted for a similar approach in their Feel the Freedom July creative content, using a combination of TV and Out of Home with a traditional bold, branding approach whilst their earlier June content featured price points to hero the NX300.
Source: VFACTS June 2020, New Vehicle Sales by Marque and BigDatr Advertising Creatives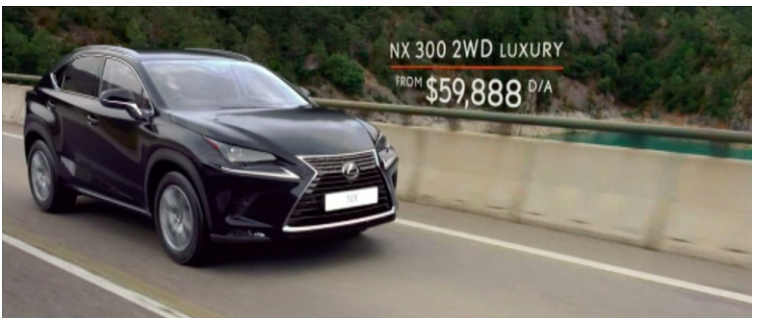 Source: BigDatr, Lexus Driving Away Has Never Felt Better, FTA & Subscription TV captured May 31 - June 28
After closely monitoring VFACTS data, the popularity of luxury brands across SUV segments (and Passenger) is notable looking at June comparatively to the previous month with the Alfa Romeo Stelvio increasing sales by 118% and the Lexus NX growing by almost 200% in the SUV Medium category. Looking into the SUV Large category, Mercedes-Benz GLE-Class has enjoyed huge growth in sales by 223% month-on-month with the Volvo V90 CC climbing by 133%. With the total market back by -2.9% overall, this is testament to how well the luxury brands are doing versus mainstream competitors to capitalise on challenging market conditions.
Automotive EOFY - Creative Snapshots
Some highlights of how brands have approached EOFY in their advertising campaigns across the Automotive industry:

Volvo's $5,000 Cashback campaign appeared across Digital channels through July.

Alfa Romeo's Anniversario Pricing launched in QLD's The Weekend Post Newspaper, focusing on their Stelvio model.

Mazda's Open Road Sale focused on the CX-9 with a National Digital presence in early July with multiple frames.

Volkswagen encouraged consumers to rediscover adventure while advertising their new people mover in early July across National Digital.