Image source: SBS
Australia's most prestigious annual race that stops the nation, the Melbourne Cup pulls in lowest TV broadcast audience from previous years of 1.797m metro viewers, down 189,000 from last year's 1.986m. However the number of online streaming audience raced to a record high. Melbourne had the highest viewership of 849,000 followed by Sydney 377,000 according to OzTAM's ratings which also don't account for those who watched the race outside of home.
Melbourne Cup Day is the largest gambling day of the year, and we've taken a look at the biggest industry and brand advertisers during the 2017 Melbourne Cup. Hardware and Supplies ranked as the highest industry advertisers followed by the Automotive industry. On Melbourne Cup Day, the Gaming and Gambling industry had a total of 74 ad spots, all placed by TAB including campaigns Proudly Made For Punters, We Love A Bet and Multiply The One.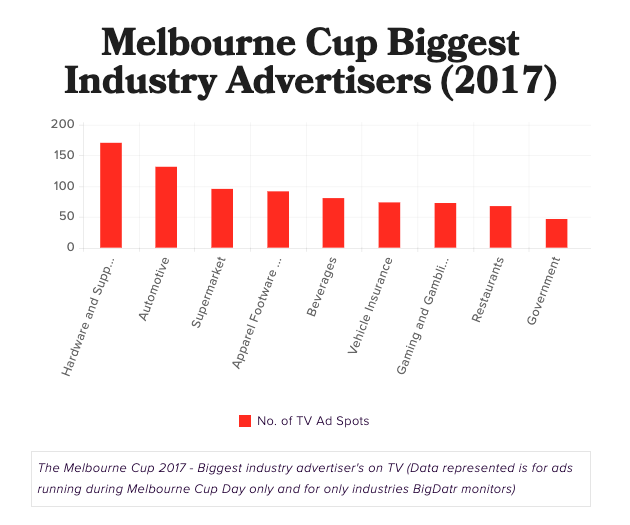 TAB Campaign - 'Proudly Made For Punters'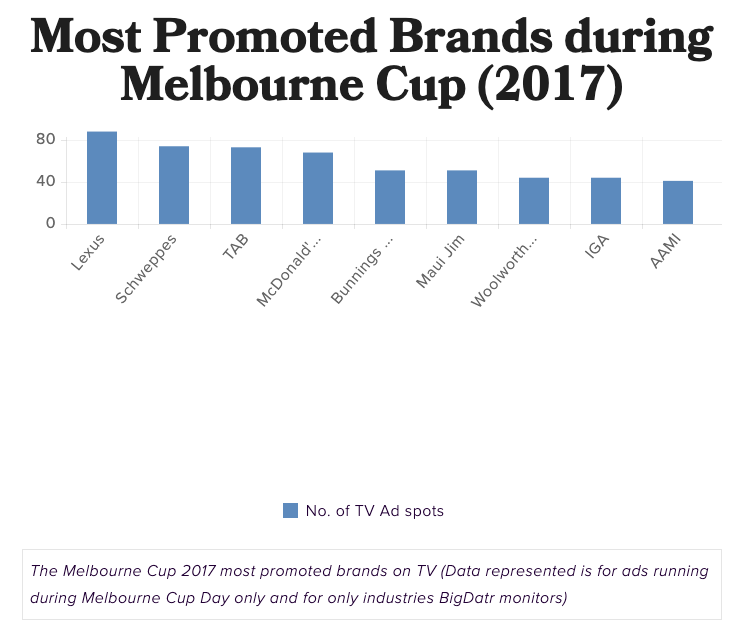 Lexus campaign 'Experience Amazing' ranked in as the biggest campaign aired during the Melbourne Cup with a total count of 89 ad spots. Beverages brand Schweppes ranked in second with a total of 75 spots for their 'Schweppervescence Let It Out' campaign.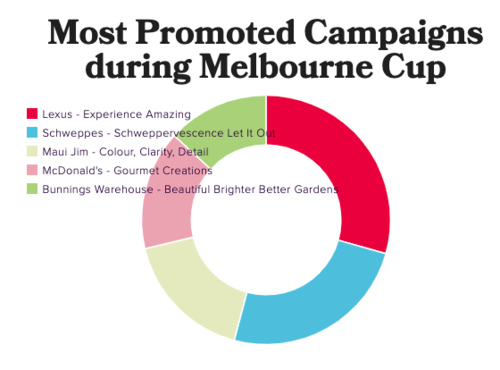 Lexus - Experience Amazing
Schweppes Schweppervescence Let It Out
Maui Jim - Colour, Clarity, Detail
McDonald's - Gourmet Creations
Bunnings Warehouse/Seasol/Powerfeed - Beautiful Brighter Better Gardens
*Disclaimer - Data represented is for ads running during the Melbourne Cup Day only and for only industries BigDatr monitors. Click here to view a full list of industries BigDatr currently tracks.
To view the actual TARPs & Impressions of each ad spot, please login or request access here.